In a world of increasing global concern regarding diminishing natural resources and global environmental impacts, ELaiolithos' core value could not be other than "think green" by being environmentally conscious and adopting eco-friendly practices and policies.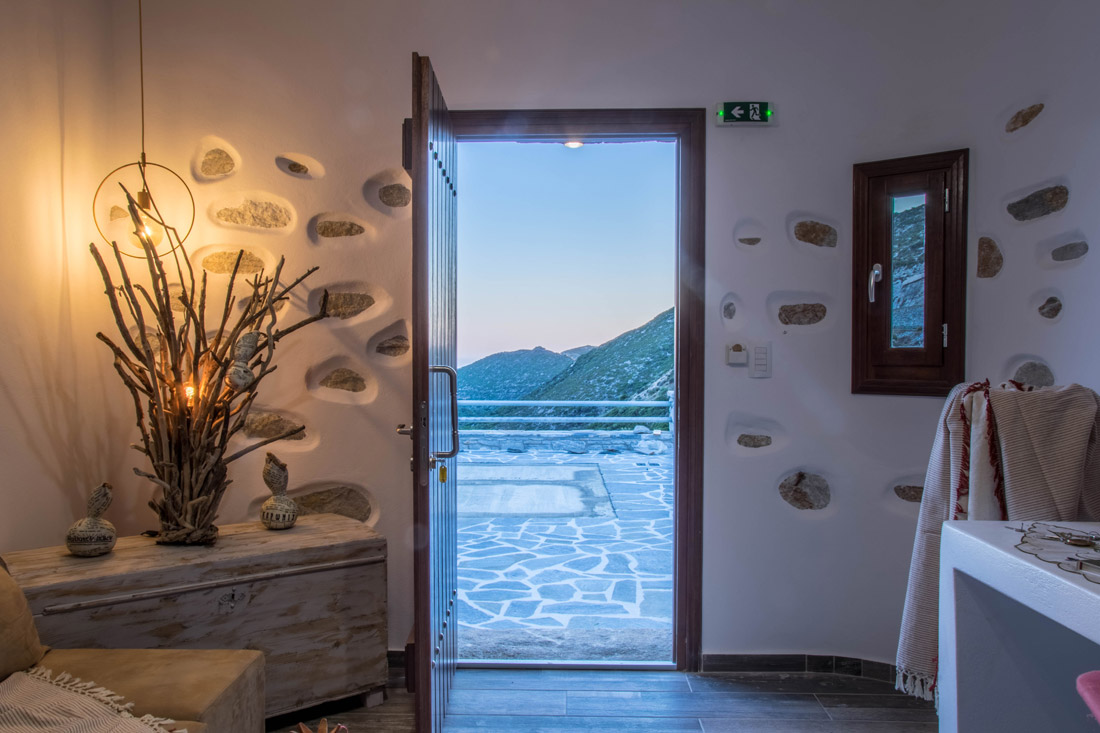 ELaiolithos is a NEW establishment situated in the midst of nature and it is doing its part to create luxury accommodations with an emphasis on ecology and ethical living without skimping on the room service.  It is built with respect to the surrounding natural environment and it is deeply concerned with protecting it; therefore operates with care for the nature and the environment, considering that this enhances the experience of its guests.
Some of the "Think Green" Ethical Living practices/policies are:
Non-Smoking Rooms
Energy card savers are installed in every apartment in order not to operate the air conditioning, lights or any other device except the refrigerator when not in the room.
Low energy consuming light bulbs are used throughout the establishment to help reduce energy consumption. We use LED (Light Emitting Diode) bulbs because LED's have the lowest carbon footprint, last 5-20 times longer and are safe (the compact fluorescent light bulbs all contain mercury, a hazardous heavy metal)
Use sensors and/or timers for areas that are infrequently used
Energy efficient appliances
Use of solar energy to cover hot water requirements (24 hour hot water)
Every apartment is decorated according to its name and its history and reflects its legend. The colors used are the warm feel of natural materials and the bathrooms are no exception. Every bathroom is different and is made in an old-fashioned cement mortar style in which natural materials are used. The so-called cement mortar is an absolutely natural, ecological and bio-climatic material without any chemical substances added and it is based on natural stones as its constituents are the theraine earth, limestone, quartz sand and kerammala. It gives distinctive elegant aesthetics to the bathrooms and counter tops, with its most important parameter to be the excellent result, both visual and functional and emotional – a relaxed ambiance that embraces traditional elegance and contemporary style. The pressed cement mortar is a 100% Greek product with decades of history and was first used in the Cycladic islands.
Use of recycled and non-chlorinated paper
Use of eco-friendly cleaning products
Reduce water consumption by installing: toilets with specific flushing toilet mechanisms of pressure to increase and decrease the amount of water flow in each tap.
Offer locally harvested food, most fruit and vegetables, as well as the olive oil, olives and honey we serve is locally produced in Moni village
Use of non-disposable and durable service items
ELaiolithos' ideal central location in the mainland of Naxos Island provides the opportunity to its guests for more enjoyable experiences through meaningful connections with local people and a greater understanding of local cultural, social and environmental issues.
Provides activities for physically challenged people.
Visits to the protected juniper forest in Alyko – one of Greece's largest and densest juniper forests & protected areas Natura 2000
Our Mission is Responsible Tourism because we believe Nature is the world, the sponsor and the teacher of human abundance and those that travel the world also care about it.