Travel like a VIP,  unwind, relax, and enjoy yourselves
ELaiolithos is available for Exclusivity– if you want to book the whole resort yourselves. With a collection of just 4 boutique suites, it definitely delivers! Professionally managed by the founder, who is native born and has also lived in the USA for 30 years, she has the experience, knowledge, education, and has been in the traveler's shoes all her life.
The best way to get close to total privacy and to control your environment is to have the whole place to yourself! You can reserve the entire ELaiolithos property for yourselves, and we will keep services to a minimum to avoid interaction with others. Travel in the time of coronavirus is still quite possible. Feel safe by being secluded at ELaiolithos, which is an isolated resort and a destination itself! We prioritize your private space. We have it all!
Looking for an escape? Want a tailored experience, compiled by people with the utmost taste and insider knowledge for an amazing Naxian cultural enrichment?  Immerse yourselves in the local culture and truly feel like a local.  Here you're away from the crowds, and you can go off the beaten track and find yourself in places that few tourists go.
ELaiolithos is a remote destination with a sustainable tourism ethos that offers you incredible local travel experience curated just for you. It is ideal for unique holiday experiences in a private and exclusive environment, for those interested to spend a safe and secluded vacation with an emphasis on health, safety precautions, and high hygiene standards.

The Accommodation
Total privacy, convenience and unparalleled seclusion make the retreat one of  Naxos's most lavish experiences. Tucked in the lush foothills of Moni village, about a 20 minutes drive from the capital Hora and the airport. There are no communal spaces, not even a lobby, except for the lounge-restaurant which is also outdoors. The vibe is relaxed, quiet, and serene, making it ideal for isolation-seeking travelers. The property sleeps up to twelve guests in four luxurious suites. Each suite has a fully equipped kitchen with modern electrical devices and all necessary utensils, generous living areas, a dining area, services like Netflix,  high-speed Wi-Fi, furnished outdoor spaces, and plenty of open space to use as you wish. A plethora of outdoor hiking and biking trails, highlight the awe-inspiring natural landscape of lush vegetation, rock formations, hidden wilderness hotspots, and renowned attractions.  The stone terrace offers spectacular views of the Drymalia plateau at sunrise, sunset, and any time of the day.
Use ELaiolithos as a starting point, absorb incredible landscape art scenes with jaw-dropping vistas, and experience a platinum cultural dive. Being in the heart of central Naxos, it's impossible to pinpoint just one favorite region here, each offers something completely different. We work closely with our guests and provide digital curated lists of places to visit and eat, culture info, landscapes, local cuisine, landmarks, off the beaten track spots, and excursions.

ELaiolithos is among the safest accommodation options globally
ELaiolithos is providing a safe and comfortable environment just by default with its design, even for the most discerning traveler in Naxos island, Greece. Self-isolate in style, secluded and eco-friendly, the retreat is operating in strict compliance with CDC guidelines, keeping up with the latest COVID-19 developments, and has increased its frequency of deep cleaning and disinfecting procedures in addition to conducting regular temperature and travel history checks for all guests and staff members. With an architectural vibe that is upscale but decidedly off-beat contemporary, each of the hotel's suites is equipped with individual HVAC systems. Guests can order from the room service menu, have à la carte breakfast, lunch and dinner specials prepared by the executive chef.

Opt to "glamp"  with secluded suppers under the stars
At its premises, ELaiolithos offers a Lounge Cafe Bar where guests can enjoy  a Cultural & Culinary Experience at their own pace. Dine al fresco under the stars with a personal chef and butler, utilizing our fresh farm to taste buds cuisine along with exceptional hand-selected wines and artisan cocktails for an otherworldly nature, wellness, and culinary experience. Have a special dinner at the edge of our terrace on the exquisite lit marble tables where you are secluded and comfortable, that's a plus. Free use of our telescopes is also at your disposal. Centered on spiritual-ethical-ecological ethics, all meals are plant-based and made with locally sourced ingredients, and local music.

Cleanliness, and hygiene standards
We follow eco-conscious practices such as rolling out enhanced sanitation measures, including placing hand sanitizers and anti-bacterial wipes at every suite, frequent disinfection, deep cleaning of kitchen areas, and the provision of masks and gloves. The fundamental concept of our business is seclusion and peace in the most enchanting spot of Naxos island. We have always promoted discreet contact with guests and staff members. Simply by default, ELaiolithos is a very safe getaway by many means. It is the perfect place for social distancing because it doesn't have hallways, elevators, gyms, or common areas. This gives us the unique opportunity to take the time and provide extra effort to make sure everything is perfect for our guests. Your safety and comfort have always been our main concern. We go out of our way to make sure your ELaiolithos experience will be a worry-free, relaxing, and fun escape from the rest of the world while experiencing the authentic side of Naxos.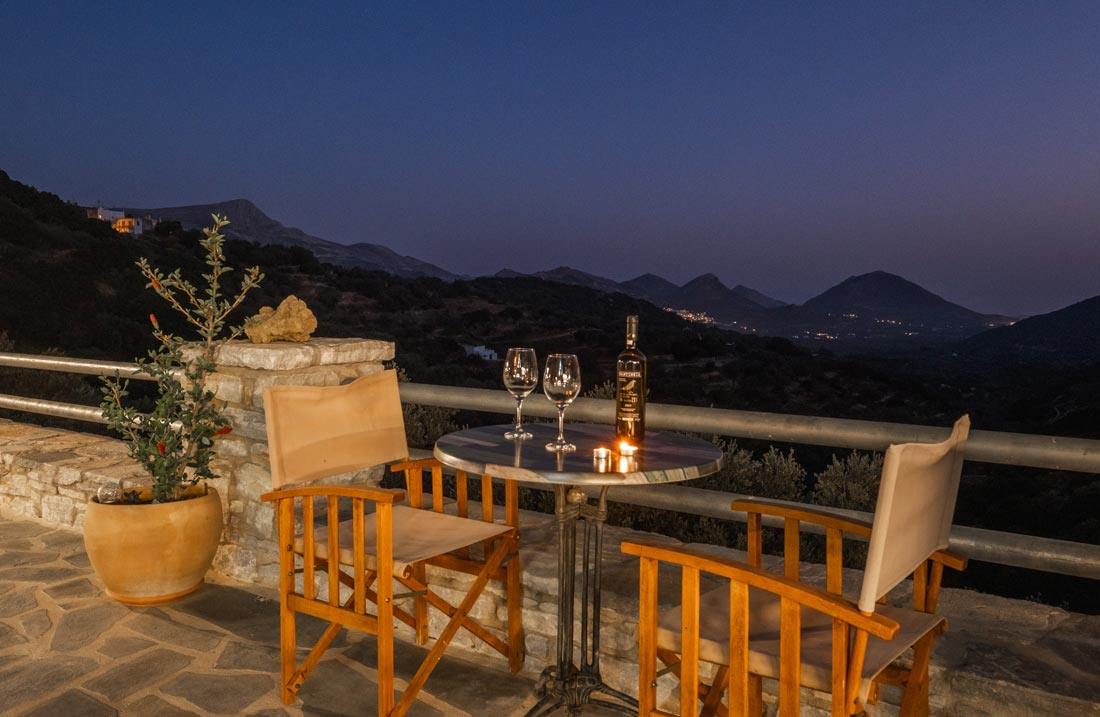 ELaiolithos is an environmentally friendly accommodation, an eco-friendly escape, and a peaceful getaway. Your safety and satisfaction is always our utmost concern. Our facilities are new, and are constantly properly sanitized and safe.  We go above and beyond to ensure that all surfaces are disinfected with medical-grade disinfectants that kill coronavirus. Every suite is inspected for housekeeping cleanliness.  Our décor is by default intentionally minimal, no throw pillows or fabrics that cannot be wiped down or disinfected after every stay.  Every piece of linen is washed in 160-degree water with bleach and then sterilized, by Cocomat, and placed in your room fresh after every stay. We do not reuse or repurposed linen in your room. The linen and toiletries are transported to your room individually in sealed bags instead of open maid carts.
No matter what the season or the reason, our area has something to offer to everyone.
Flee to a getaway place in a non-congested rural part of the island. Head for the mountains, enjoy peace and quiet, the opportunity to opt out of the capital by being in the country, and enjoy La Dolce Vita in Naxos.

EXCLUSIVITY DEAL includes
The whole property of ELaiolithos Luxury Retreat is at your disposal
You have 2 options:
The Suites and local breakfast
The Suites, Breakfast, rich Dinner, and Unlimited Bar all day
Our staff will be at your private disposal at any time, we cook for you, arrange everything for you according to your preferences, free use of our telescopes, free GPS files for hiking, lessons about the local culture and tradition, and many more local surprises await your arrival!
One thing is 100% guaranteed – your travel experience here will leave you enriched in every step of the way.
We treat you like FAMILY!