Cycling in Naxos is exceptional. The island is a cycling paradise. There are many wonderful cycling routes both in the upland and the coastal area of Naxos. A large network of cycling routes of quiet dirt, country roads and small roads cover the entire island. Enjoy cycling in Naxos with flat cycling routes, hilly cycling routes, uphill cycling routes, downhill cycling routes, quick rides, and long tours. Any cycling route you prefer, Naxos has it all!
Cycling in Naxos has routes for novice cyclists, or for those who prefer a less active route, routes for intermediates or routes for advanced cyclists. There're many wonderful cycling routes in the upper mountain areas of Naxos for bolder cyclists, who want to stretch themselves to the limit. The island is full of gravel and asphalted routes which can carry bike lovers away. You can bring your own bike, or rent one here.
There're quite a few organized cycling tours in Naxos. We'll advice you accordingly if you're interested. You can find detailed information about the cycling network of Naxos here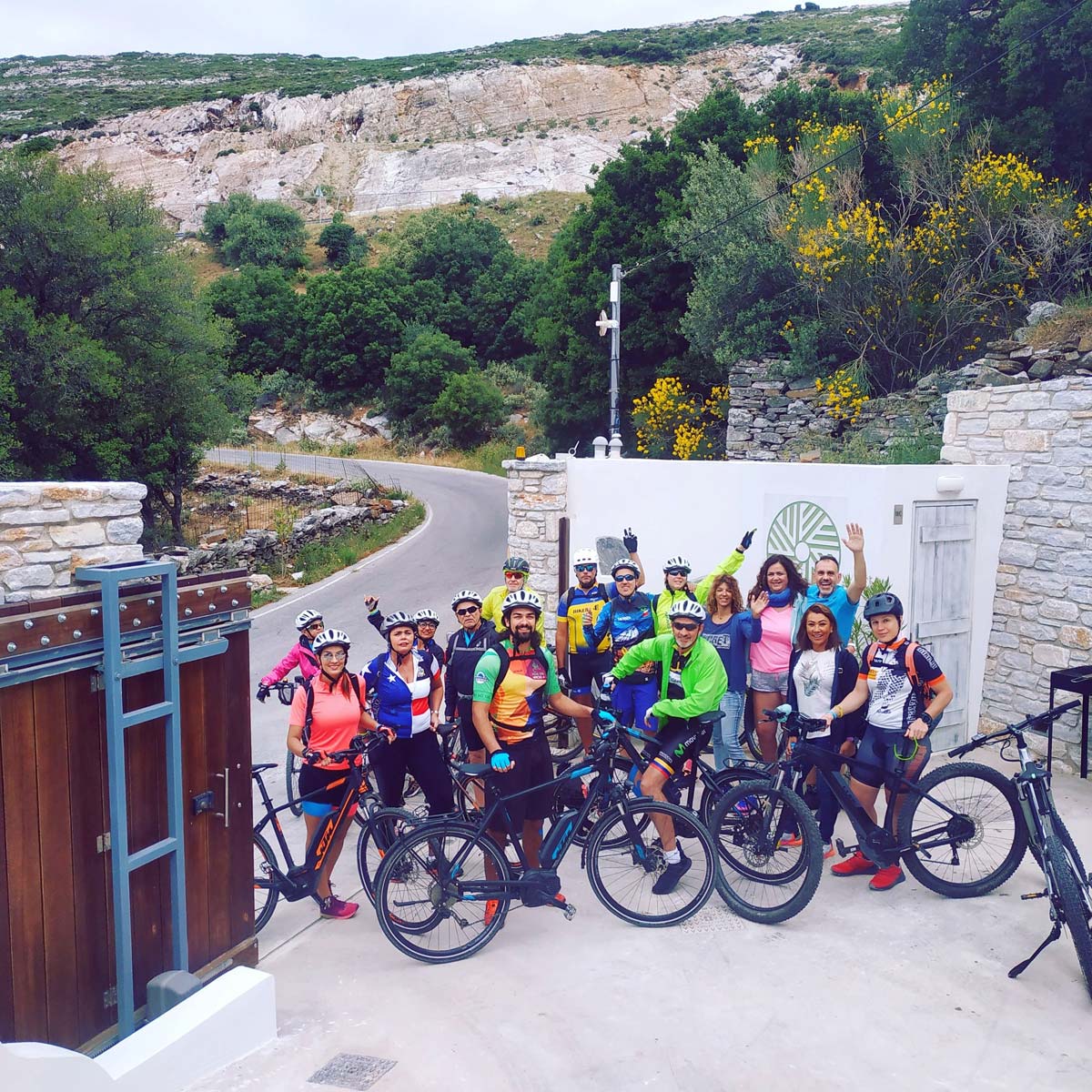 Cycling in Naxos and ELaiolithos
Explore Naxos comfortably while staying in comfort. Enjoy cycling in the greenest region of Cyclades.
ELaiolithos is an ideal cycling base because it offers you unique options due to:
Its central location on the island, in the mainland, and nestled at a junction where the road splits in 3 different directions, making the island accessible at ease.
Well traveled, well rested. Our luxurious rooms offer all amenities designed to rejuvenate you at the end of your cycling. En-suite massage upon request is available
Serene and tranquill surroundings
ELaiolithos is a perfect starting point to explore the many unknown gems of Naxos. The most important attractions of the island are around here. Cycle through beautiful scenery, numerous ancient temples, a medieval fortress, Cyclopean rock formations, stunning marble quarries, Byzantine churches, quaint villages with white washed houses and dramatic coastal scenery, all while enjoying the worldwide known Naxian culinary delights, and the encounter with local people.
ELaiolithos epitomizes the adventurous spirit of Naxos; everything here revolves around nature and landscape. Our regional expertise constitutes a wonderful background for cycling rides and challenging experiences!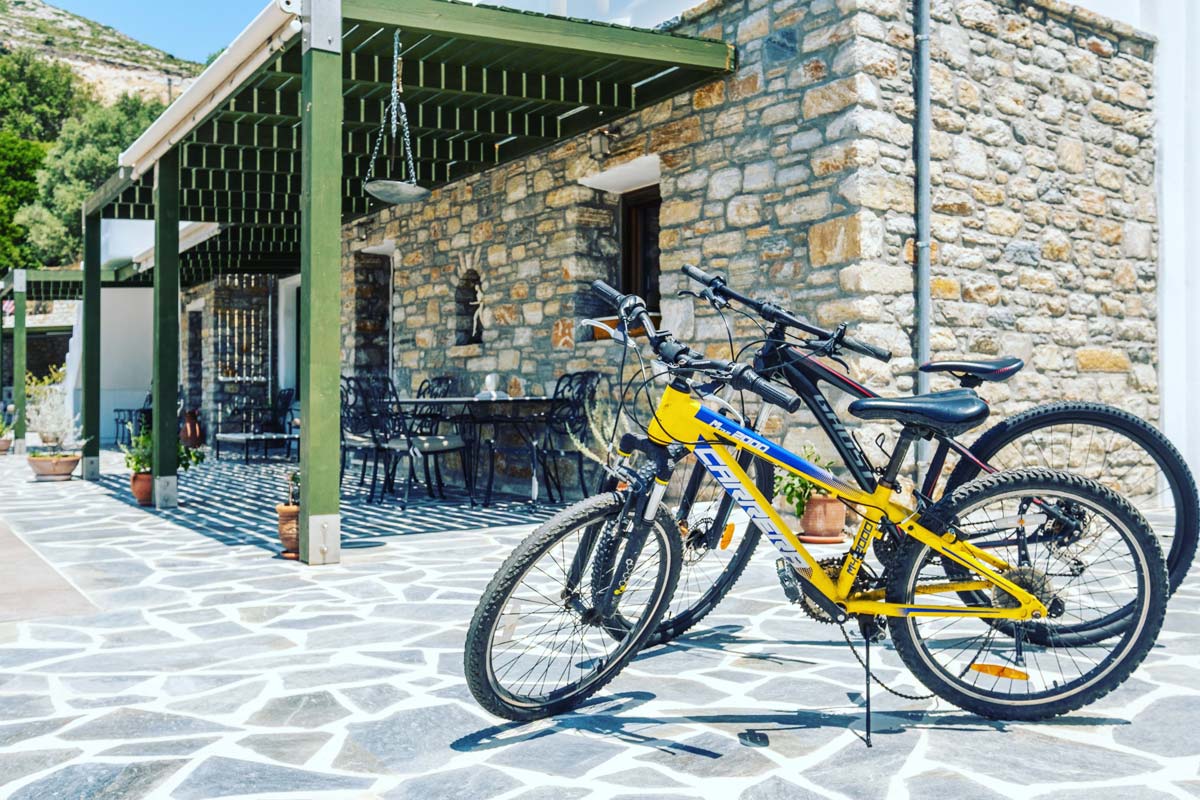 Bike Friendly Facilities at ELaiolithos
We provide you with detailed cycle route area maps including altitude profile, directions, and suggestions like where to stop for refuel, or places of interest along the way.
Bike cleaning services.
A locked gate to protect your bike whenever needed.
Floor bike racks to park your bicycle; stainless steel stands which attach to the ground so your bicycles can be securely attached for parking purposes. Your bikes are safe and secure within our property.
Bike tool set available at all times.
Partnership with local bike shop.
Our suites are equipped with laundry and detergent if you want to wash your clothes
We direct you if you like a guided bike tour and excursion (upon request.)
Lunchbox preparation on site including fruits, sandwiches, drinks etc. (Charge in accordance to hotel's policy.)
Bike transfer service (upon request)
Rich healthy breakfast with local products and lots of fruits, dinner with local cuisine ((all produce organic from our own farms within a 5 Km distance).
All luxury suites are fully equipped with all amenities.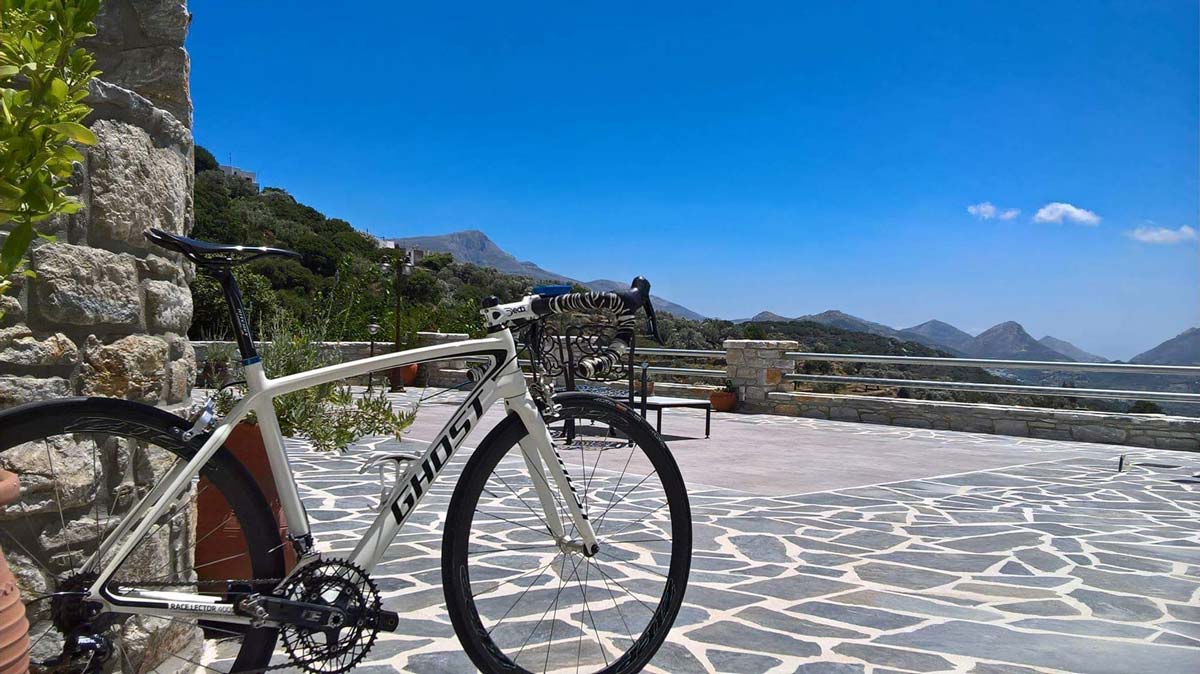 Cycling in Naxos and Weather
The weather is mostly dry all-year round, with perfect conditions for cycling. It is not so-cold during the winter, and not so-hot during the summer. Excellent climate conditions for cycling exist particularly from September to December, and March to mid July (temperature range: 17-25oC)
 Cyclexperience in Naxos – Taste – Smell – Hear
Amazing cycling routes in a perfect location await your arrival…. Pedal happy, stay in comfort, eat well and stay curious….