Handloom weaving in the village of Moni Naxos has a rich tradition dating back to old times. ELaiolithos is situated 1 km just outside of Moni – a historic village with architecture featuring stone houses, narrow streets, and known for the impressive handloom weaving textile creations. These loom weaving textiles (the Greek word is "yfada") reflect the impeccable beauty of Naxos in a local traditional symphony of colors.
The traditional weaving textiles aesthetically define culture, geography, and social structure. ELaiolithos wants to offer inspiration to its guests during their holiday travel to experience this local beautiful, and sustainable handloom weaving art by offering loom weaving classes. A handloom weaving class that would instantly take you with its exotic charm and high aesthetics.
ELaiolithos & Handloom Weaving Textiles & Sustainability
The loom weaving tradition shows care for our environment and natural resources and maintains the integrity of our biodiversity and ecosystem.
ELaiolithos being sustainable, it supports its region weaving tradition and wants its visitors to come in contact with this culture and tradition that possesses high aesthetics. All its suites are decorated with loom weaving textiles that add a distinct local character and unique beauty. Weaved in different styles, they lure visitors with their outstanding beauty and authentic awe-inspiring character.
All sofas, bedcovers, and chairs in ELaiolithos are decorated with these traditional handloom woven textiles that encapsulate the invaluable essence of Naxos' loom weaving tradition. They're all responsibly sourced local crafts, made of 100% Greek cotton, 100% eco friendly and sustainable artifacts.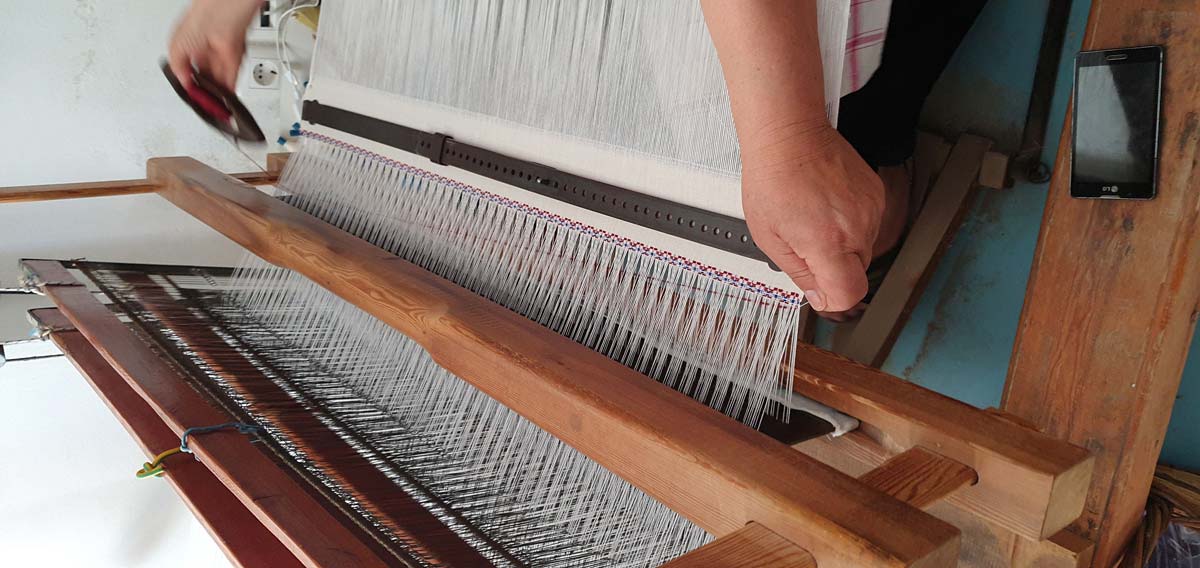 What is a loom weaving class?
Learn something new on your Naxos getaway with the ELaiolithos' unique and enriching experience offerings. Are you interested about the tradition of the art of the loom weaving in Naxos and would love to learn to weave? ELaiolithos supports and promotes cultural curiosity by offering loom weaving classes to the curious audience seeking authentic experiences, and would love to discover the art of weaving.
You'll be surprised how this hand loom weaving tradition can touch your soul. You start the class by getting to know your teacher, a local incredibly talented woman weaver, and very knowledgeable in the subject, who tells you about her life, and how she found a powerful form of expression in the art of loom weaving. She also shows you many of her projects, her sources of inspiration, and she is going to introduce you to the basics of the loom, what you need in order to weave on a handloom. She will get you familiar with the loom itself, exploring  its components, how they work together, the tools used for weaving, and then she will show you how to weave on a traditional loom. This is the fun part of a loom weaving class!
In the class, you'll also learn how patterns are created using colorful fragments on the traditional loom. You'll be able to discover the artistic possibilities of the loom and learn to weave vibrant compositions with a variety of textures, from lashing on to binding off.
Then you will weave yourself, and you'll experience the loom's weaving beauty and the magic of the inspiration that offers you!
At the end of the class you'll have understand that a loom is not just a tool to make weaving textiles, but it's a powerful form of artistic expression where multiple disciplines can be interwoven to tell a story. And each story represents the personality of the weaver. You never know….You might be the next one….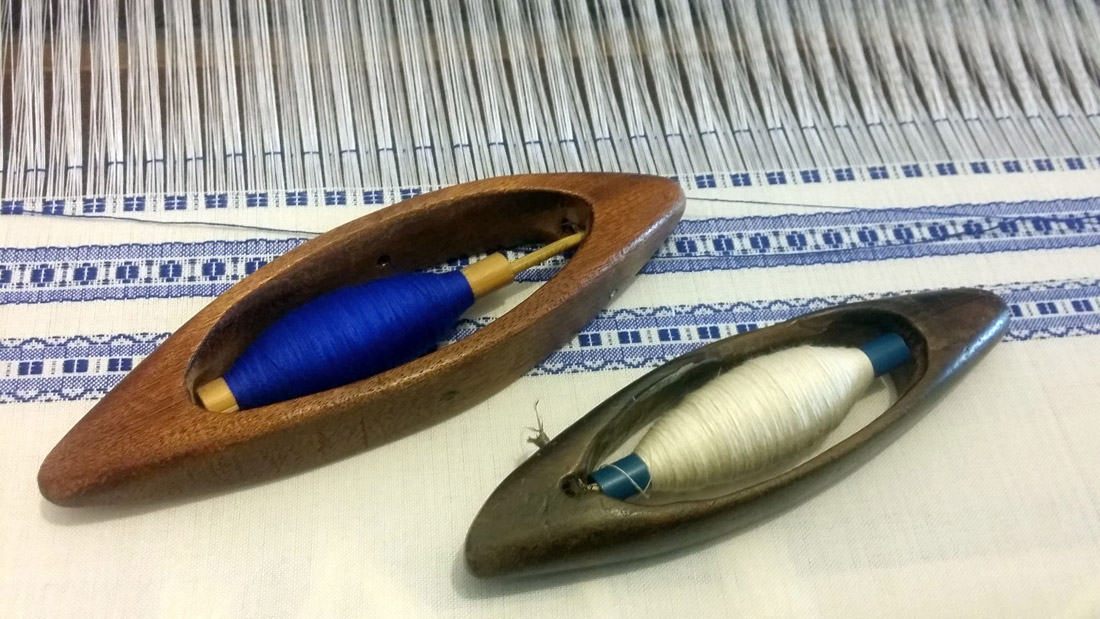 What do I need for the loom weaving class?
No prior knowledge is needed to take this class. Whatever you'll need is provided. You just need your enthousiasm, excitement, and concentration.
Who is loom weaving class for?
Anyone who wants to be introduced, and learn the techniques of the traditional weaving on a handloom,
Anybody with a passion for textile arts and crafts
Anybody who is interested in sustainable textiles
Anyone who loves to explore the world and cares for responsible consumption, especially in textiles
For conscious buyers and travelers who care about source and resource, who think about sustainability
For the curious traveler, who wants to learn during his travels about local cultures and how their traditions survived over the centuries
Weaving connects people through time and within the community. There is not an art so central, and so fully shared among the people, as the handloom woven textile art. The exquisite and complex motifs of these creations have been around for thousands of years, and their power and longevity contribute substantially to the Naxian culture.
You can just give a try and do it.
It is hard to learn to weave?
The first question people ask is if loom weaving is hard. Well, there is no straightforward answer to that. The truth is, weaving is hard, but it's also easier than you might think. The simplicities and difficulties of traditional loom weaving balance out into an art that is both meditative and challenging; it is relaxing, occasionally boring, but somehow always interesting. One thing though is true: it needs dedication.
We'll show you the weaving method to produce a textile, how two distinct sets of yarns or threads are interlaced at right angles to form a fabric. The way the warp and filling threads interlace with each other is called the weave.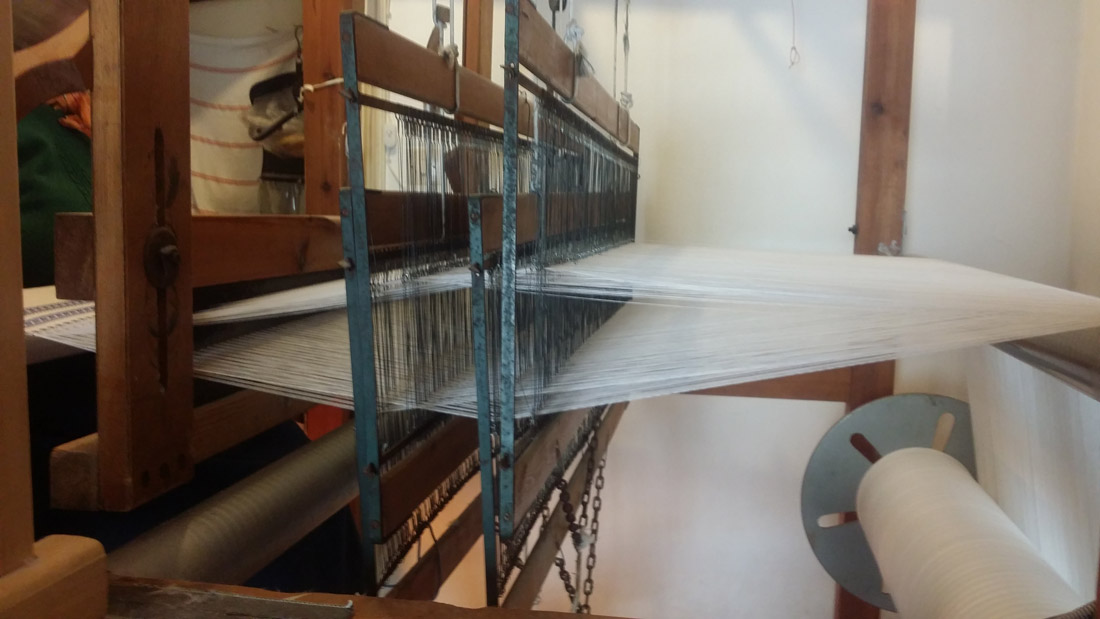 EL Art Gallery
ELaiolithos strongly keeps and promotes Naxian tradition including its very rich weaving tradition. Loom is an art that women have kept in place, thanks to the strong sense of heritage and tradition in Moni village, and the owner's mother.
Find in EL Art gallery curated handiworks that will touch your soul. Handbags, blankets, wallets, place mats, tablecloths, curtains, runners, towels, centerpieces, scarves,   bracelets, sofa throws, yoga throws, and many more….whatever a house needs to be decorated and adorned either for every day or for special occasions. One-of-a-kind pieces with unique patterns in different colors and artistic designs –all created by fantasy and talent.
There is no way you would not find something to delight you, and you can choose the piece you like and matches your style and preference from the shop. Treat yourself to one of a kind local textile to accent your house decor, and to remember your trip to Naxos, Greece or find the perfect handloom weaving gift for your loved ones!