We have given a great thought to our guests' comfort and convenience and your experience matters to us. Authenticity, truthfulness and timeliness are our values. ELaiolithos combines the charm of a traditional Cycladic stone house with the personality of an art studio, and the luxury of a premium modern home, in a marvelous location; thus offering powerful options for the destination traveler.
In the end, it's the comfort and satisfaction that matters most, and checking in a hotel with many good amenities and facilities make it all possible. We're here to make your stay pleasant ….are you ready to experience fun and pamper yourself up?
There is an Art Exhibition in the premises, the EL Art Gallery with amazing handmade exhibits by local artists. The gift shop offers a variety of local handmade products, arts & crafts, herbs and spices to take home.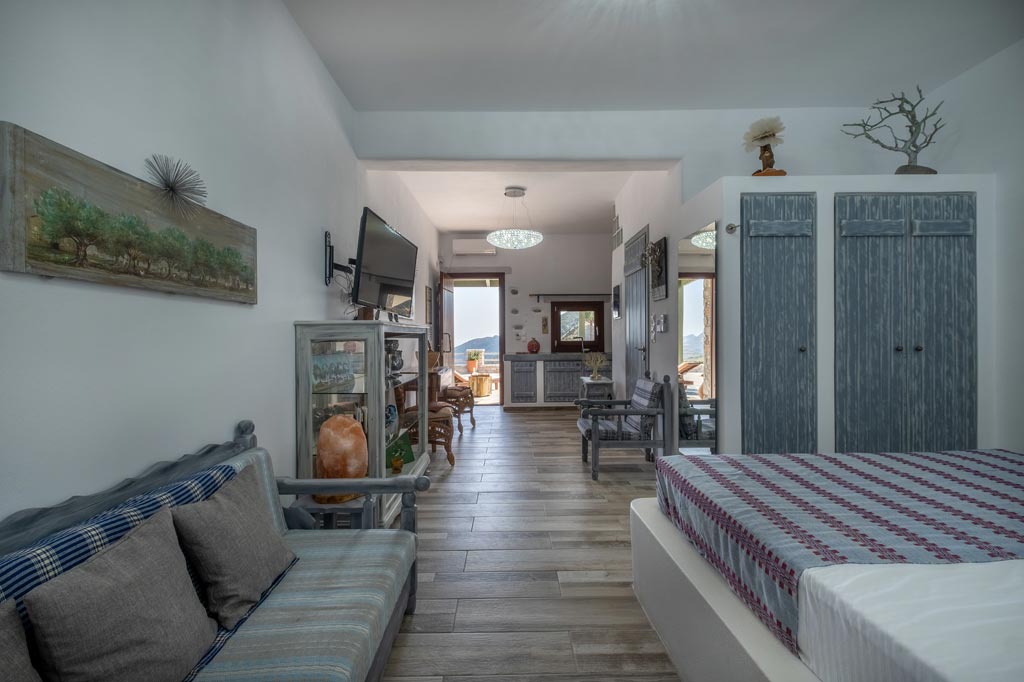 The first welcome that will enhance your senses is our charming, elegant and enormous veranda. This will be your everyday first and last spot to start or to end your adventures in the vibrant island of Naxos. Here relax and catch up scenic uninterrupted panoramic vistas any time of the day or night – Instagrammable Pics.
Free High speed Wi-Fi Internet access outside on the terrace
Wheelchair accessible terrace for the differently-abled guest.
Open Air Lounge Café Snack Bar Restaurant on the premises
Plentiful USB Power Outlets all over the porch outside (you do not need an adapter for your devices)
Photocopying and Printer
Stand for drying clothes and pins
GPS Files provided for hiking trails around (Free)
Services and hiking sticks to facilitate hikes
Day beds / Sun Umbrellas / Beach Towels
Library
Dinning and meals/Local Cuisine/We'll fulfill all your local culinary wishes. We have an extensive vegetarian and vegan menu
Feel like a Local Experience
Luggage Storage
Wake-up Calls / Reminders
Furnished Patio
Hammocks for relaxation
Aerial Pilates Silk Yoga Swing Sets 
Marble table on the edge of the terrace
Free Room Service
Free parking
Our facilities are designed for you to live with Joy and Enjoy!
Our goal is to Simplify Your Life and to accommodate your peace of mind. Experience graceful local hospitality in the heart of the island, unlike the rest, and carry memories forever!
If you have any inquiries, do not hesitate to tell us at any moment….we'll do the rest.
For any special requests for your refrigerator or anything else, please contact us
Checking In and Out
Check-In time: 3:00 PM
Check-Out time: 11:00 PM
At ELaiolithos we guarantee check-in from 3.00 p.m., but if the room is ready upon your arrival, you are welcome to check-in before. If, on the other hand, the room is not ready when you arrive, you can store your luggage with us at no charge until your room is available.
Check-out from the room is at 11.00 a.m. at the latest, but if you need a late check-out, then let us know upon arrival, or during your stay, and we will do our best to accommodate your request. Similar to check-in, you have the option to store your luggage when checking out.