Mother Nature is at the center of your holiday experience at ELaiolithos – a brand new holiday hideaway with a calm and tranquil atmosphere in the mainland of Naxos at an altitude of 500 meters.
ELaiolithos conveys a cool feeling of serenity with its aesthetics closely intertwined with nature. It provides an oasis of serenity whether in the natural earthy inspired tones of the decor, or the way the expansive windows frame each natural stone. Bask in the dappled light and unwind in this contemporary and stylish Cycladic architectural haven.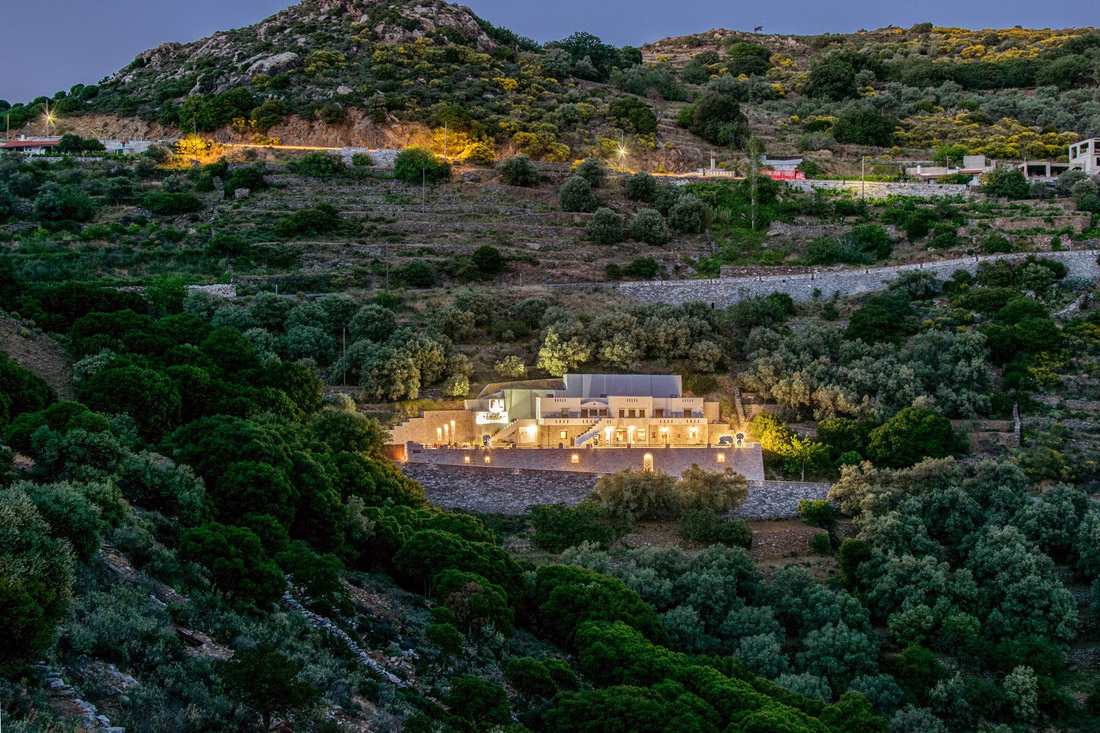 Step into ELaiolithos' world of natural beauty and unforgettable sights and sounds. Here we will provide you with a sumptuous local breakfast, luxurious accommodations with contemporary amenities, modern conveniences, and a friendly atmosphere.
ELaiolithos' architecture is combined with traditional styled furniture and services, with the focus of providing a comfortable and relaxing stay to its guests. Wind your way through our terrace and you'll feel serenity settle over you like a delicate mist. With an elegant stone floor and local accents, ELaiolithos is the place to retreat to for blissful contemplation, or for connecting with yourself, your loved one, or nature.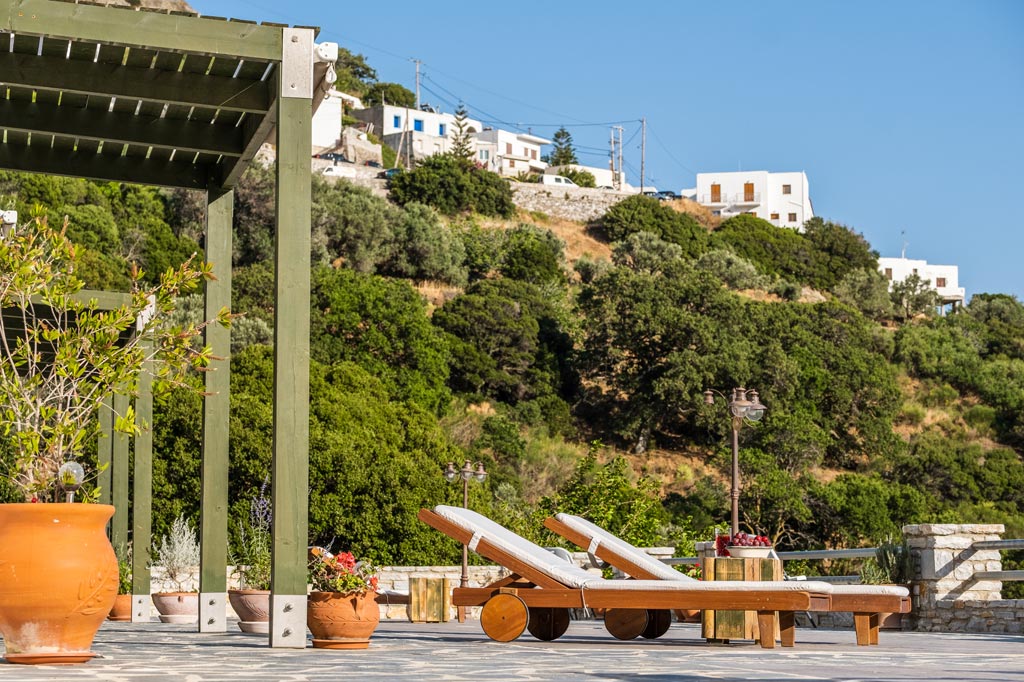 All suites are exquisitely furnished in soft earthy colors with concrete built beds, Cycladic style bathrooms, and lighting that ooze indulgence. A stay at ELaiolithos is the ultimate way to restore, relax, revive, reconnect, and explore. Fling open the doors and let nature flood in, relax on the terrace, listen to the birds' melodies, to the goats' bells, and feel the rest of the world melt away!
Each room has its own concept and offers you something special. Whether it's the astonishing bathroom that leaves you amazed, or a dining room table you simply won't want to leave, all rooms have received their names from the neighboring mountains and are decorated in such a way as to exude a sense of connection to the tale behind it.
Imagine a secret garden overflowing with abundant life. Think of birdsong echoing from every corner, the scent of flowers and trees in the air, and then imagine being given the key to that garden. This would be an accurate description of your stay at ELaiolithos – where magic awaits you around every corner.
Why book with ELaiolithos? What makes ELaiolithos different?
Its privileged location, situated on one of the most scenic areas of the island between Chalkio and Moni. ELaiolithos is brilliantly nestled in the heart of Naxos, in the hinterland, with an uninterrupted view of mountains, valley, and sea, visible from every room and the terrace.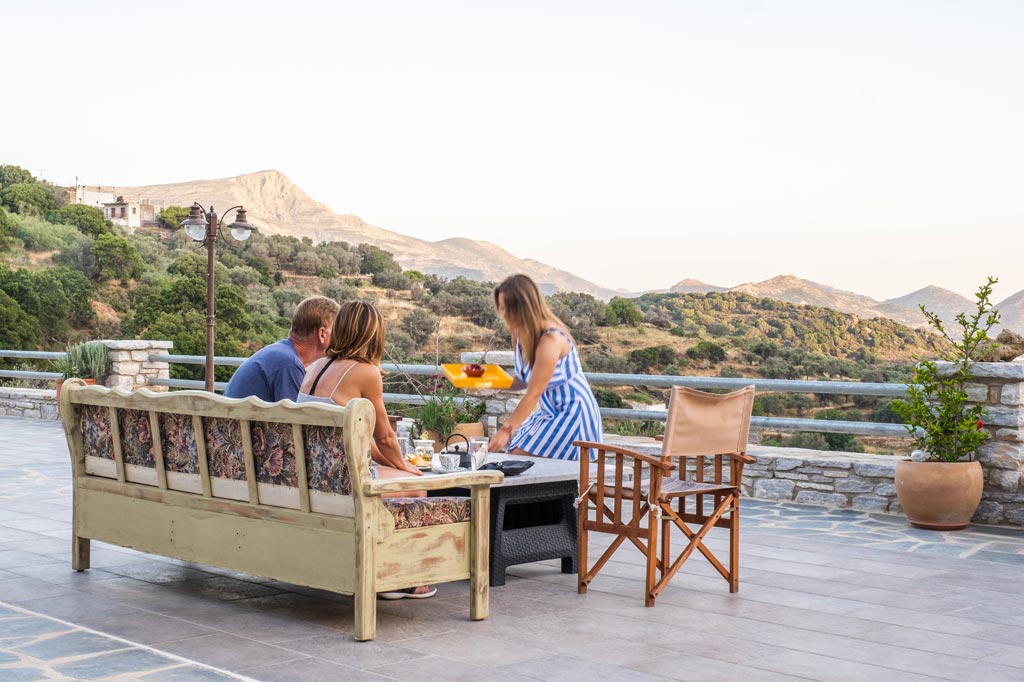 The opportunity to enjoy both the mountains of the island and its wonderful beaches in a short proximity, gives to ELaiolithos a great advantage for someone who seeks a little adventure in this Cycladic island plus the deep blue of the Aegean. It's the ideal base to explore the island in every direction at ease.
Naxian local charm, hospitality and regionally inspired décor that awakens the senses with its history, vibrant landscape, culture, and traditional art.
ELaiolithos embraces the eco-friendly lifestyle and green philosophy of nature while providing an oasis of luxurious accommodations. In a few minutes from here you will be able to reach the most beautiful monuments and landmarks of the island, or beaches, all accessible at equal time.
Eat seasonally and sustainably: here you eat with intention, you have access to good, clean rustic regional dishes, local food, and traditional cooking. This means high-quality local ingredients, sustainable and green agricultural practices, and accessible prices. Our superb regional menu changes daily with classic seasonal Naxian dishes.
Four poshlux enchanting apartments offer the ultimate escape and convenience all fully furnished including state-of-the-art kitchens and utensils.
Its Service: We provide authentic guest experience with personalized service by working closely with every guest to ensure all elements of their stay achieve nothing less than the higher standards. We call that a perfectly imperfect, friendly and informal accommodating. We welcome every guest with care and attention from the very first minute they step into ELaiolithos. We treat everyone with honor and respect because they honor us and respect us by choosing ELaiolithos for their staying in Naxos. We make everyone to feel here like their home,  a sanctuary, a sacred space where they feel safe, where they feel free, where they feel cared and curious, where they laugh…….
 
The island's most renowned attractions are within a short distance:
the Panagia Drosiani Byzantine church, 6thcentury (300 meters away or 5 minute walk)
Wood Curved Exhibition 2 Km away, next to Calliope Taverna
Marble Quarries 3.8 Km
Garinou Spring & Saint Artemios by Kinidaros Village 4 Km
Chalkio village – Traghaia valley Byzantine Park 4Km
The historic Vallindras Distillery in Chalkio – which has pioneered the renowned citron liqueur
Monitsia Village, 4.5Km
Barozzi/Gratsia Tower 17thcent. 3.9Km
Markopolitis Tower (18thc.) in Akadimi
Taxiarchis Rahis, 5.3Km (12-13thc.) in Chimarros
Panagia Rahidiotisa 6.2km (12th-14thc.)
Saint George Diasoritis 4.4Km (10th-11thc., Chalki)
Panagia Protothroni, Chalkio village, 4km (6TH-7THC.0
Apano Castro (Upper Castle) 6.5Km
Places of Interest & Archaeology nearby:
Demeter Temple in Sagkri village (6th BC, Gyroulas), 10 Km
Geometric Era Necropolis, Medieval fortification of Apano Castro (Upper Castle) in Tsikalario village, 7 Km
Fotodotis Monastery of Christ towards Danakos village (6th), 11 Km
Kouros of the god Apollo – the greatest art of antiquity 10 meters long (4th-5th BC) in Apollonas
Picturesque Villages & Scenic Attractions nearby:
Arion Spring by Filoti village (7 Km) at the foot of mountain Zeus.
Apeiranthos Village, 10Km
Koronos Village, 7 Km
Lionas & Emery Mines, 12 Km
Apollonas – the northest part of Naxos, 17 Km
Damalas Clay Pottery Workshop, 6Km
Moutsouna & Emery Mines, 22 Km
Where We Are:
ELaiolithos – an oasis in the middle of Naxos island, in the heart of hinterland. It is more than a holiday retreat; it is a home away from home.

ELaiolithos blends gracefully with its spectacular surrounding. Scenic views of Moni village, the Zeus Mountain – tallest in Cyclades (1004 m.), Fanari Mountain, the Panaghia Drosiani –the oldest Byzantine church in Cyclades, and the Drymalia/Traghaia valley. This all lay at the feet of ELaiolithos.
Step into ELaiolithos and feel the warmth of Naxian hospitality combined with Cycladic architectural mastery. Explore and admire the striking views or simply sip on a refreshing drink at our welcoming bar or on the terrace.
ELaiolithos – an imposing rebirth of the Spirit of Naxos and the ultimate getaway to a natural wonderland! Here time meets with history, culture, and tradition. The island has unprecedented cultural treasures. If you want to avoid mass tourism and enjoy the peace and quiet of the hinterland and the wonderful local food, then ELaiolithos is the perfect destination for your Naxian holiday.
ELaiolithos is ideal for:
Those who like to EXPERIENCE LOCAL L!FE. ELaiolithos is a unique combination of Naxian History, Mythology, Culture, & Tradition with opulent accommodation and comfort.
Those who love ethical living and seek simple pleasures like waking up to views of nature & feeling its euphoric energy and tranquility.
Active, adventurous, and curious travelers who wander with passion.
Minimalists, escapists, and nature lovers who are interested in capturing the energy of nature in its rawest form and are inspired by it. For those who let nature dictate a bit of the trip for them.
Lovers of photography, history and art
Artists and Spiritual ones
Cyclists and Motorcyclists
those who Hike/Trek