Naxos is amongst the top gastronomical destinations of Cyclades and all of Greece; its cuisine is considered one of the healthiest ones.
Naxos gastronomy has a long and rich history with endless gastronomic treasures. Naxos island is blessed with a rare Mediterranean beauty, it's the largest and the most fertile Cycladic island with abundance, wealth and self-sufficiency since antiquity.
Naxos island is the agricultural heart of the Cyclades, the only island in the Aegean archipelago that isn't barren. Its mountainous interior, yet fertile soil with its plenty of winter rains, is very fertile and dotted with villages steeped in unique Naxian gastronomy tradition. Naxos' thriving economy is based on land products, sufficient for not only for iself, but also for exportation to the rest of Greece and abroad. The island's most valuable sources of income arrives from the delicious top quality potatoes, milk, meat and cheeses.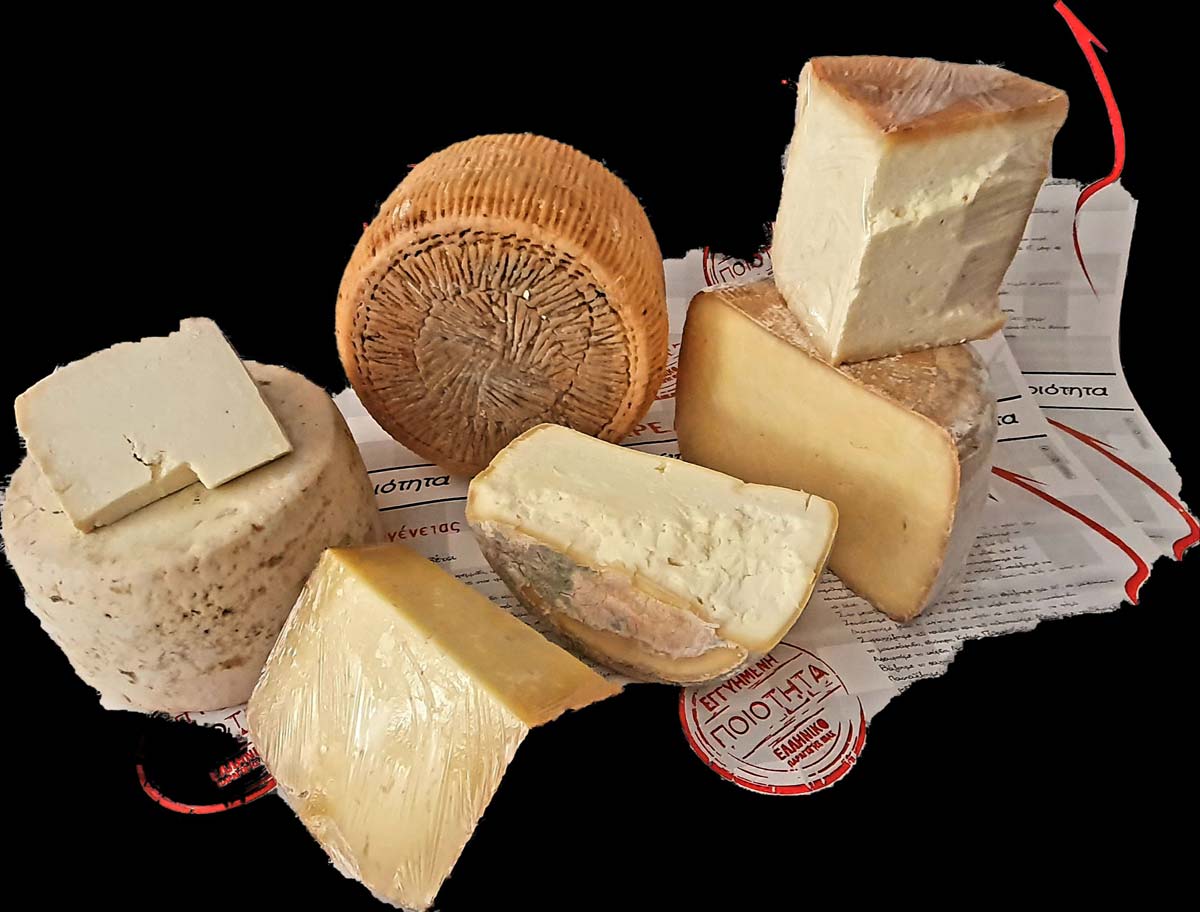 Agriculture is a large industry on Naxos and that is reflected in the quantity, quality and variety of food. Thousands of olive groves are found on the island that produce olives and amazing virgin olive oil, a plethora of fruit trees, fig trees, and citrus trees, vegetable fields, potato field crops, thousands of goats and sheeps in the mountainous region produce milk and locals make amazing aromatic cheeses, vineyards that produce unique wine varieties, cattle breeders in the coastal villages that produce cow milk and meat. Naxos is worldwide known for its delicious cheese varieties, among the best ones in Greece, its great meat, and marvelous potatoes.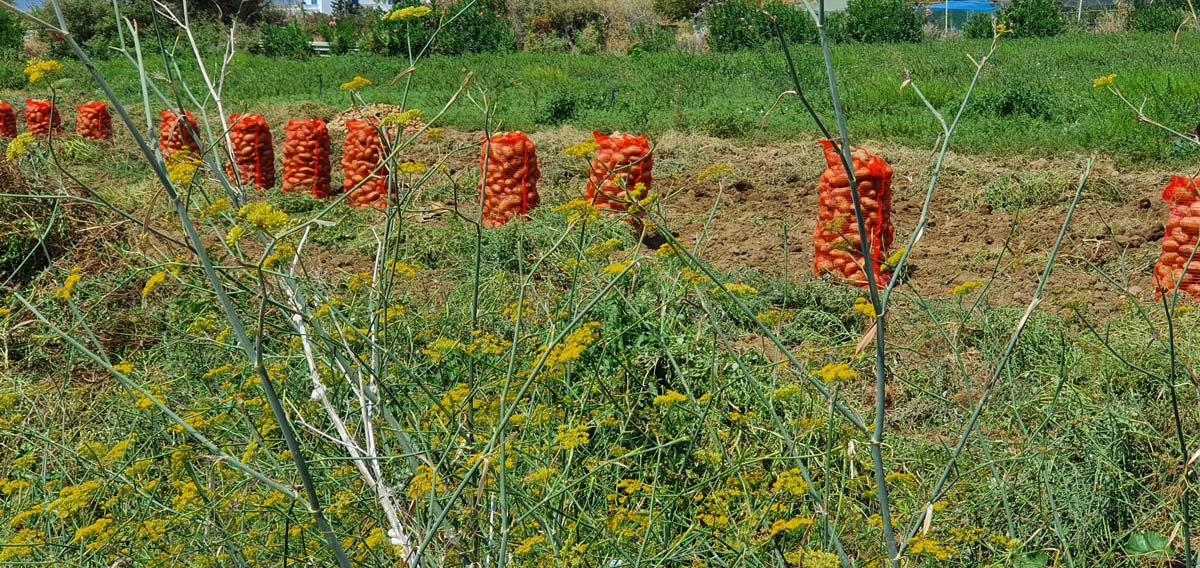 What you will enjoy during your holidays in Naxos except the Greek sun and beaches is Naxos' gastronomy: local fine meat, fresh fish, healthy fresh vegetables, excellent dairy products which are accredited worldwide, mouth-watering fruits, and, of course, the local wine, the miraculous olive oil, the famous Naxian potatoes and the variety of the amazing cheeses such as the arseniko, graviera, myzethra, xinomyzethra, anthotyro, myzithra, kefalotyri, xinotiro, kopanisti, ladotyri, manouri. All these, are combined successfully, and undoubtedly produce the finest of Naxos gastronomy dishes that satisfy your palette with their richness of tastes.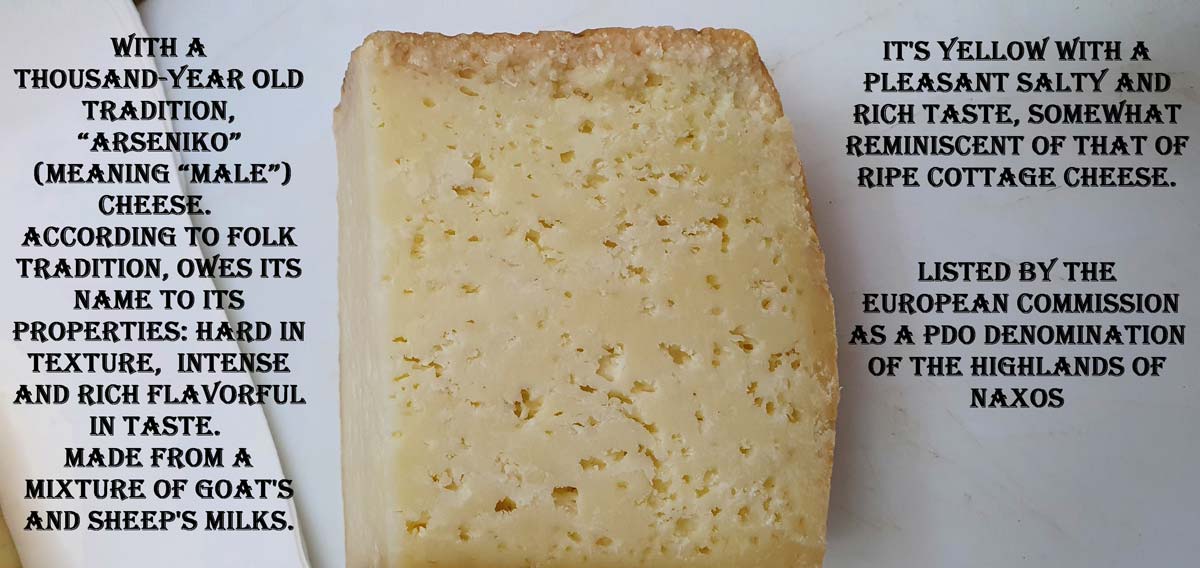 Taste all the perfumes of nature in Naxos' cheeses
Good cooking is all about good ingredients. The island produces all the essential ingredients for creating the best-tasting dishes. Herbs such as oregano, thyme, mint, basil, parsley, coriander, bay leaves and sage are produced in abundance in its mountainous region, and they're playing an important role in the Naxian gastronomy. They not only add unique flavors to the food, but contribute color and variety as well.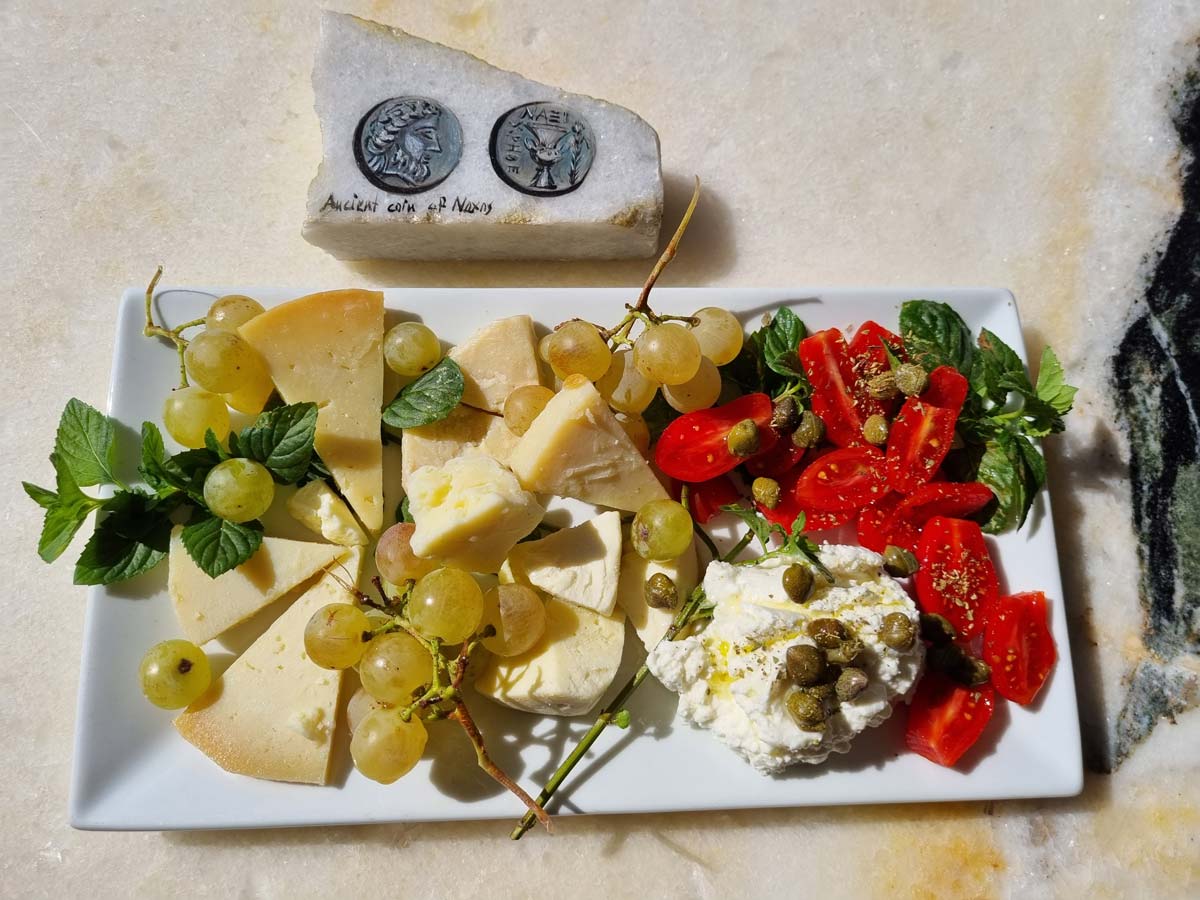 Make sure you try the local dishes -created to be shared- placed in the center of the table and enjoyed as part of a big group. This is known as "mezethes" dining, a word eponymous with communal dining meaning "taste, flavor, and snack" and it's a wide spread tradition all over the island. The mezethes purpose is to complement and enhance the taste of the drink (raki, wines, ouzo), and provide the backdrop for a social gathering. Naxos produces raki drink in abundance.
The custom is for family and friends to gather or go out for mezethes, and share several local delightful dishes, a drink, conversation, and laughter. The little plates are shared by everyone at the table, which not only provide a wonderful variety of flavor and texture sensations but also create the kind of happy, convivial atmosphere for which Greeks are well known.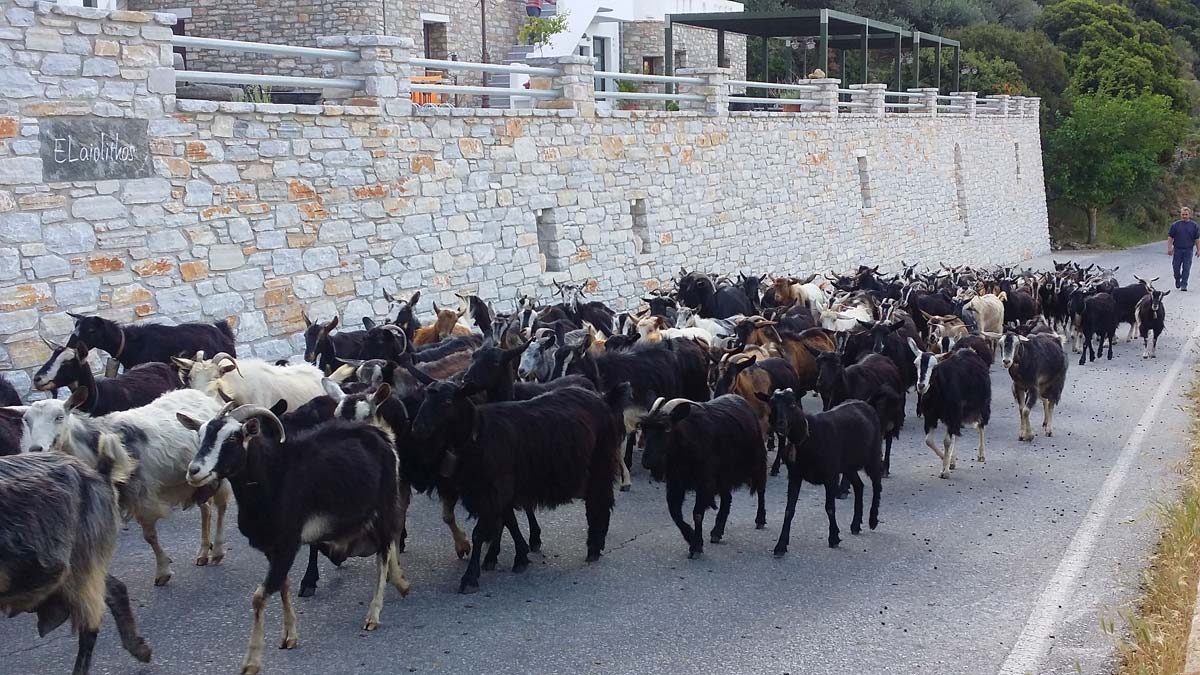 NAXOS GASTRONOMY FACTS
14% of Greece's dairy production comes from Naxos
The island has numerous beef, goat and sheep production units –hence very excellent meat and steaks
Naxos has the biggest array of agricultural products in the Cyclades
The famous Naxian product is Citron, which is a renowned liqueur made of the homonymous fruit (which is kind of like Grapefruit). The first distillery that produced Citron was Vallindra's Distillery and it's worth a visit to the village of Halki.
The cuisine of Naxos is primordial and reflects its deep cultural history. With its distinctive character, heady aromas, and fruit and vegetables ripened in bright sun, it's a separate chapter of the Greek gastronomic tradition, and indeed of world culinary history. Hundreds of traditional recipes have been handed down from generation to generation and a plethora of flavorful dishes is waiting for you to taste!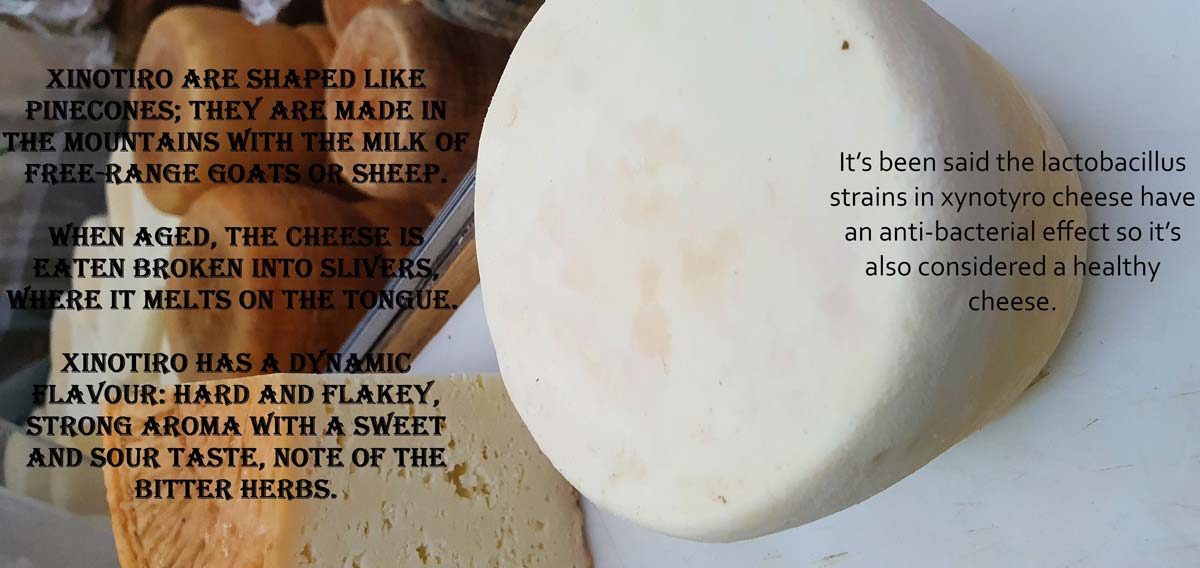 The restaurants of the island are highly respected by devotees of haute cuisine and authentic Naxos gastronomical experiences. Come, try something new, and explore cuisine "without borders!" Visitors to our island have the opportunity to experience farm-to-table food with local products that outdo each other for taste.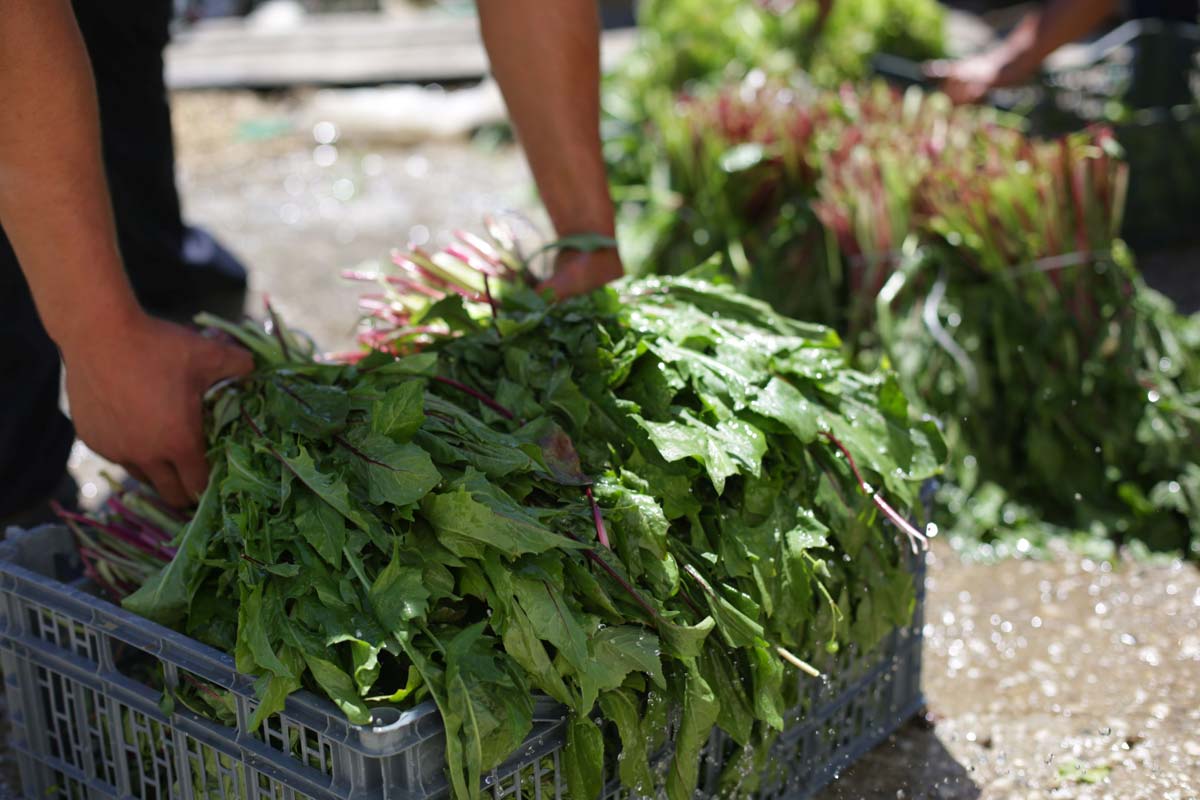 Where to eat on Naxos island? You can d!ne Sustainably on the edge of Drymalia, at ELaiolithos – where a VIBRANT CULINARY JOURNEY through Naxos' gastronomy culture awaits you with fresh farm to table food. Eating here offers a unique set of experiences, found nowhere else on the island because our ingredients come from our own farms of the surrounding region of 5 Km only.
ELaiolithos' concept is the Slow Food Philosophy, which stands for sustainable local organic experiences, healthy and clean eating and living. Experience Naxos gastronomy at ELaiolithos because "Clean Food" is the real luxury in our days….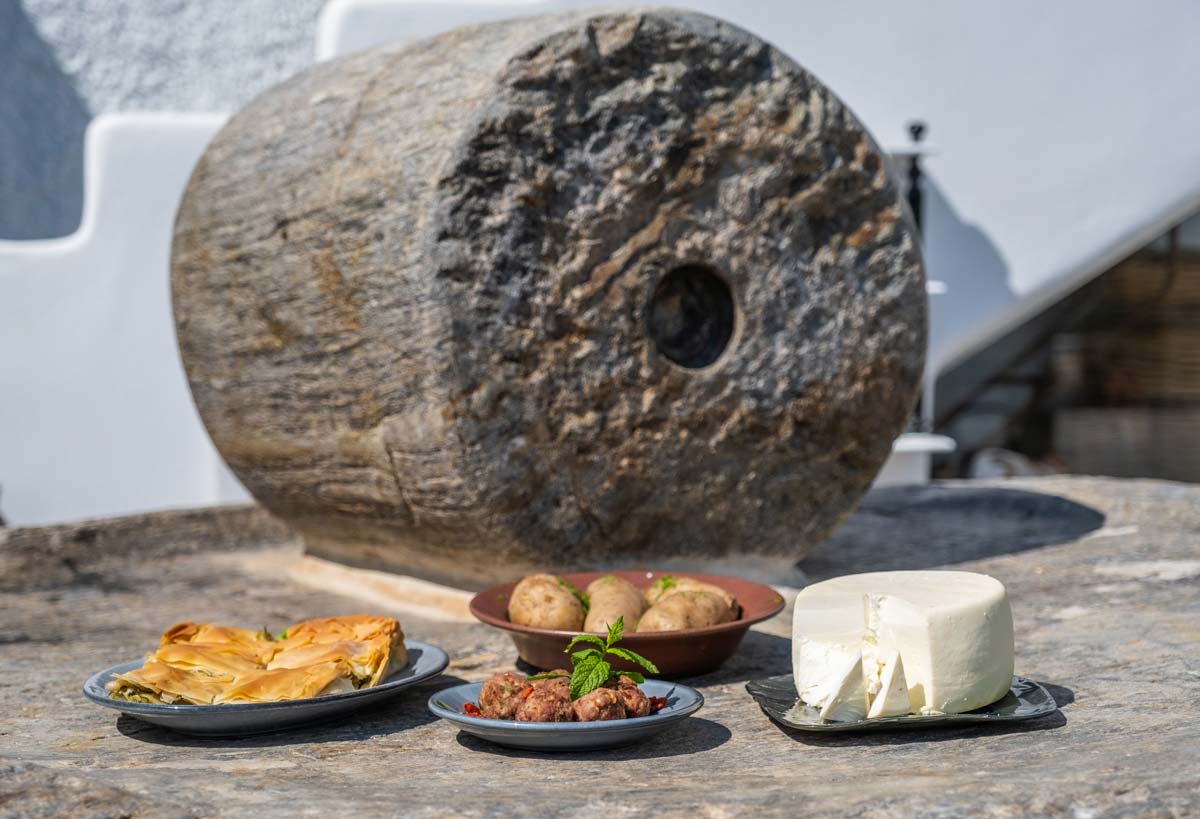 Naxos promises to be a culinary experience you'll never forget!
Here you'll take part in a game of discovering new tastes and aromas and new combinations of foods.
Here you have the opportunity to taste products that cannot be found anywhere else in the world.
What are you waiting for? Naxos gastronomy is an experience to remember!