How big is Naxos? How long does it take to drive the island of Naxos? Naxos island has a population of almost 22,000 and encompassing a land area of 430 Km², 170 mi² (7.5 times the size of Manhattan, about the size of Barbados, and about one third the size of Kauai, and Hawaii). Naxos is over 5 times the size of Santorini and Mykonos, and over twice the size of Paros and Milos. The length of the island is around 40 Km, and it measures around 30 Km at its widest point. You can drive the island of Naxos around from end to end in a couple of hours.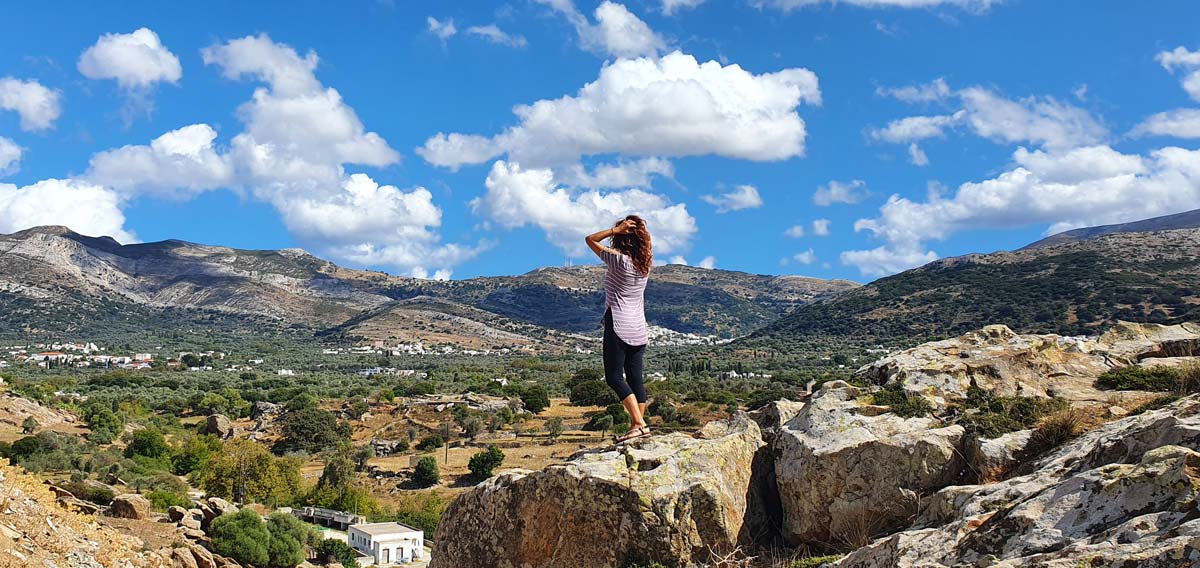 What is Naxos Greece known for?
Naxos is known for many things:
The iconic Portara gate, the temple of god Apollo, and landmark of the island
The Demeter Temple
Marble Quarries. It produces the best Crystallina white marble in the world
Magnificent landscape with the highest mountain of Cyclades, Mt. Zas 1004 m
Kitron liquer, PDO (Protection Destination of Origin)
It's an incredible gastronomical destination- the island is self sufficient
Known for its famous Naxian top quality potatoes, the best in the world
Amazing aromatic cheeses, among the best ones in Greece (arseniko, anthotiro)
Known for its excellent quality of meat
Kouros marble statues
Numerous Byzantine churches, a few of those are among the oldest in Balkans
Green lush valleys and natural fresh water
Handloom woven textiles
Long golden sandy beaches with crystal clear waters
Its ideal wind conditions for windsurfing and kitesurfing in Mikri Vigla and Laguna
Naxos is known also from Greek mythology to be the place where Theseus abandoned Ariadne on their way back to Athens from Crete after she had helped him escape from the labyrinth at Knossos, where he had killed the Minotaur. She then took refuge on the nearby isle of Donoussa and ultimately consoled herself with Dionysus, the god of wine and festivities who is celebrated to nowdays every year with elaborate carnival festivities just before the Lent period. Richard Strauss's opera, Ariadne auf Naxos, was inspired by this legend.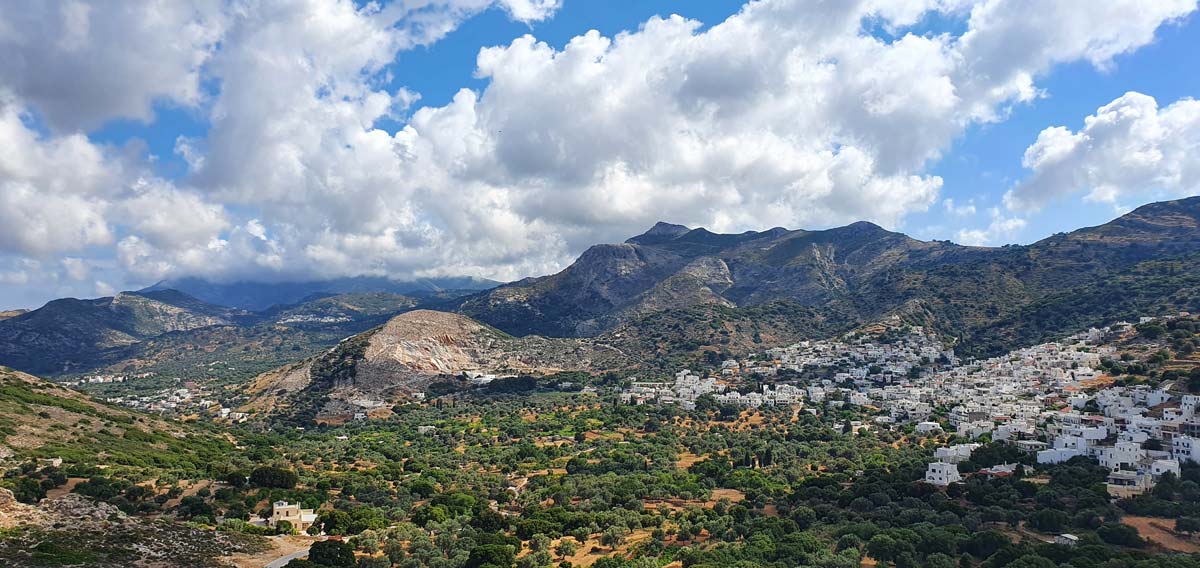 How many villages are there in Naxos?
Naxos island is quite big and the best idea is to rent a car when visiting Naxos. If you want to explore the island, drive around, head to the mainland and the highlands, discover off the beaten path places and isolated beaches, enjoy farm to fork cuisine, hiking and stunning spots overlooking the island and adjacent Cycaldic islands, then you must rent a car. There're 41 villages, 30 of those inhabited and ready to be explored. All far from the coast, some of them famous and others less popular but they all have beautiful scenery, authentic local life, and delicious food. Naxos villages will open your eyes to a secluded world of a Greek island. The most remote village is at 700 m altitude, nestled on the ridges of the mountain Koronida with a population of 600 people. These villages are full of life, with communities that will welcome you with open arms and broad smiles.
Can you drink the water in Naxos?
Tap water in Naxos villages in the mountains is drinkable. Most villages have their own natural water coming from a near by mountain water spring. This water is perfectly 100% safe to drink. It's the supply of each village.
The water in Naxos town, Chora, and the surrounding area is not drinkable. You need to get bottle water to drink. The municipality of Naxos has placed several taps in Naxos town with fresh water of good quality, suitable for drinking. As you walk around Naxos town you will see small marble structures about 2 feet high with a tap and a drain. Locals get their drinking water from these locations. Tap water is fine though for bathing and brushing your teeth.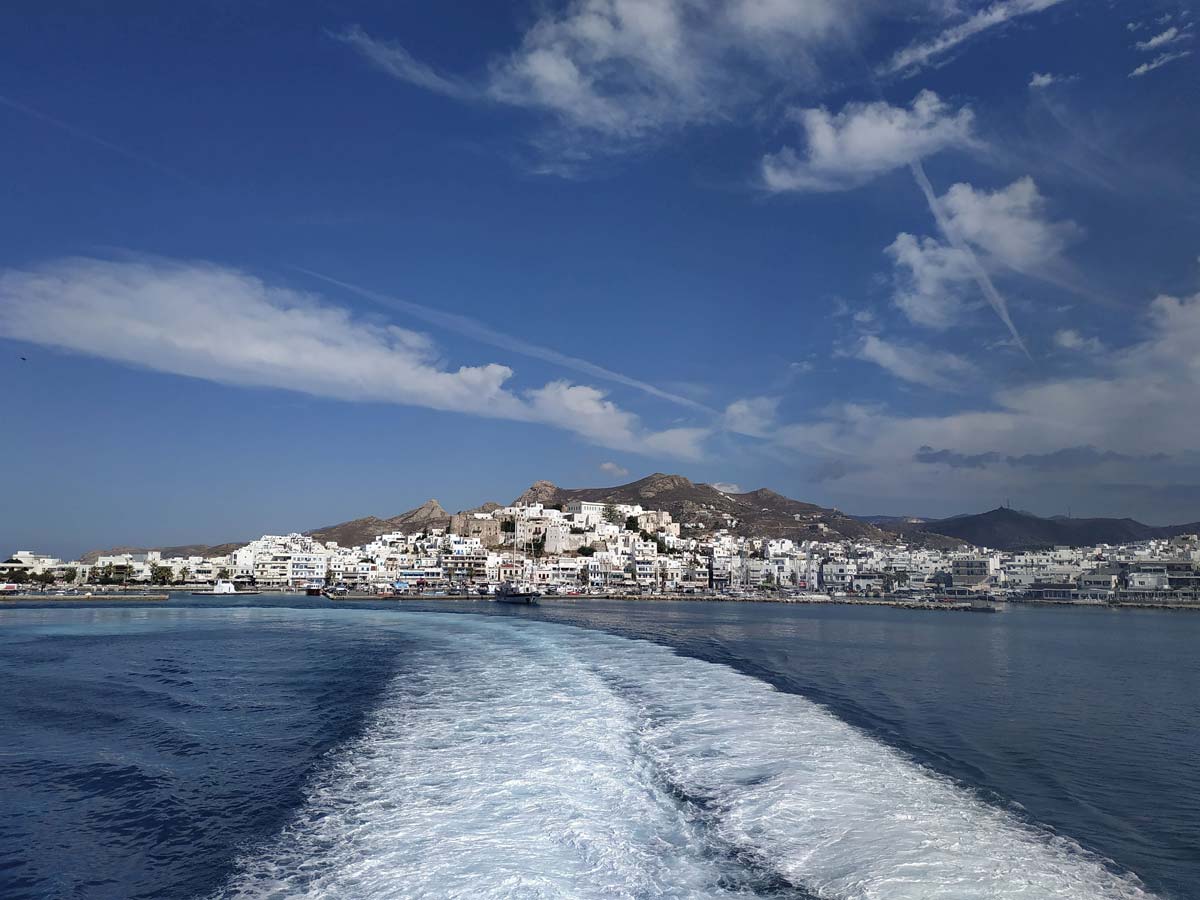 How many days do you need in Naxos?
Naxos island is home to unforgettable 148 Km of shores and isolated beaches, it hosts a plethora of traditional quaint villages, ancient ruins, the greenest lush landscape in Cyclades, it has tall rugged mountains, and many hiking paths in the mainland and the higlands. There is so much to experience on Naxos, the island has more attractions than any other island of the Aegean archipelago, that it's impossible to enjoy everything in one go.
Most travelers come to Naxos for a 2-3 days itinerary, but upon their departure they all claim that this was not enough for such a large island and with so many things that has to offer. 5-7 days will offer you the opportunity to enjoy the island's beauty, local life, tradition and culture. The island has something for everyone, for every taste and every budget.
Naxos is a very diverse land, full of surprises!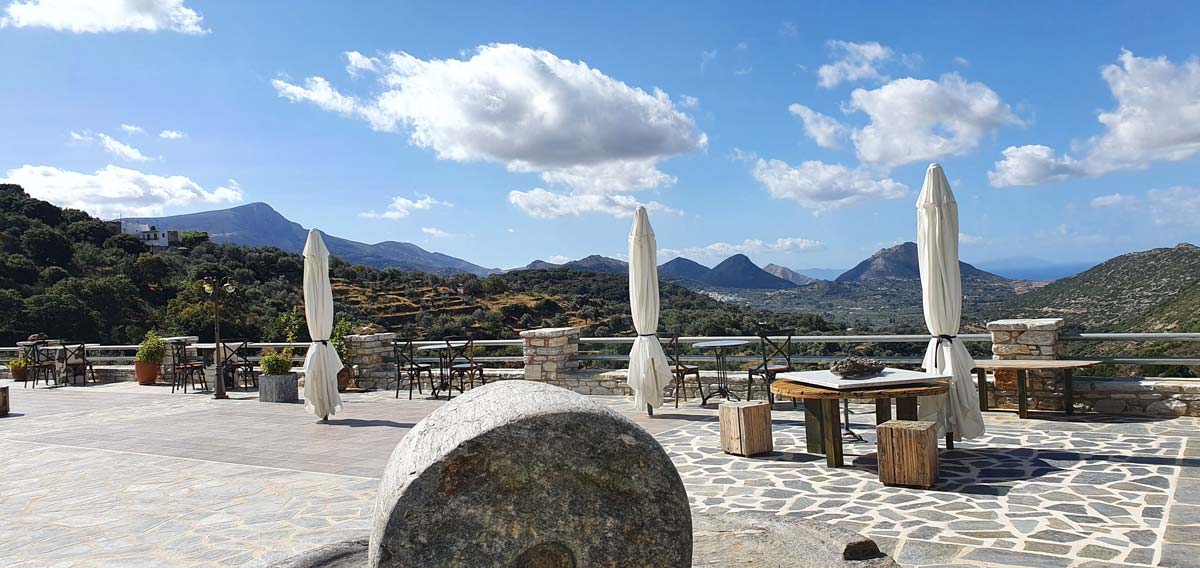 Naxos villages and ELaiolithos' great advantage
Deciding on which place to stay in Naxos isn't an easy task, because each area offers different things. Naxos has it all, but not in the same area! If you want to truly relax and get away from the masses and the touristic crowded spots, staying in the center of the island will offer you the option to explore the island at ease, unwind, rejuvenate, and travel your way into the past where time moves at a different pace here.
A stay in the center of the island is a great option for those looking for an authentic Naxos experience, for those who love to explore the place they travel to and want to get the most out of their holidays, for those who like to get to know the real Naxos, its culture, its tradition, walk its paths and connect with the locals. Your staying here offers you the experience to live like a local, eat like a local, and feel like a local.
ELaiolithos is a great place to stay if you're seeking to focus on discovering all that Naxos' has to offer: nature, beaches, mountains, villages, traditions, and terrific organic farm to fork food. ELaiolithos is a hotel in a great location, with stunning views of the island, and an ideal base to explore the whole island at ease because it's situated at a junction where the road splits in 3 different directions, to the east, west and north, which is offering you the great opportunity to explore the whole island without traveling afar every day. Within just 20 minutes you can find yourself in any beach of any side of the island, any popular beach or isolated beach, enjoy great local food, hiking, sightseeing, and with all the major attractions and popular villages being around the hotel with just a 5-10 minute drive only.
ELaiolithos offers you the best of all worlds, mountains, Naxos villages and beaches at a short proximity. It's at the epicentre of a rich local culture and very close-by to the most popular and famous Naxos villages:
Chalkio village, 5 minute drive
Filoti village, 8 minute drive
Apiranthos village, 10 minute drive
Koronos village, 10 minute drive
Moutsouna, 20 minute drive
believe us when we say it's hard to leave from here…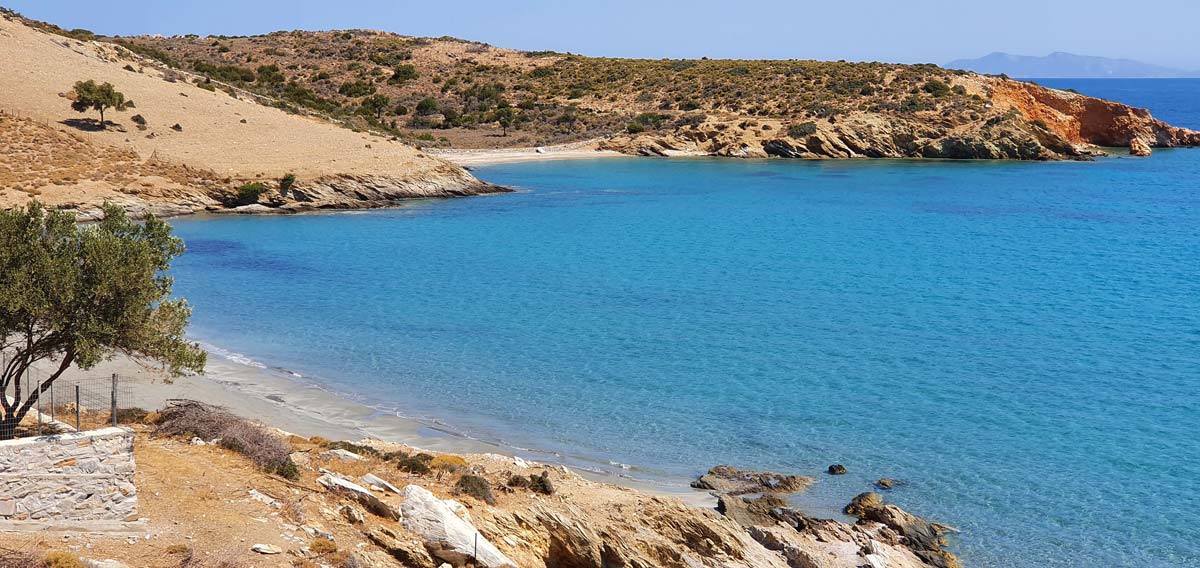 How many beaches are in Naxos?
Naxos beaches are among the most beautiful and exotic beaches in Greece. Naxos has 148 Km of crystal clear blue sea water beaches with white soft sand for swimming. Naxos beaches are famous for their cleanliness, and natural beauty.
Catch the Mediterranean sun with swimming either to cosmopolitan tourist crowded sea fronts or to natural unknown and virgin spots. The beaches of Naxos are as diverse and beautiful as the people who inhabit the island. Why not get started now to explore?