The cave of Zas, one of Naxos' most impressive natural sights. Mount Zas (Zeus) is the tallest mountain of Cyclades, 1003 m (3,290 ft) height. On the way to the top, from the western side of Mount Zas where the Aries Spring is, in 800 meters uphill is located theCave of Zas, at an altitude of 630 m.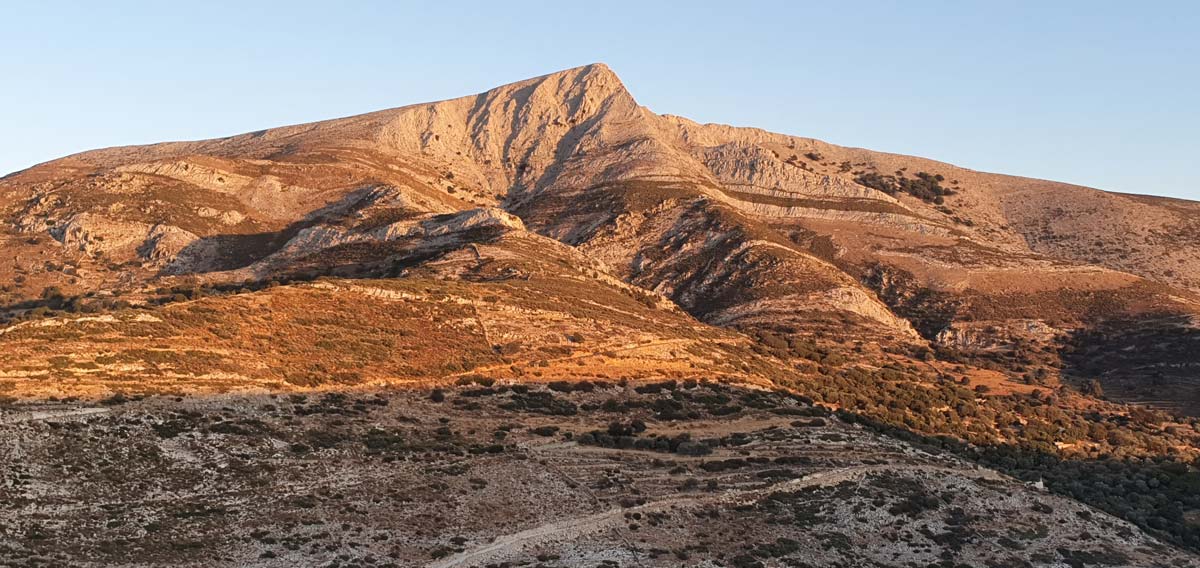 According to the Greek mythology, Zeus, father of all gods, was born in Crete but was brought up in Naxos. Zeus found shelter here and was raised here in this cave when he was prosecuted by his father Kronus. In the cave of Zas, an eagle was said to have offered Zeus the thunderbolt and that's when he became the ruler of the Olympus. Then the inhabitants named the mountain and the cave after his name in order to honor him.
Zas cave exhibits unique geological interest. Once inside, the entrance of the cave widens to around 10 metres, and about 75 meters deep. Crazy! A 2.5 m wide gate leads to large chambers that stretch up to an impressive interior that uncovers imposing stalactites and stalagmites, as well as rare stone formations. Archaeological excavations started in 1962 and brought to light in 1994 interesting artifacts dating from the Neolithic to the Classical and Roman eras. Copper tools were uncovered, and many of these are on display at the Naxos Archaeological Museum. During the Ottoman Sovereignty, the cave of Zas was used as a refuge, and near the entrance, you can find the chapel of Zoodochos Pigi.
If you are interested in visiting the Zas cave, you start from Aria Spring with its crystal clear drinkable water, and a sign will provide you guidance. Enjoy spectacular views along the path to the cave, and beautiful vistas onto the Aegean Sea. The surrounding area provides you an eyepettizer of rich flora and fauna.
Continue on from the Zas cave for a further 45-minutes (999 m) if you want to hike up to the summit of the mountain. Here you'll admire cosmopolitan birds, because this area hosts the Bonelli eagle, the long-legged buzzards, the Peregrine falcon, and the Eleanora's falcon. The Peregrine is renowned for its speed, reaching over 350 Km/h during high-speed dive, making it the fastest bird in the world, and the fastest member of the animal kingdom.
Reaching the top, you'll be pleasantly surprised and rewarded with 360 degree views of the island!
Read more about the birds found on Naxos here
You can see the Cave of Zas in googlemaps here