Vallindras Kitron Distillery is another Naxos sightseeing worth a pop into. Naxos is famous for producing the Kitron liquer, a drink from a beautiful citrus fruit similar to grapefruit but more bitter. The Kitron's tree leaves are used for distillation, and the kitron liquer is produced. The color and the shape of the kitron fruit is quite exquisite in appearance, and its aroma is spectacular! It's among the best looking fruits you have ever seen. The Citron fruit was known in antiquity as the median apples or in latin known as Citrus Medica.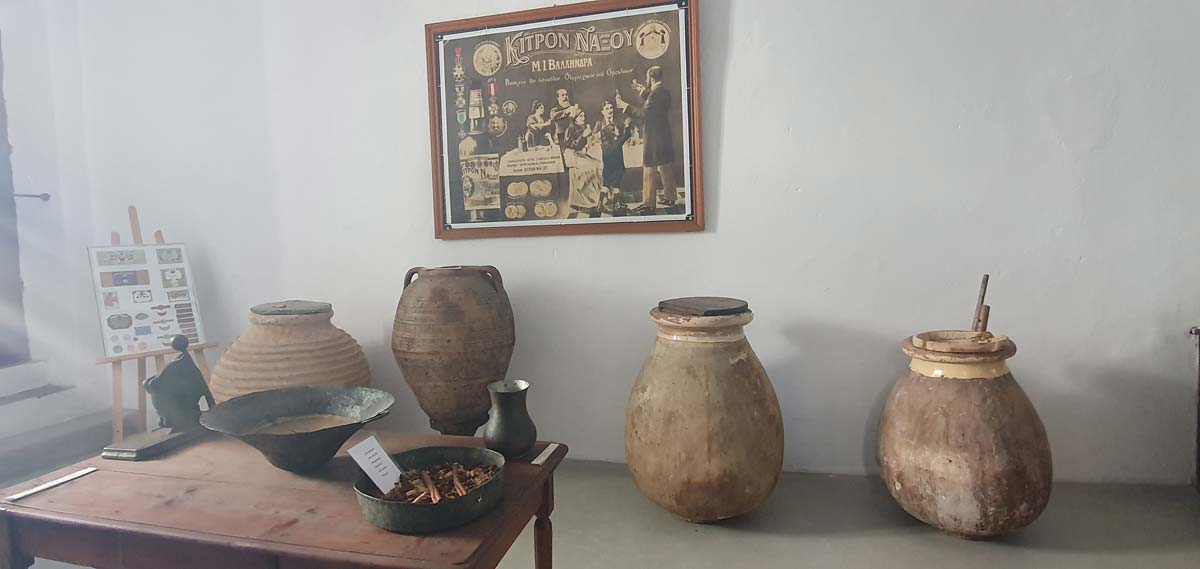 The Vallindras Distillery in the village of Chalkio, Naxos Cyclades is another unmissable Naxos sightseeing experience if you are in Naxos! In this former capital of the island, there is a small distillery that works mostly like a museum. Established in 1896 and managed by the Vallindras family to nowdays, it is the oldest distillery of Kitron in Naxos. The facilities are kept as they were 125 years ago.
Kitron is PDO, meaning it carries a European Protected Designation of Origin, which safeguards the reputation of the liqueur while outlawing unfair competition. PDO is a classification given to certain products indicating a product is unique in both its production method and geographical location. Similar examples are the Italian Prosecco and  the Parmigiano Reggiano cheese.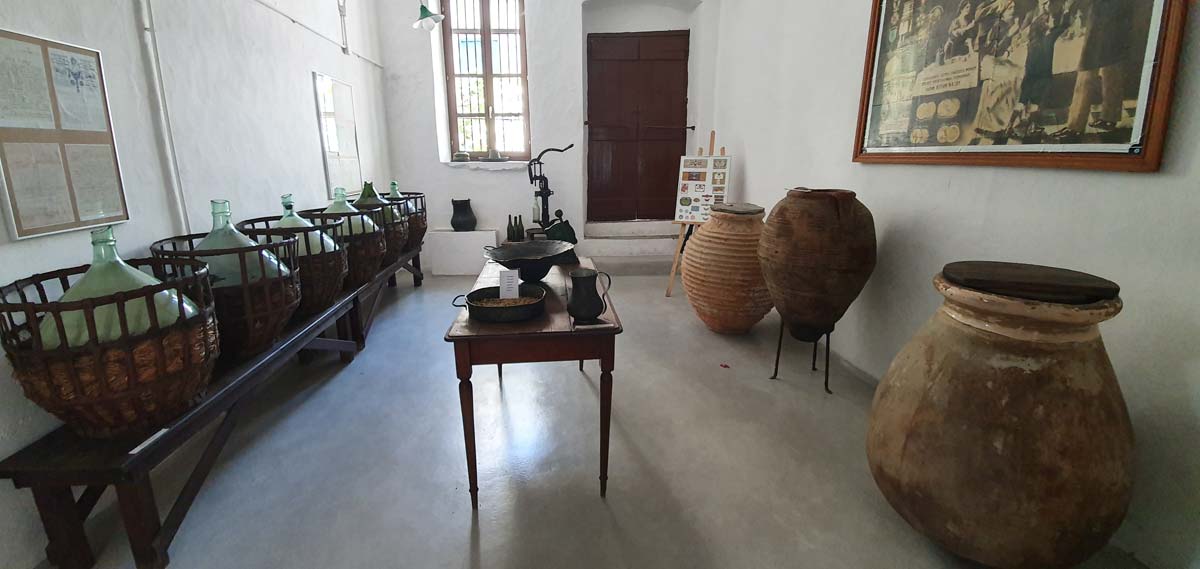 The Vallindras Distillery is a very beautiful place with amazing history, great hospitality and offers a free tasting experience of 3 different strength varieties of Kitron that will be explained to you. It's a small museum but very informative. See here traditional items, old furniture from the 19th and the early 20th century, machinery, and tools that were used for the distillery of kitron. Most machines were brought from abroad and used to work and still work with fire. You will also see eminences and awards for the kitron of this distillery, along with the original wooden office of the founder, similar to the USA offices of those times.
The export of Kitron liquer began in 1928, but today little of this distinctive liqueur is distributed beyond the island, because the number of citron trees has declined. There's a gift shop to purchase alcohol and souvenirs on the spot.
Kitron citron groves are cultivated in the plains of Eggares, Sagri, Apollonas, Halki, Melanes and also in the hinterland valleys, where winters are mild and summers cool.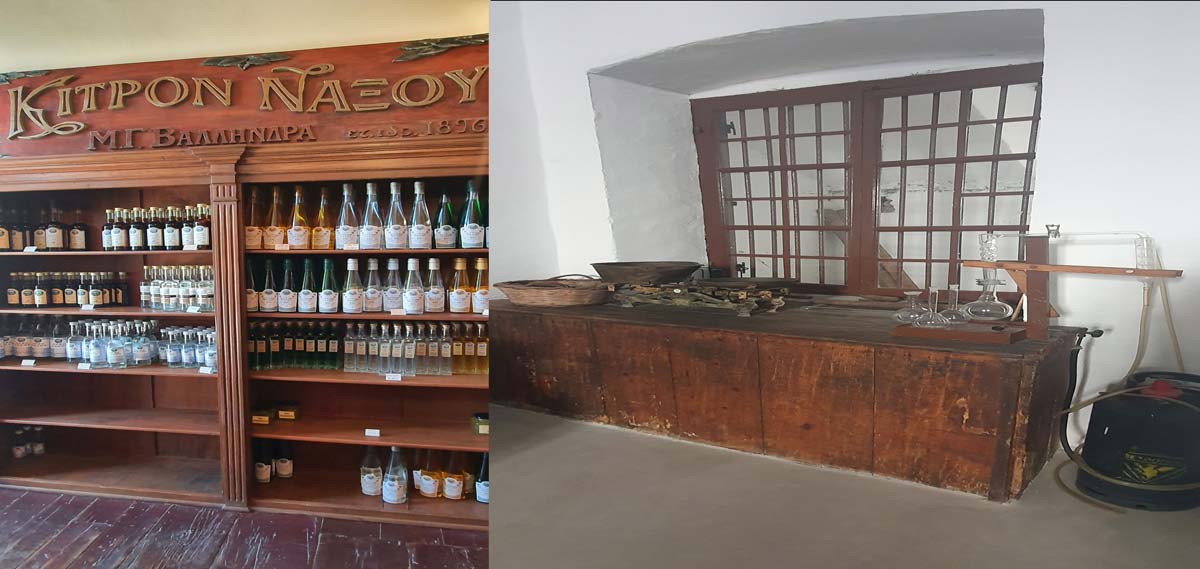 The Kitron traditional liqueur produced in Naxos island from citron fruit leavescan be served iced cold in shots after meal as a digestif, with crushed ice as an aperitif and or with mixers in cocktails. Kitron has a taste somewhere between that of orange and lemon.
Kitron comes in 3 categories:
The sweetest is lowest in alcohol, about 60% proof and is green color
The driest and strongest, 72% proof and is yellow color
A clear version that falls somewhere in between in sweetness and strength of the green and the yellow,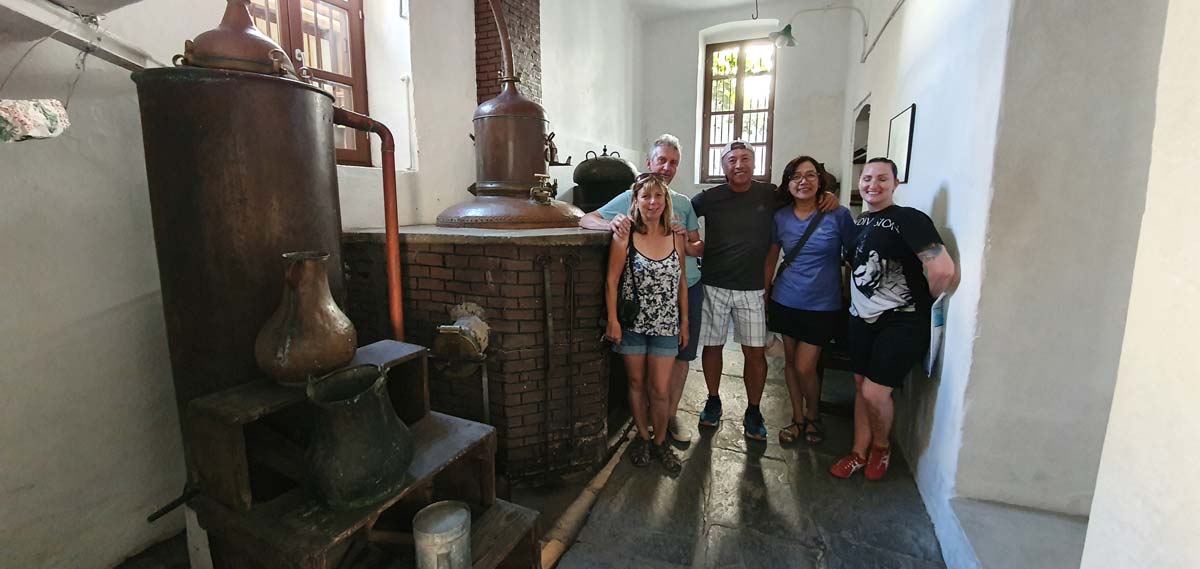 The citron fruit itself is extremely beautiful in vision, relatively large, oblong, gnarled, and bitter, and aromatic!  It has very thick rind that the locals slice thinly and boil in sugar syrup to make what's known as a "spoon sweet" or marmalade to be served with a glass of cold water. It has an amazing taste! Make sure you try Kitron  at least once while you're on the island.
Open every day. Free entrance