Fotodotis Monastery is a beautiful Naxos sightseeing architectural structure looking like a fortress, north to Danakos village. It's the oldest and perhaps the most important castle of Naxos, and it is a monument of great historical and religious importance. 7km distance from ELaiolithos, along an easily accessible asphalt road towards Danakos village. In Agia Marina church, there is a sign pointing to Fotodotis Monastery. The last 1 km is rocky dirty road. Most of the people choose to park down here and walk to the monastery.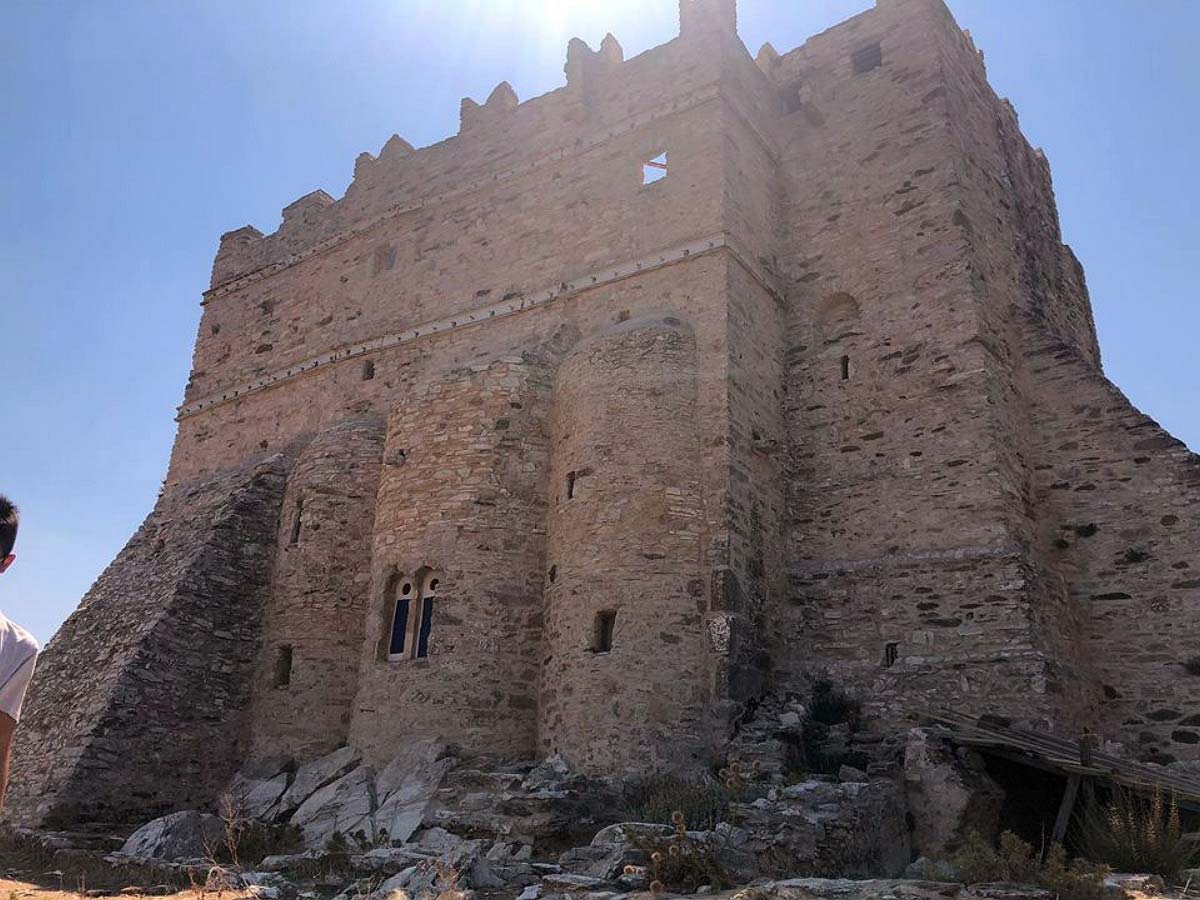 According to a local myth, Fotodotis Monastery was built by a nun who, traveling by boat from Constantinople, was lost in a rough storm and vowed to build a monastery where she would see light that would lead her to salvation. She survived here, built this monastery-castle and named it Fotodotis, which means "Christ who gives light".
Fotodotis was originally a three-aisled Byzantine basilica with narthex, founded during the Komnenoi dynasty early in the 12th century according to historians. Its interior consists of two floors with amazing frescoes and murals on its 1st floor. There is superb marble flooring, and on the altar screen relief you glimpse traces of the original wax-based pigment. Judging from an inscription, in the 16th century AD, the three-aisled basilica was enlarged around and turned into a tetrastyle domed church and narthex. Fortification walls were also constructed around the church, giving to the monastery its present form. The monastery was restored 1991-2007 when was completed.
Fotodotis Monastery is at 500 m altitude, surrounded by oak trees, fig trees, vines, a large plane tree at its yard, and offers superb views to the Aegean sea and the island of Donoussa.
Every year on August 6th celebrates the feast of the Transfiguration, the courtyard hosts its annual festival.
Fotodotis Monastery is a worth visiting Naxos sightseeing, for the monastery itself and its surrounding area
Open hours: During Summer: 11am–2pm