Looking for another island to visit near Santorini and Mykonos? Naxos island is an excellent choice! Different that the other Cycladic islands with a large mainland, many picturesque villages and a plethora of things to do and see. If you love adventure, exploration and discovery, then Naxos is the ideal choice.
Do you want to island-hop from one island to another? If you're visiting Santorini or Mykonos and would like to choose another island, then Naxos is the ideal choice. Mykonos and Santorini are great islands indeed, but Naxos is incomparably different. It's the largest island in Cyclades, and offers plenty choices and unique experiences. ELaiolithos Luxury Retreat is a perfect destination on the island, and a destination of itself, situated around the most important region of Naxos. Its great location is an ideal base to explore the whole island at ease. ELaiolithos in Naxos island, a hideaway hotel with spectacular views, amazing healthy cuisine, plenty hiking choices, secluded beaches and close to most major attractions.
ELaiolithos Luxury Retreat stands for passion, authenticity, culture and tradition. Thanks to its characteristics, it becomes an enclave of great interest for guests
Escape to an uncrowded place where mind and spirit have space to wander. Let the lure of both nature and the sea, and the moments of serenity to revive your sense of well-being. Experience Naxos island in its purest form at ELaiolithos Luxury Retreat, where the road is less traveled. Enjoy an unforgettable Greek island getaway, in a unique environment where nature becomes the protagonist and the perfect travel companion. Here you travel inwards to a place where life's simplest and greatest pleasures are fulfilled, where you can comfortably indulge in an exclusive experience surrounded by elements that are essential for your mind, body, and soul to find the right balance.
NAXOS ISLAND
Which other island to go near Santorini and Mykonos? One of the best islands in the Aegean Sea is Naxos. Globally famous for its beauty, unique culture, history, tradition, culinary delights, and amazing endless beaches. You'll come across ancient Greek history, rich culture, amazing traditional recipes, and plenty of local music festivities. You'll instantly fall in love with the hospitality of the local people and the traditional food flavors. Naxos is known as the Hawaii of Greece for its natural beauty and the god of wine, Dionysus. Once you step here you will love the mixture of nature and traditional Cycladic buildings on the island.
There're many amazing spots that you can visit in Naxos. Where the Greek culture lights shine, so do the small wonders on Naxos island with its fertile grounds, unusual for a Cycladic island, its beautiful islanders, its regional traditions, and amazing diverse landscapes. Entering the harbor, you're greeted by the ancient Portara, the massive marble gateway, identical to the logo of the National Geographic, and the sight of the medieval castle above the town. You can walk up to the castle-topped main town with its Cycladic cobblestone labyrinth streets.
With a long history starting in the midst of the Mesolithic period, Naxos, modest and hospitable, unexpectedly beautiful and serene, welcomes everyone. Naxos island is a living fairy tale, and it's inviting you to experience it together with its hospitable open-heart residents; an island ready to be fallen in love with.
Many stay forever devoted to this island of white light, with its crystal-clear water, historical heritage and hospitable residents.
THERE'RE MANY REASONS TO CHOOSE NAXOS ISLAND AS A DESTINATION BETWEEN MYKONOS AND SANTORINI
FOR THE TREASURE HUNTER – ELaiolithos
A stunning secret gem in Naxos island that seduces its guests every year according to the reviews posted. It's an unspoiled beautiful diamond in the mountainous side of Naxos, a true Greek beauty. So much "hidden" beauty and authentic Aegean character, with just a short hop by ferry, really close to Athens, Mykonos, Paros, and Santorini. Its view is an eye-catching landscape with generous natural landscape. The region has rich history and endless attractions that make ELaiolithos one of the most popular holiday destinations in Naxos. The island's most renowned attractions are within a short distance.
Purity, tranquility, warm hospitality, beautiful beaches and hidden treasures: The ideal place for a true relaxing holiday! Here you'll realize just how diverse, wild and exciting this island is. Experience days drenched in sunlight, genuine delights, and witness innocence and unspoiled environment. The hotel can also arrange boat trips, and offers free transfers to and from the port or airport.
CONVENIENT LOCATION & STUNNING VIEWS

ELaiolithos is nestled in the heart of the island, between Halki and Moni village, in the center of the mainland, in a very convenient location that offers you the opportunity to explore this large island at ease. The particular geographical position of ELaiolithos in the island coincides in a 3-road fork, that favors heading in any direction, East, South, North or West without repeating the same road again; thus giving you the opportunity to discover the whole island easily. Here you find yourself on an island, in the mountains, with numerous beaches all around you in every direction. You can discover many secluded beaches within a 20 minute distance. The rugged beauty is a refined refreshing escape for anyone and a perfect place to spend idyllic and refreshing days.
Make your next Naxos' getaway an adventure you'll never forget with tailor-made experiences to help you discover Naxos' wilderness as you bask in ELaiolithos' remote luxury and natural tranquility.
ENCHANTING MOMENTS SURROUND YOU
Relatively undiscovered by the tourist masses, the area is one of the highlights of Naxos, and is full of surprises. It's the greenest area in the Cyclades with high mountains and fertile valleys. The vast and rich hinterland gives its visitors one lifetime of experience. This region specifically, the Drymalia valley, is the most fertile region in Cyclades, with over 400,000 aged olive and citrus trees, all laying on the feet of ELaiolithos.
Enjoy spectacular sunsets between the breathtaking sights of the 8-pyramid shaped mountain tail of Zeus mountain and the Aegean sea. Visit untouched beaches with crystalline waters nearby, creeks, waterfalls and abandoned watermills, well-marked hiking trails and dramatic cornices. For all its wealth, the area is laid-back and discreet, away from mass tourism, awaiting discovery by the discerning traveler. ELaiolithos will make you wish your holiday here could last forever.
The surrounding landscapes will stun you with their colors and scents, their aromas of oregano and thyme, the goats with their bells, the local people, and its stories that sweetly mix legend and myth with history, all proving that majesty is often found in simplicity!
ACCOMMODATION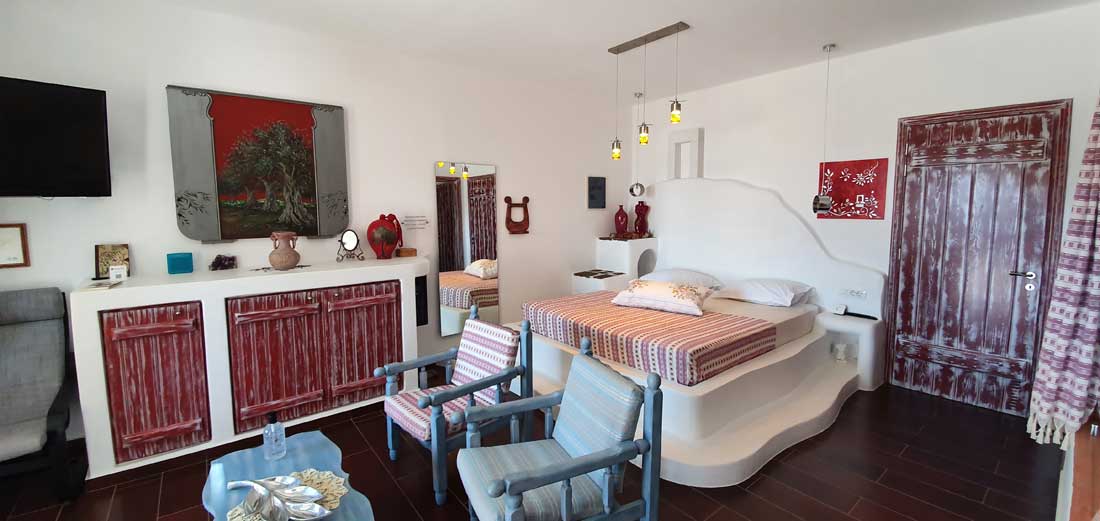 Total bliss is yours in ELaiolithos, a gorgeous Naxian treasure with high aesthetics is ideal for an ultra-pampering holiday. With breathtaking beauty, luxe accommodations, and spectacular cuisine, an extraordinary vacation awaits you here. Perched in unspoiled surroundings is a highly lauded romantic paradise uniquely situated at a magic spot of Naxos' heart. Apart from its exceptional facilities, the retreat features separate spacious and contemporary guest suites, all with uninterrupted panoramic vistas.
Live life luxuriously! You'll encounter stirring views, remarkable amenities, and exceptionally warm, caring and curated service. An oasis of refinement and comfort enhanced by vibrant local artworks in the interior and exterior. Soothe your senses and rejuvenate your spirit with en-suite massage therapies. Outside there is an outdoor art-filled restaurant with alfresco dining on the spacious dazzling terrace with unbeatable striking views, which makes a fantastic area for lounging, dining, and spending time together. The ideal spot to relax your mind and soul while enjoying the serenity of the tranquil landscape.
ELaiolithos has an abundance of space making this the perfect retreat for honeymooners, family, solo or female solo travelers, friends looking to travel together. Completely away from all with superb exclusive facilities and in-villa staff such as chef and concierge. Private check-in, free airport/port transfers, complimentary local refreshments, GPS files for hiking, telescopes for stargazing, and pre-arrival concierge services are at your disposal for free.
HIKING, TREKKING, CYCLING
Explore the richness of the Naxian core. The area offers rich flora, and stimulating trails for archetypal hikers where there are lots of secrets to discover. Nature lovers with a sweet tooth for the good life will be spoiled by the rewarding footpaths, cascades, ravines, olive groves, elm, and cedar trees. Apart from assured peace, tranquility, and lovely local restaurants in each village, Naxos island is a fantastic destination for hiking where there are plenty of pathways for hiking, trekking, and cycling adventures.
Discover worthy spots and views of the emery mining tunnel entrances reaching deep into the mountainside. Climb Zeus, the tallest mountain of Cyclades, Mount Fanari, and numerous other trails with pristine landscapes.
ALL ABOUT ELAIOLITHOS' "SLOW FOOD" PHILOSOPHY

Culinary adventures await you here. Here is all about local produce, farm to table food, with the freshness and the quality of the regional ingredients within a radius of 5 Km only that offer alluring traditional taste and scent, and satisfy the unrelenting craving for culture and good food. Savor elevated epicurean dishes and enjoy local music inspired by nights under the moon. The region is very fertile, and produces everything.
This hidden gem in Naxos island will fulfill all your culinary wishes. Its mission is to showcase the best products from Naxos' mountainous side so that people can enjoy mind-blowing meals, including a large variety of vegan dishes, amazing local cheeses, signature dishes, artisan cocktails, smoothies and drinks. Tradition with a twist is on the plate here. With an emphasis given on reinvented classics and super fresh ingredients that are cooked in traditional techniques, ELaiolithos puts its own stamp on the Naxian cuisine.
MUST VISIT
If you're even remotely interested in antiquities and culture, then you might not want to miss a visit to the Apano Kastro (Upper Castle) which is arguably one of the islands' iconic attractions formed millions of years ago with lots of rare geological marvels, including a church close by. The local people often refer to the scenic landscape of Upper Castle as Lunar landscape. Huge rocks are coming into amazing shapes often compared to a moonscape. Without a doubt the Upper Castle is one of the most photographed landscapes in the Aegean.
Other monuments worth visiting include Panaghia Drosiani, Moni Fotodotis, Temple of Demeter, and make sure to see the two giant Kouroi – statues of young men – lying down in the open. The Bazeos Tower, built in the 17th century, functioned as a monastery of the True Cross (Timios Stavros) for decades. Today it hosts a wide array of cultural activities, such as the Naxos Festival. The famous Naxian marble quarries and the largest folklore museum of the Aegean are within 3 Km distance. See here details for these sightseeing
THE MOUNTAINOUS VILLAGES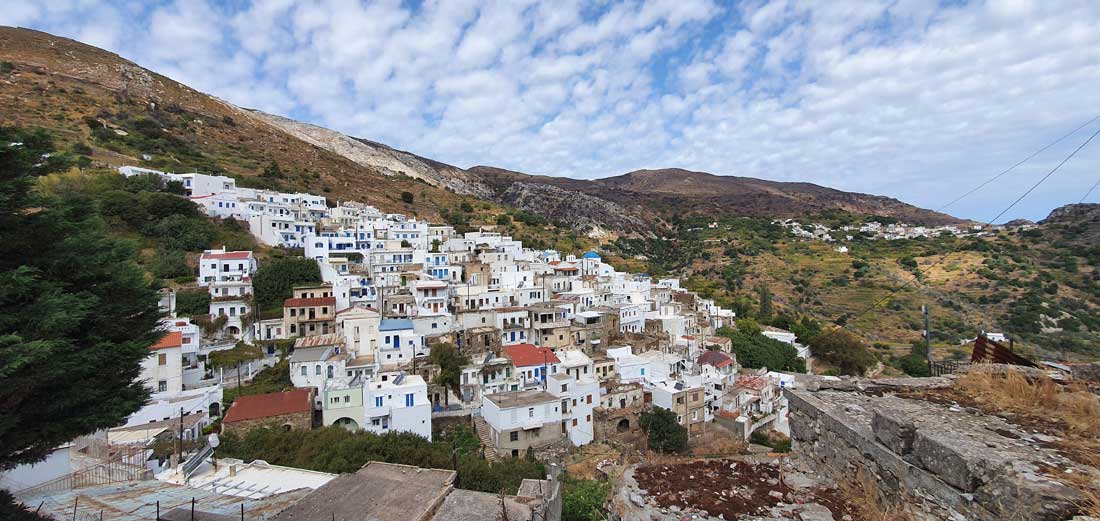 The timeless villages around the retreat are very romantic and charming, perfect photography spots that will take you to an old era. You can spend a few days discovering these isolated laid-back white painted villages, concealed by wild olive groves and hills. A kaleidoscope of stunningly gorgeous concealed villages: Moni, Kinidharos, Keramoti, Koronos, Lionas, Skado, Mesi, Komiaki, Apollonas, Apeiranthos, Filoti, Kaloxilos, Chalkio, Damalas, Apeirathos, Cheimaros, Chikalario, Potamia, untouched by time, all are iconic for their remarkable geology, old stone arched bridges, dazzling natural beauty, and very unique scenery.
ELaiolithos is surrounded by over 35 scenic villages that boast narrow streets of cobbled stone and porches full of flowers, interconnected with modern roads that are a must-see. Also you'll have the chance to discover chapels emerge humbly from rocky hills and forest glades, small fish, meat taverns, and local "kafeneia". You'll meet spectacular inlets and little bays towards the north and east, the sprawling coastline reveals a hundred of those, coves, and caves that make the ideal hide-holes, all suitable for swimming.
GOING DEEP – SPIRITUAL & CULTURAL IMMERSION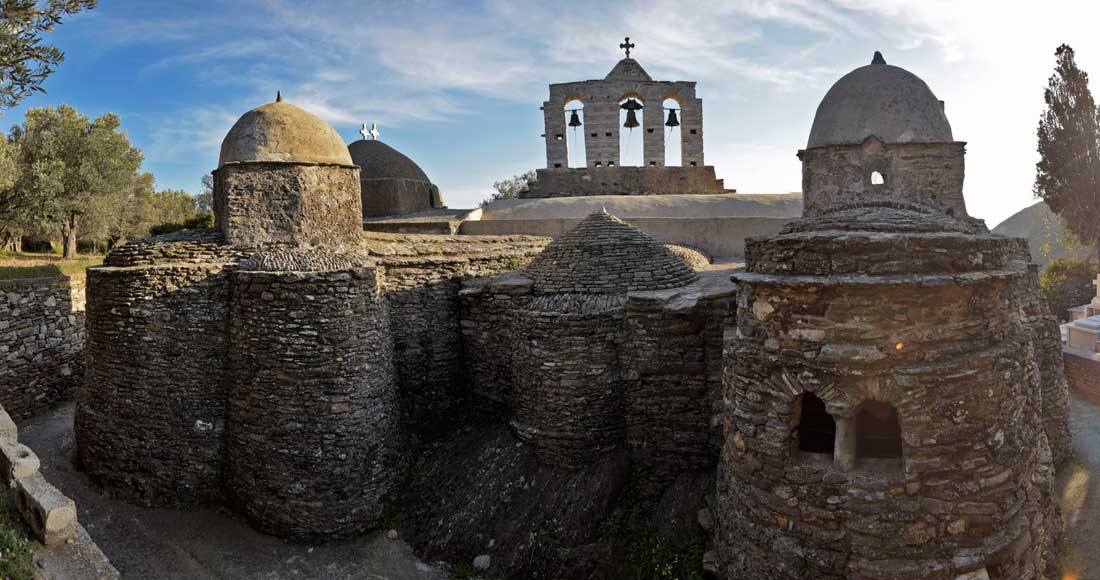 Naxos is one of the richest islands in Greece for its ruins from every era, and religious and historical monuments. The locale is surrounded by important sites of inestimable value that touch the visitors' soul. It's distinguished for its very important and interesting cultural heritage with many Byzantine monuments, such as the Panagia Drosiani (4th c.), the remarkable Demeter temple archaeological finds, over 30 venerable Byzantine churches with magnificent architecture and history, lofty towers, Venetian castles, major artifacts, and monasteries. Amazing monuments for everyone, whether a believer or non- believer.
You have the opportunity to visit them and admire their cultural significance, architectural importance, aesthetic beauty and historic value. Enjoy a stunning collage of natural scenery, spiritual exultation, tranquility, a very human touch and intimate contact with past tradition. These are the elements that comprise the rugged and attractive charm around ELaiolithos, encouraging eco-friendly and sustainable travel by remaining true to the island's origins. Here religious, historical, cultural, and architectural interests flow together.
BEACHES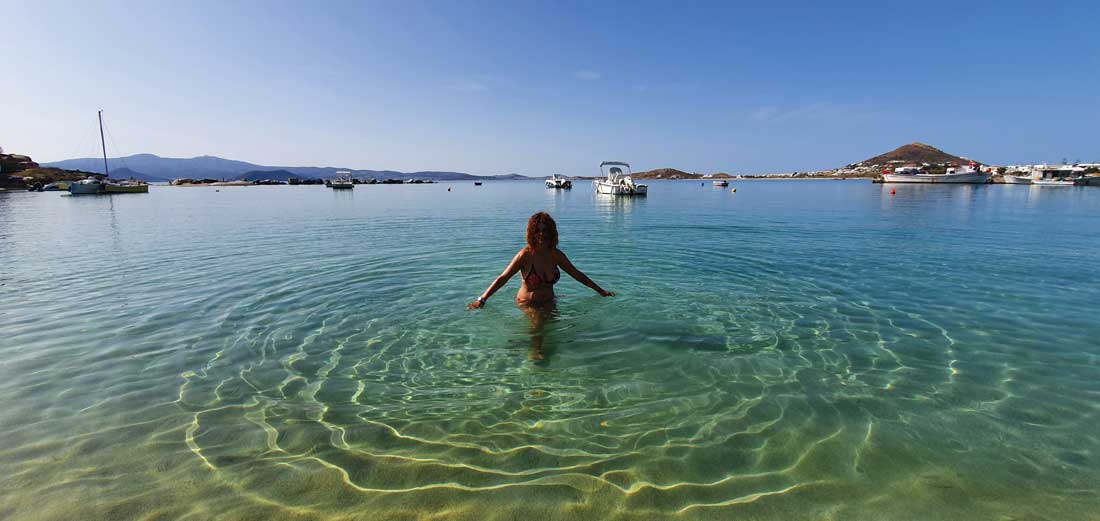 If you're a sun worshiper, Naxos's endless stretch of gorgeous white sandy beaches will keep you blissfully happy during your holiday. The beaches here are among the most beautiful in Greece, long and sandy, perfect for swimming, and relaxing. Having your base at ELaiolithos, offers you the opportunity to visit a different beach every day and enjoy a different beauty, all within a 20 minute drive. Here you might find yourself alone on the beach. The southwest offers perfect conditions for windsurfers and kite surfers.
WHY ELaiolithos?
Rigorous health protocols are developed for the health and safety of its guests and its staff.
Because you travel safely and in style
Because paradise is personal. A Serene Escape for an Ultimate Relaxation.
Because Authentic experiences create Authentic memories.
Go and experience it all for yourself…. Discover your moment….Connect to what matters most..
It's impossible not to fall in love with ELaiolithos, really, as it has a beauty all of its own! It creates an experience that becomes indelibly etched in your mind!
Which other island to choose near Santorini and Mykonos then? The right choice is Naxos island…..
Article written by Copyright © Helen Marakis. All rights reserved