Naxos island is a hiking paradise. It's the only Cycladic island with such large mainland and highlands, Naxos is a natural gem, blessed with endless hiking paths. There're at least 480 Km of mountain hiking paths for those who love nature and want to walk the island's trails. Naxos hiking is rich in nature and history, offering some of the best hikes in Cyclades. There is so much hiking out here that stands out as amazing, astounding, and downright breathtaking…
It's not only blue skies and beach bars on the island. Naxos has a surprising variety of trails to tempt visitors way from the sun chair and into nature. Each reveals a different side to the island's character, challenging and rewarding travellers in a variety of ways.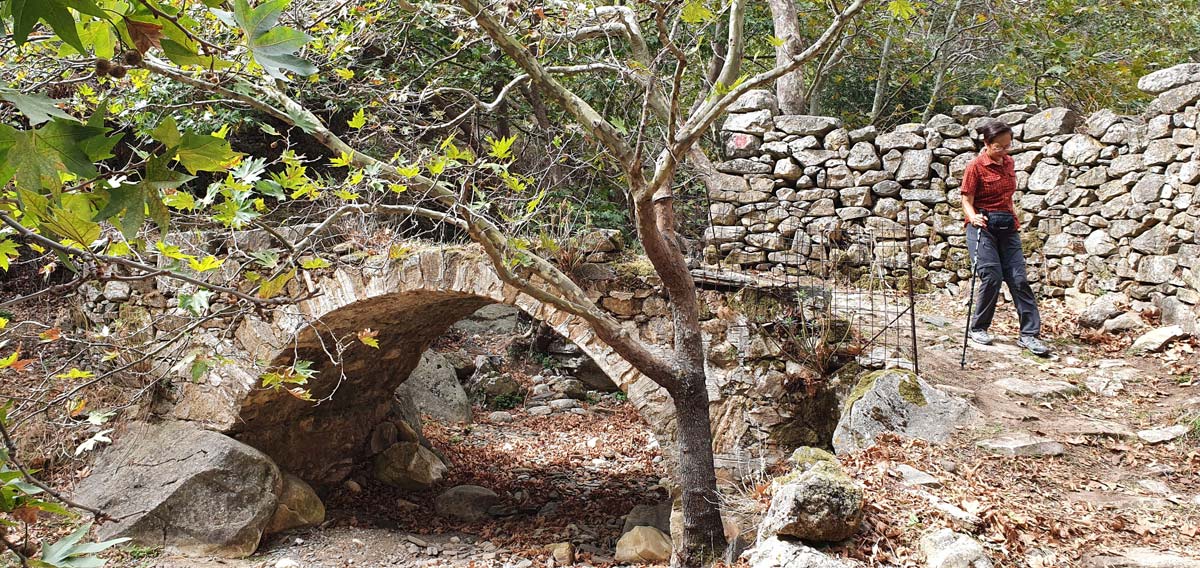 In a cluster of 24 inhabited islands, Naxos is the largest of the Cycladic islands, and it's filled with a plethora of things to do and things to see. Expect impressive landscape, rugged highlands, sharp cliffs, gentle slopes, charming glades with unique flora and fauna, gorges, ravines, waterfalls, lunar landscape, watermills, olive groves, hikes that end up to shores. Wander through adorable villages, stride through cobblestone alleys and stone archways.
Whether you are an experienced hiker or trail runner who is interested in challenging treks, or a beginner who enjoys short hikes to admire beautiful scenery while on holiday, you'll find what you are looking for in Naxos.
Naxos hiking offers you stupendous elevated view points: Feel the powerful vibes of a Greek Cycladic island with sensational feelings from the mountains' vantage top. Enjoy amazing natural vistas of the island, and of other islands of the Aegean such as Paros, Amorgos, Mykonos, Koufonisia, Donousa, Kea, Makares, Ikaria.
Naxos hiking trails offer you history knowledge. They familiarize your with Greek history, the Cycaldic civilization, local life and tradition that flourished many centuries ago. Walk ancient network of paths, paths through villages where you can explore ancient Greek temples, archaeological findings, glorious Byzantine churches, Venetian towers, and folklore museums.
Naxos hiking offers you a unique cultural exposure and a taste of authenticity. Pass through quaint mountainous villages and admire the buildings'architecture , pretty white-washed houses, picturesque fishing ports, connect with friendly and hospitable islanders, indulge yourself with delicious homemade local delicacies, and listen to folk music. And when you sip on a shot of raki from a local kafeneion, you'll know you've earned it.
Naxos hiking offers you a hike and swim combination. Feel good, some trails end up on the beach! Have the pleasure of experiencing the island's natural beauty in combined experiences. Hit the beach at the end of your hike, and feel refreshed!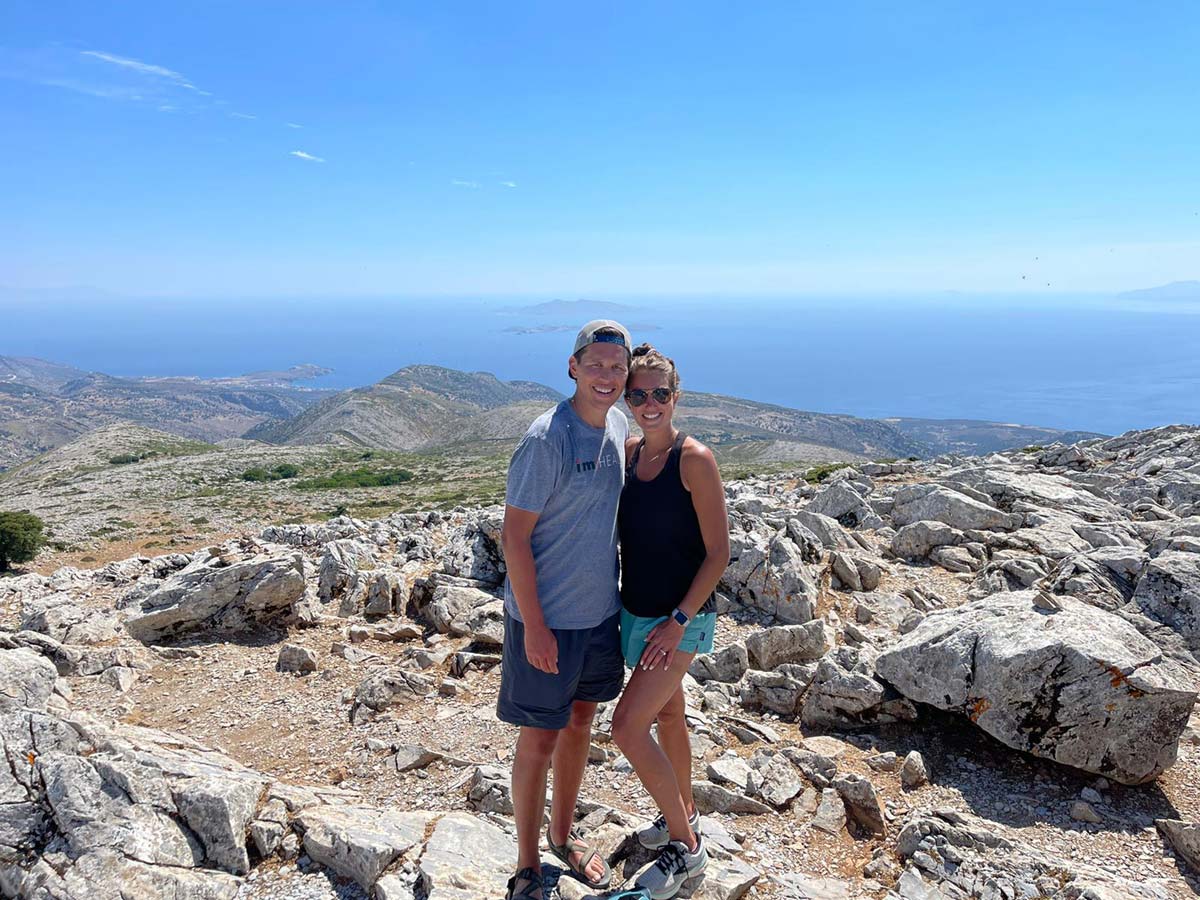 Is ELaiolithos a good Naxos hiking base?
ELaiolithos is the ideal base for Naxos hikingexperiences. Located in central Naxos, at a junction – the only spot on the island – where the road splits in 3 different directions, makes the island easily accesible. Also the most important Naxos hiking trails start from here or they pass through here. We're surrounded by lots of hiking trails. The natural geology of ELaiolithos' surrounding region plays a huge role in its ability to host eco travelers. Every day start a different hiking trail just outside of your door.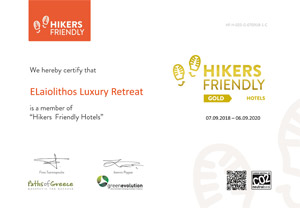 Also ELaiolithos Luxury Retreat is officially certified as a "Hikers Friendly Hotel", the 1st hotel on Naxos island to be awarded with the Gold "Hikers Friendly Hotel" certification for its services relating to Naxos hiking trails.
If you stay at ELaiolithos know that: Your stay here offers you the best of either the low or the peak seasons: you're around everything and you're away from everything.
Here is lively and private, warm but not scorching. The weather is always 3°C-4 °C lower than Naxos town, and its central location off the beaten path and away from the crowds, makes the retreat the ideal base to get to know Naxos intimately and thoroughly. Here you feel the difference and the enjoy real Naxos hiking experiences just around the corner.
We look forward to welcome you in your Naxos holiday experience!!! ELaiolithos combines the best of both worlds, mountains and the beach!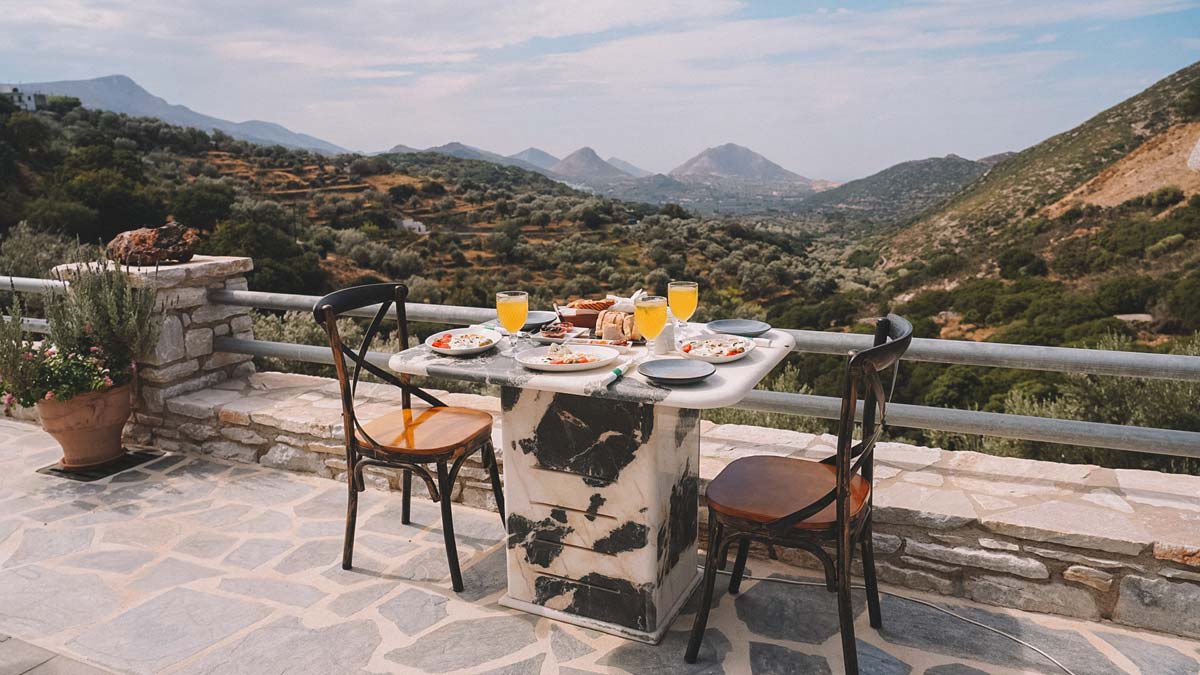 Discover the undiscovered and stay in comfort on a hotel in the center of Naxos, and in the center of the hiking trails and Naxian bliss
Drink and eat healthy, we offer amazing organic local cuisine, clean eating and detox with all produce to come from our own farms within 5 Km distance only. Enjoy here a superb local breakfast, lunch, brunch or dinner, and unwind on our beautiful veranda with veritable vistas.
ELaiolithos fills your soul with unique images and aromas. It's main goal is to bring the natural and cultural wealth of Naxos, and especially the Naxos' mountainous region, closer to every visitor, to discover its rich history, to experience its unique customs and traditions, to taste its exceptional quality local products, drink raki and local wine, and have fun. At ELaiolithos, we share our passion for nature and Naxos, and we transform it into new, real, unique and unforgettable experiences for all of you !!
Just let us now your preferences and we'll let you know all about the hiking trails, and advice you with the local's eyes. We help you choose a trail you can handle and enjoy.

Should I hike alone in Naxos island?
Yes, indeed, hiking in Naxos alone is definitively safe. Just let us know of your hiking plan ideas, and we'll help you to make suitable hiking trail choices, so you can embark on your adventure of choice – safely. Anyway, we check with you oftenly to make sure you're doing fine.
We make your solo travel experience very easy,both logistically and psychologically!
Is there someone I can check in and out with just to be safe?
Check in and check out hospitality we provide always to every one here at ELaiolithos, and we follow up all along also. We encourage hikers, and we always have a great connection with our guests. Don't forget we've been and still are in your shoes all our life! We know what really means to travel the world and we know our locale very well as well.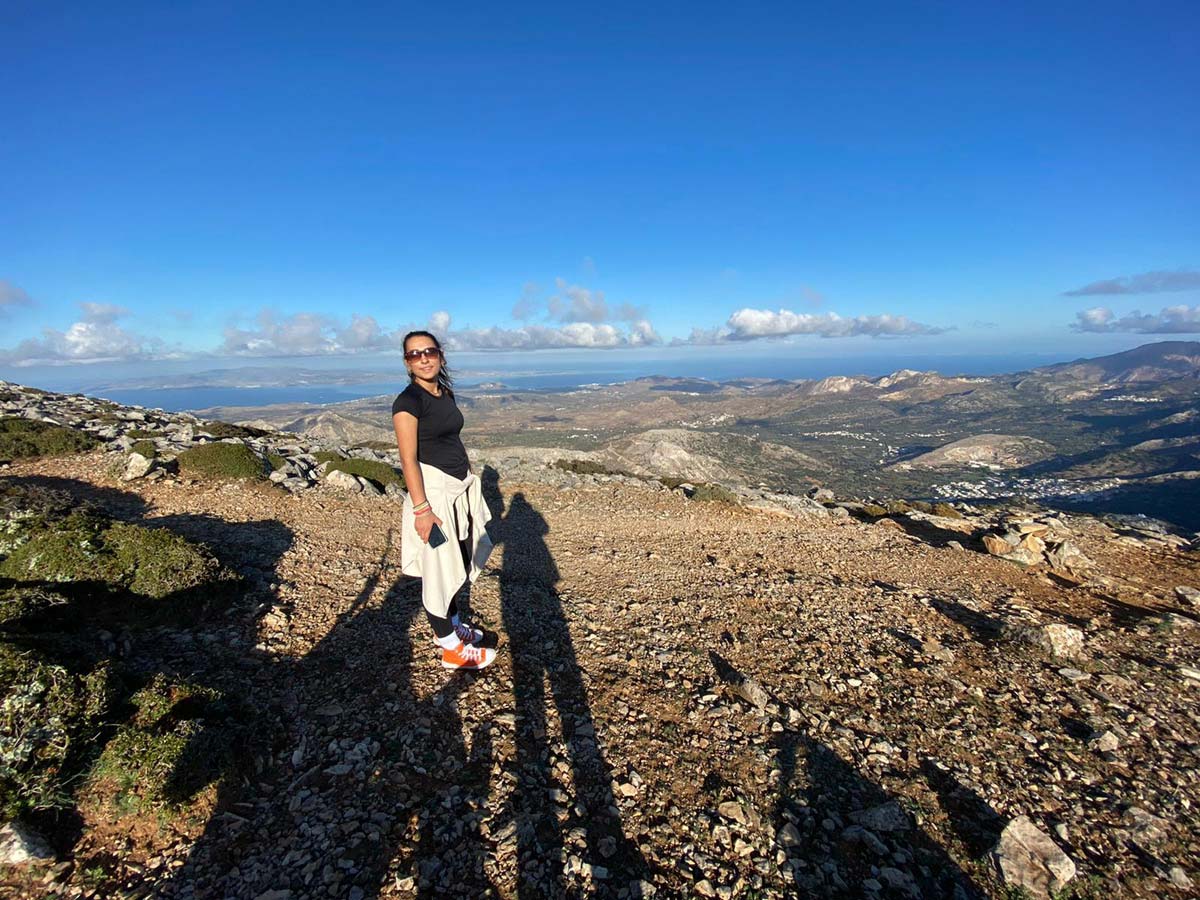 Should I be concerned about snakes and scorpions?
Naxos is a relatively a safe place to be, as far as venomous snakes and insects are concerned. There are no dangerous to humans snakes on Naxos. Once in a while someone has met a snake. Locals see a viper quite rarely. No one ever remembers any death by snake bite in Naxos for decades.
There're 4 types of snakes on the island:
Known in Greek as astritis, known in English as Vipera berus.Its venom is less potent than that of tsand viper,
Greek name "ochia", known in English as sand viper or horned viper. It's venom is probably the worst of all Greek vipers, in fact, this viper will warn when provoked by producing a whistling sound. They eat mice. The viper does not attack humans for fun, it must be theatened to attack. Not every attack of the viper is poisonous. Usually the first bite is not poison containing, like a warning. They may be lethal if you have an underlyimg sensitivity, allergy or heart problems
Dendrogalia snake, completely harmless. They're active when temperatures are high, so best avoid walking without proper clothing and boots in tall grass and rock areas during mid summer. If you make enough noise while walking, like stamping your feet, they will get out of your way, as they are shy.
Ringed grass snakes, they do not bite and they're harmless to humans, non-venomous snakes, found near water and feed on amphibians and mice.
A good rule to follow is to always be aware of where you place your hands and feet. Snakebites are rare and occur mostly when people attempt to handle snakes. Do not attempt to capture or otherwise molest any wildlife. If wildlife is left alone and no provocation occurs, there wouldn't be unpleasant consequences. If bitten, contact a ranger by signaling or sending someone for help.
Bites from a snake are very rare. No one remembers any death by snake bite in Naxos for decades. But if it happens and you get bitten, seeking medical help is recommended. Anyways, any animal bite should be examined by a physician and monitored for signs of infection.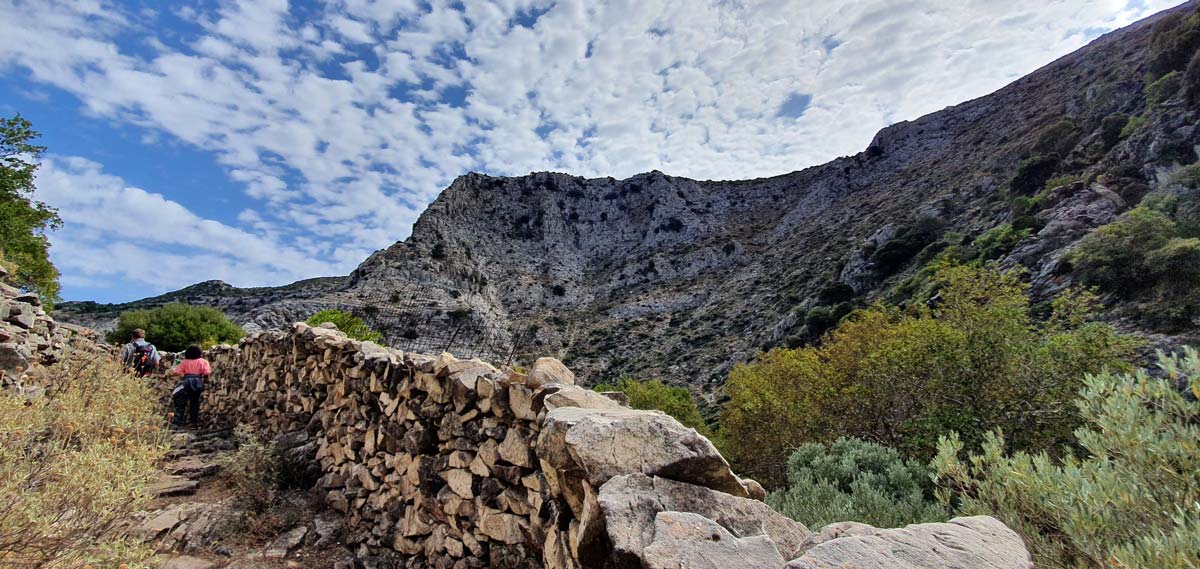 Will my cell phone work in Naxos?
Cell phone service throughout much of Naxos is easy to maintain. There is no need to worry about it at all. We always advice you according to the hiking trail you plan to follow, if there is a difficulty of signal, and what to do. For your peace of mind know that we're here for you on every minute of your hiking in Naxos.
What time of the day is the best for hiking in Naxos?
Hiking is basically walking in the nature, whether you're hiking alone or with company. In Naxos island, the best hours for hiking are early in the morning between 6am and 12pm, and in the afternoon between 5pm and 8pm. During those hours it's ideal because:
the sun is not very hot, and
your body is at its top performance and full energy
If you hike uphill in direct sunlight during the hottest part of the day, 12pm and 4 pm, you have to be cautious because the air here is mostly dry and hot, sweat evaporates instantly making its loss almost imperceptible, and you might get dehydrated. It's always a good idea to wear a broad-brimmed hat to help you keep a cool head in hot weather.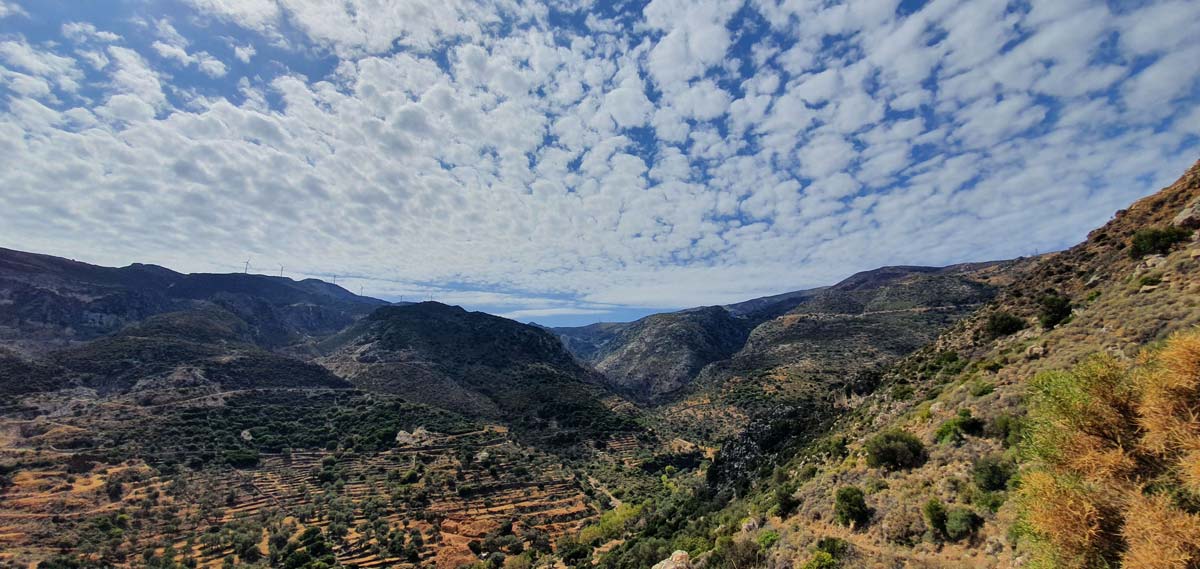 What season is best for hiking in Naxos?
Most people believe that the best season for hiking starts in Spring and ends in Fall. However, in Naxos island almost never gets very hot, and you can usually stroll through the island also in the summer, unlike any other Mediterranean places where the summer is hot and not recommended. Meaning ALL seasons in Naxos are good for hiking. Naxos hiking trails never get crowded, even the popular ones. You can always be able to take photos of scenery instead of tourists.
There's not any season more special than another for hiking in Naxos. Therefore, your decision must be based according to what you would like to experience:
What Naxos'nature offers in each season, and
how crowded the island gets
For climate and temperatures you can be futher advised here.
SPRING: This is a great time to visit Naxos if you're not primarily interested in the beaches. The landscape starts to blossom, and everything starts getting green. The light is ideal for photography, the produce starts, warm moderate temperatures, sunny days start to get longer, crowds are thinner, the nights are lovely with a light jacket, ideal for hiking, and exploration. Average high temperature: 21.9°C (71.4°F)
Enjoy also traditional flair: The Easter period is recommended as it's one of the most important celebrations in Greece, and you'll have the chance to experience traditional feasts and gatherings.
SUMMER: Summer in Naxos runs from June to mid September, the weather is warm and sunny, but also windy, with the highs of about 35°C (85°F). July pleases Naxos visitors and locals with comfortable temperatures and sunny days, amazing for spending time on the beach. July and August is the peak windy period due to the Meltemi wind season. Tourism and temperatures remain at their peak on Naxos in August.
FALL: mid September – end of November, warm seas, gentle weather, autumn flowers and amazing colors, magnificent sky and clouds, clear air, high visibility, brizzy early morning and late afternoon. Grapes, olive harvests, raki making are in September-November
WINTER: from December to mid-March, is mild, most days are sunny, occasionally it rains and lasts for few hours, gets windy. The frequent and sometimes intense wind intensifies the feeling of cold. Sometimes, cold air masses from the North bring cold days, with highs below 10 °C (50 °F), and rarely snows, maybe in the mountains. The coldest month on Naxos is January, with an average high of 14.3°C (57.7°F)
What is the level of difficulty for hiking in Naxos?
Hiking around Naxos is one of the best ways to experience more of the island. There's a trail for every level of endeavour and specialist interest in Naxos, although finding the right route is not always easy. Due to its large size, Naxos is a challenge to explore as it's an island of mesmerizing natural beauty, and rich cultural background. It's an island full of eco adventures!
Naxos hiking trails are ranging from:
Easy-going trails – suitable for every member of the family and beginners,
Moderate trails – suitable for all physically fit people
Moderately Strenuous – longer hiking trails about 4 hours, substantial elevation gain, and difficult terrain
Strenuous, hard & difficult – long over 6 hours hike, or full day's hike over mountain summits, villages, substantial elevation differences, and often difficult routes
Are there water springs on hiking routes?
The only hiking route that has water but in the beginning of the trail is the one to Mount Zeus from the side of Aria Spring. Most Naxos hiking trails do not have water, you need to get your own water and supplies.
Which Naxos hiking trails you recommend?
Ascend ancient rugged mountains amidst natural scenery, venture through historical landscape, culture and in one of the most important landscapes in Greek Mythology.
We recommend the following hiking trails:
Mount Zas from Arion Spring-Zas Cave-Summit-down to Aghia Marina
ELaiolithos-Moni-Mount Fanari-Apiranthos
Koronos village to Lionas Bay
ELaiolithos-Marble Quarries -Upper Castle-Tsikalario-Chalkio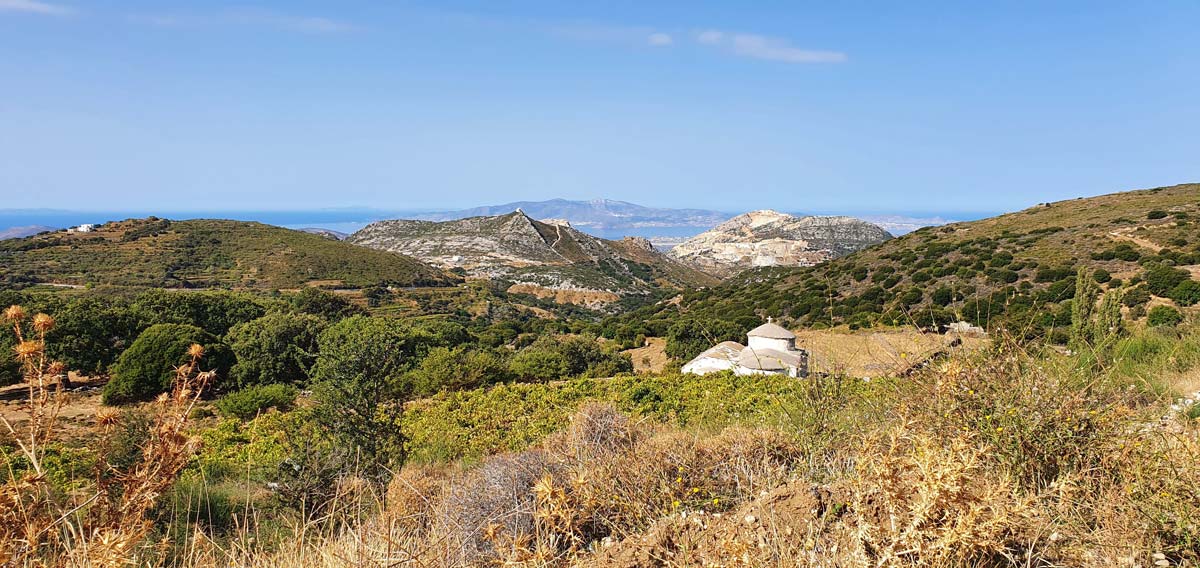 Why Hiking Lovers love ELaiolithos?
ELaiolithos is more than just a hotel, it's a way of life where your soul meets with your home, and you'll always feel at home because we treat you like family! We believe that an amazing hiking experience starts with great hospitality! Enjoy your stay, explore the plethora of hiking trails our area offers and have fantastic hiking experiences! ELaiolithos is run with a conscious sense of responsibility. Remote and hidden away in thousand of olive groves, this green eco friendly hotel is all natural, sustainable and wonderfully laidback.
After your hiking, bask in stunning views from the comfort of your suite or your veranda and enjoy delicious local food, craft drinks, and the best smoothies you have ever tasted!
For further knowledgable information about Naxos hiking trails read here
Map: The Best Trails near ELaiolithos Luxury Retreat in Naxos
powered by