Enjoy an out-of-the-box honeymoon or anniversary celebration at ELaiolithos – an eco-friendly honeymoon destination, a romantic Green getaway. Get a sustainable vacation that won't harm the environment and a chance to connect better with nature, yourselves, and your partner.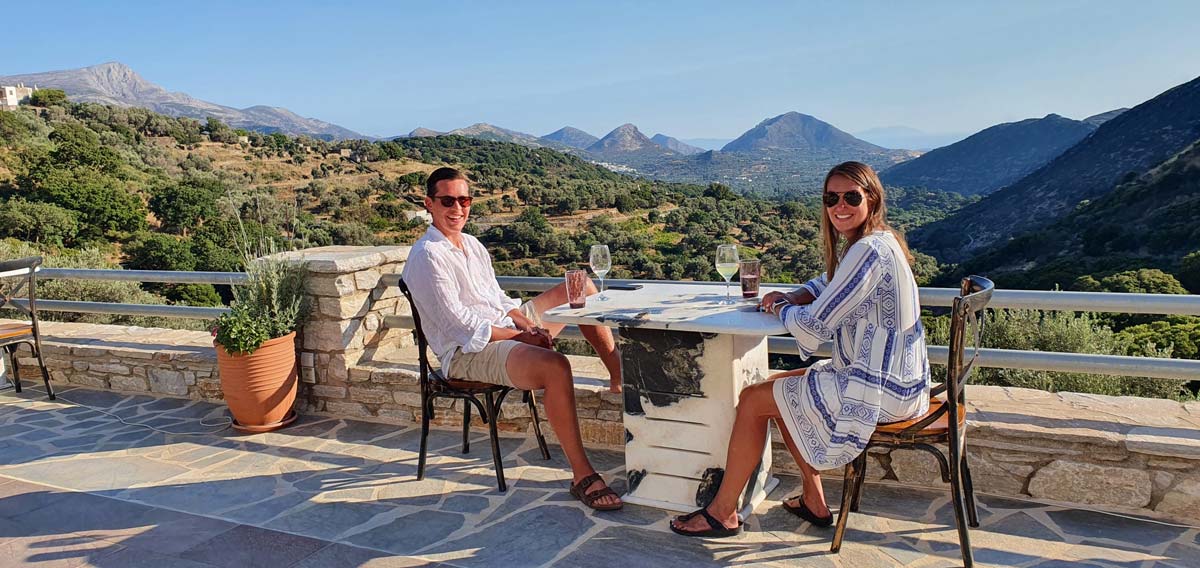 ELaiolithos and lovers go together like bees and honey
One non-negotiable factor when planning your honeymoon or anniversary celebration trip is its romance. And one of the best things about ELaiolithos is that you're already in a honeymoon paradise! – a natural paradise in the heart of Naxos island, ideal for spirited honeymooners who would love to spend their honeymoon responsibly. If you want to go the non-traditional route and explore honeymoon/anniversary options in a Greek Cycladic island, ELaiolithos is an ideal eco-friendly honeymoon destination.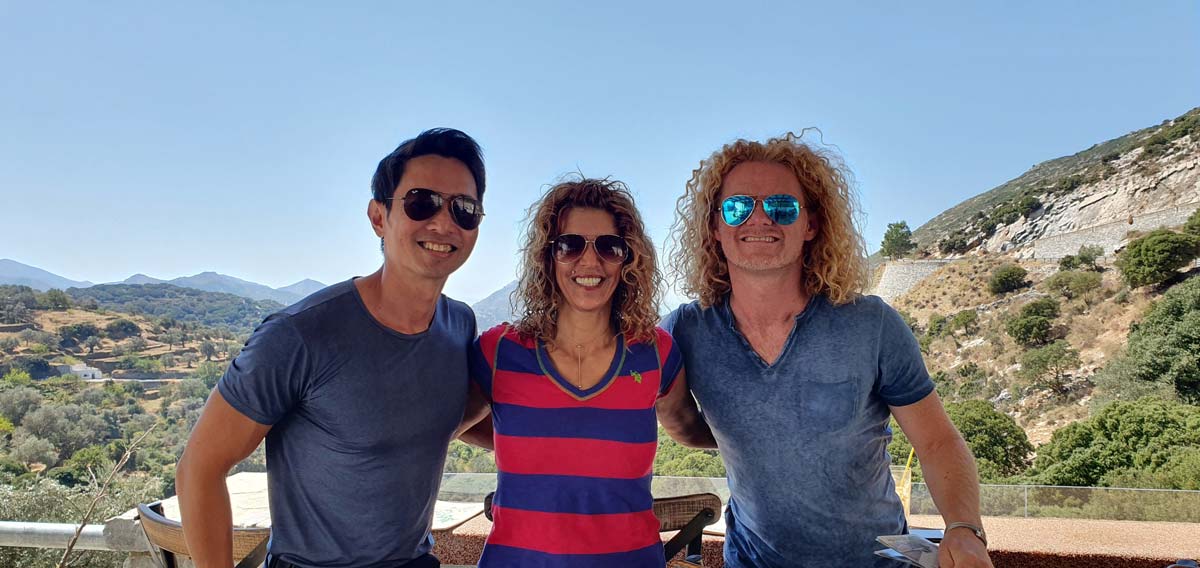 Encounter fewer tourists and have a more intimate retreat on Naxos island at ELaiolithos, which is been a magnet for romance-seekers and honeymooners for its distinct location on the island, its healthy local gastronomy, unparalleled Cycladic scenery, beautiful mountain vistas, its vivid artistic cultural decor, the plenty hiking options, and the human connection. Your honeymoon stay here includes local stories, history, fun, laughs and some unforgettable sunset views.
Top off the experience on our courtyard with a romantic dinner, the company of a musician playing local music, and relax together as the new Mr. and Mrs!
Eco-Friendly Honeymoon Luxury Suites
Envision your honeymoon in one of ELaiolithos' suites in a blissful atmosphere with au naturel décor, and celebrate a green honeymoon without compromising in luxury.Their romanticism and spirit, full of fine details and touches will forever be remembered as part of your honeymoon.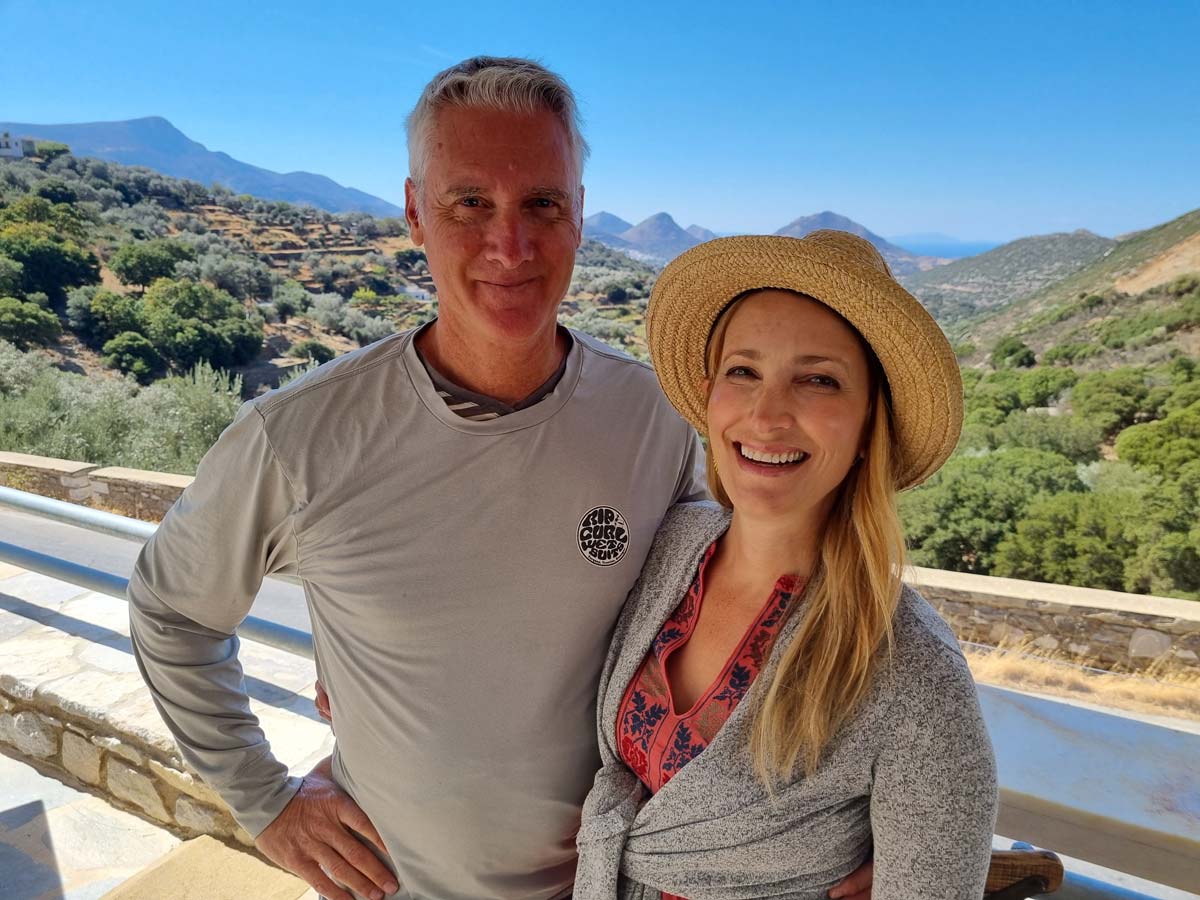 An elegant spot to enjoy breakfast overlooking the endless horizon will make you feel you are floating the Aegean Sea, and will complement the backdrop of images composing the most beautiful album of your life.
The entire hospitality experience is set up around the "Feel like a Local" concept
ELaiolithos' Beds Create Memories
With love and passion we have built and decorated each suite to offer you an authentic experience full of emotions and images from the place you have chosen for your honeymoon/anniversary.
Each luxury suite has its own theme deriving from the neighboring mountains. Each bed and its headboard is a piece of art, the focal point that elevates its decor and represents its concept. Solid built with local stone and sand upgrade the suite's aesthetics and create an attractive backdrop – the beds are unique and dedicated to making our guests feel unique too!
The Suites were designed for the distinctive guest who is able to appreciate a singular kind of comfort, class, space, art and tranquility. They incorporate all possible modern amenities, while preserving the beauty of the traditional architecture.
Our sustainable profile is even perfectly depicted by the special bed character and personality of the suites, an element of intense interconnection with the destination, which constantly reminds the relationship of the ELaiolithos with the mountainous Naxos.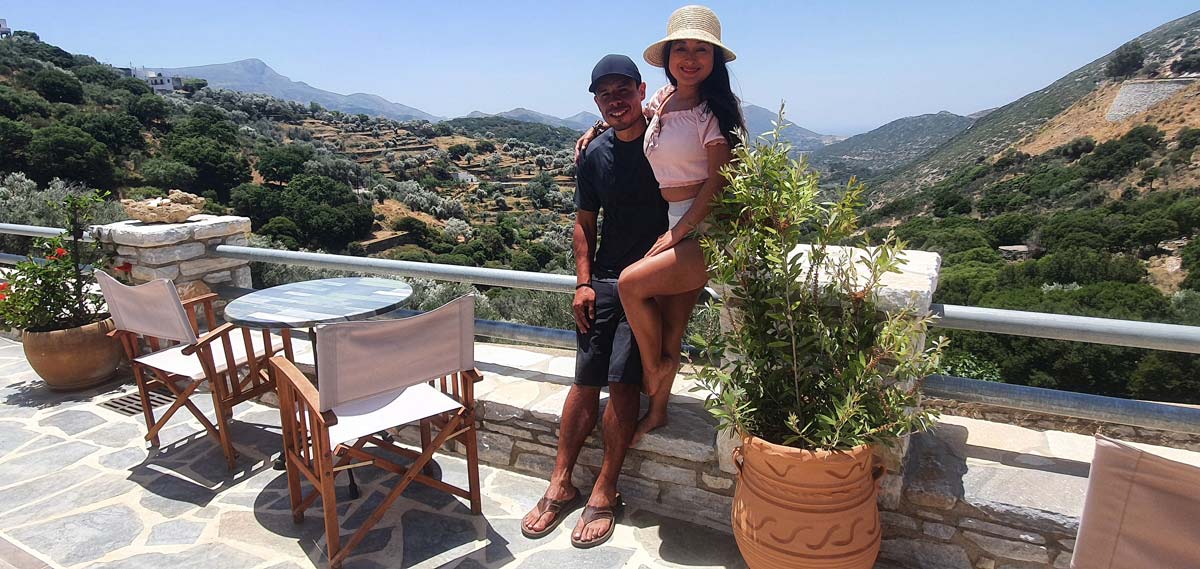 Setting as a clear goal the experience of the visitor, we've worked on the concept of the local experience, interconnecting luxury with the destination and integrate the local culture. We took full advantage of ELaiolithos' spectacular location and views, making sure that our guests can admire the surrounding area from almost every corner of the property. And not just the outside view but the interior view also!
The Zeus Cave Suite's bed is a depiction of Zeus mountain visible across the suite. Feel the Olympian's King of Gods Zeus spirit in every corner.
The Ariadne & Dionysus Suite's bed depicts the Portara, the temple of god Apollo, the landmark of Naxos, where their marriage took place.
Oraia ELeni Suite's bed depicts her lavish beauty into a wild world.
Emery Suite's bed depicts the luxurious and simple beauty and strength of the emery mineral found in abundance in the north side of Naxos.
Fanari Suite's bed represents the imposing beauty of the neighboring mountain, where the hotel is situated
Be ready to embark on a journey of luxury, relaxation, serenity and artistic flair!
Plan at Least One Memorable Activity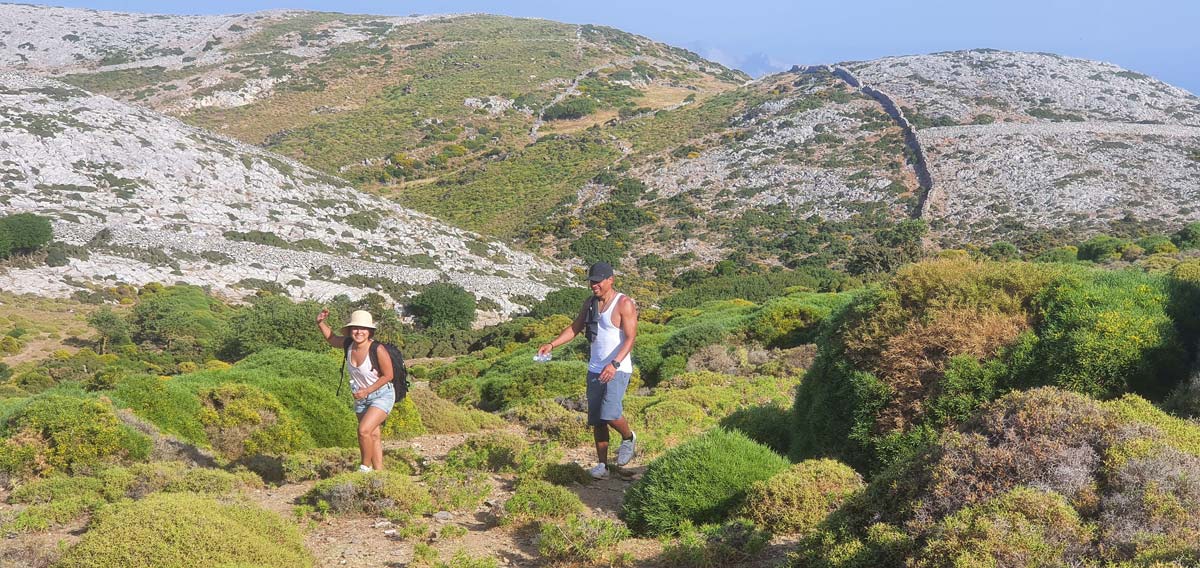 Honeymooners make here memories that stick with you long after you return home. You can opt for activities that leave a minimal carbon footprint.
Get to know your destination and hike the tallest mountain of Cyclades, dedicated to Olympian god Zeus, 1004 meters H.
Explore quaint places, and get lost in the historic district's slow-paced serenity which is the perfect place to chill out postwedding. Cozy cafes and local restaurants flourish around our region.
Enjoy a cozy dinner with craft cocktails, local folklore music, dance and stargazing under our thousand stars night sky on our premises.
Enjoy a cooking-class together, hands-on experience and eat your creation.
Visit secluded beaches with only the two of you there. We inform you about all the choices you can have.
Enjoy a Twogether experience with an en-suite or an outdoor massage luxury treatment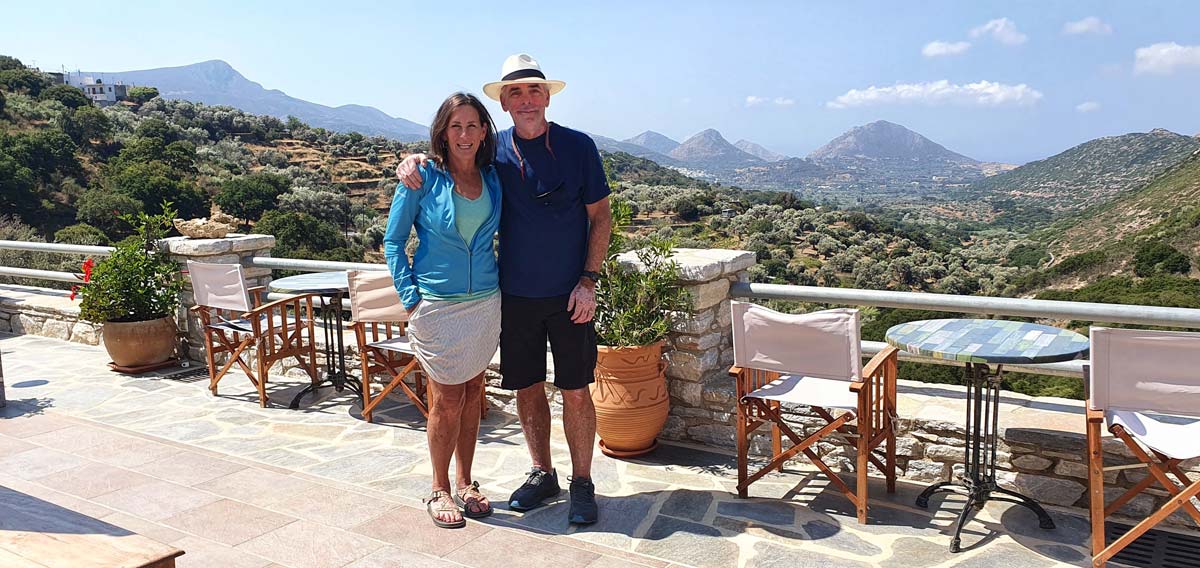 Dine and Wine
ELaiolithos is synonymous with romance. It's a combination of the architecture, the food (oh, the food!), the craft garden-to-glass cocktails, the views and the art that makes it so special and one of the unique honeymoon destinations in Cyclades. After a wander through Mykonos or Santorini, enjoy here a different locale, more authentic and real, and unwind on our sumptuous courtyard that oozes romance, intrigue, charm, and sensuality!
With a unique blend of culture and tradition, a spectacular natural landscape with thousands of scents and a seriously delicious local gastronomy, a premium selection of organic local wines and cheeses, there's a lot to get excited about when planning your honeymoon or anniversary with us.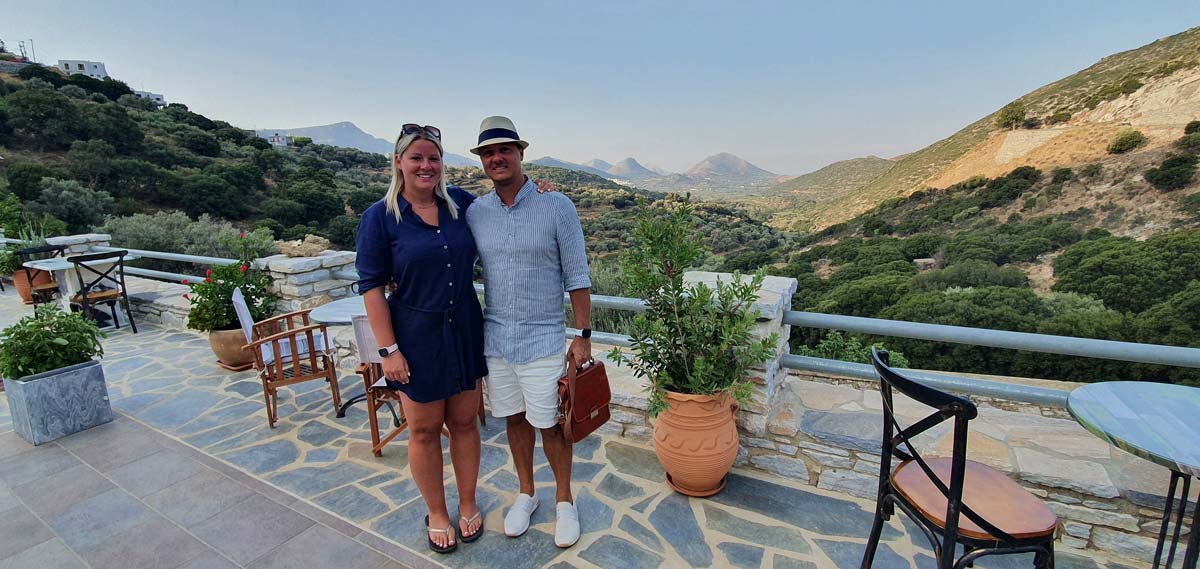 Propose to Her
The best thing about ELaiolithos is that it's surrounded by the splendor of Mother Nature with unbelievably photogenic mountains and green valley view at its doorstep. It's a beautiful secluded location for the couples who love nature. Nature's beauty is reflected everywhere. Lay out on the terrace and propose to her with a bottle of champagne and fresh local strawberries to celebrate!
Or hike up together on the Zeus mountain, the tallest mountain of Cyclades dedicated to the king of the Olympian Gods Zeus. When you get to the top and she's taking in the panoramic vistas, declaring how she has never seen anything so beautiful, you'll know what to say before presenting that ring.
**The very location of the property, among dense olive groves and lush landscape, allows travelers to feel absolute comfort and relaxation, while enjoying a high level of intimacy, service and freedom.
Celebrate your honeymoon or anniversary at ELaiolithos. Romance is in the air!