ELaiolithos is an eco friendly sustainable hotel in Naxos island that has been built with bioclimatic and local materials to minimize its impact on the natural environment. Its sustainability blooms right from inception and comes along with luxury to offer a seamless high-end eco-friendly experience. Immerse yourself in the culture of Naxos island, while enjoying the delights of modern comforts.
ELaiolithos is here to tell you that sustainability can go hand-in-hand with comfort and style even when you travel in the mountains of a Greek Cycladic island
The "ELaiolithos Luxury Retreat" hotel has been committed to follow the ten criteria of the Good TravelScan program launched by Good Travel Guide.
The Good Travel Guide is a trade mark of Green Destinations BV, The Netherlands.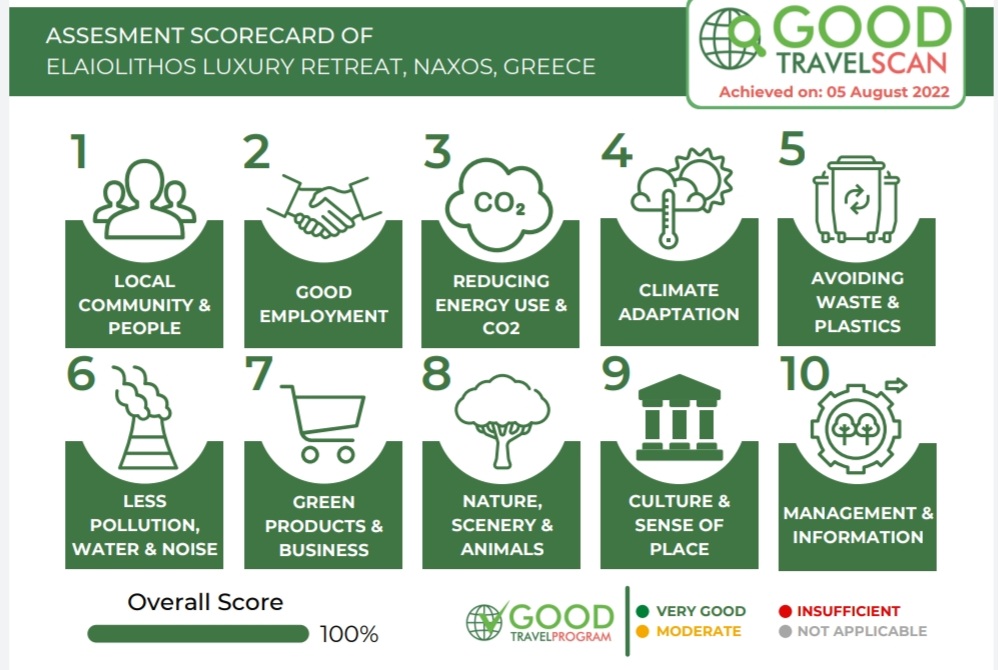 Adherence to the principles of Sustainable Tourism is a key priority for the ELaiolithos Luxury Retreat hotel in Naxos, which is not simply a sustainable hotel, but it's one hotel where Sustainability and Authenticity is felt from the first glance with 100% transparent sustainable practices, and
strict focus only on quality, and genuine hospitality
care for the local community and local environment
love and care for the nature
respect for the scenery and surrounding landscape
support and promotion of local handmade arts and local products
environmentally friendly tourism activities
support for the good health and well-being of all visitors, guests, employees, and locals.
The traditional elements that decorate the themed suites give life to the area and tell stories about traditions of the old times. Every luxury suite offers a different sustainable hotel experience! ELaiolithos broadcasts the island's identity, local art, history, and scenery, uses local handloom woven textiles, combines gastronomy with sustainability by providing produce that comes only from a 5 Km distance, and makes Naxos culture and its local environment a part of its story. With every decision we make at ELaiolithos, we show that we care about our guests, and we respect the environment and its surroundings.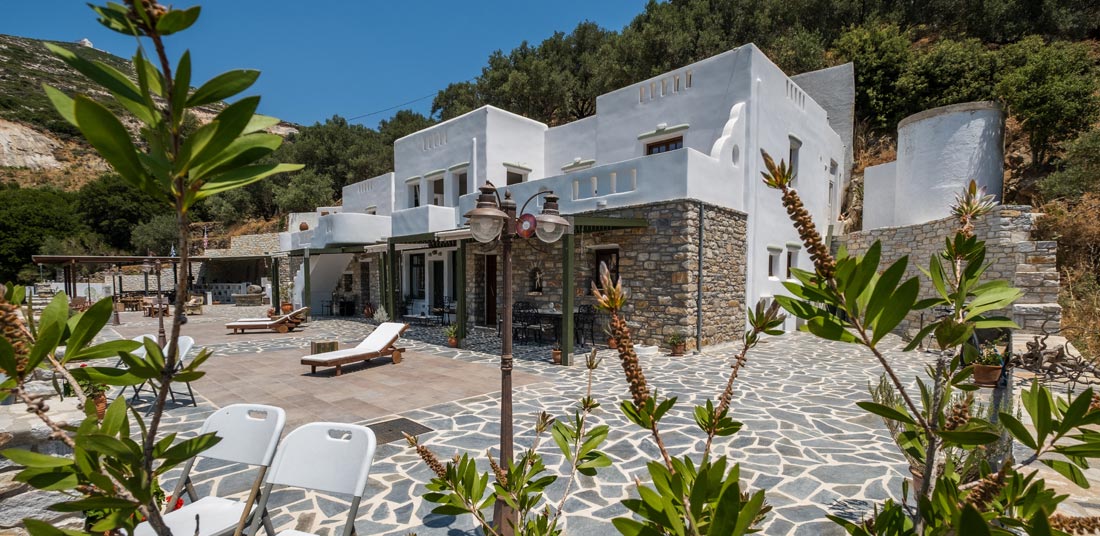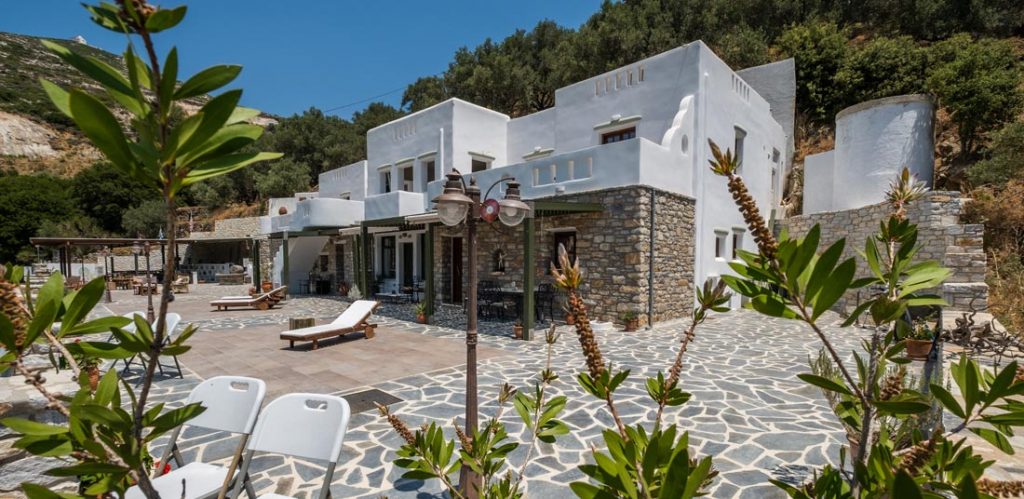 ELaiolithos is an aroma of well being itself without flavor enhancers
ELaiolithos' Sustainable Practices
ELaiolithos is a proof that luxury can co-exist with respect for the environment even in a remote Greek island. Enjoy a luxury green hotel lifestyle situated in the heart of Naxos, that coexists harmoniously with its natural setting, and it showcases innovative energy and water-saving features to reduce its environmental impact. It's committed to create a luxury hotel experience within an eco-friendly environment.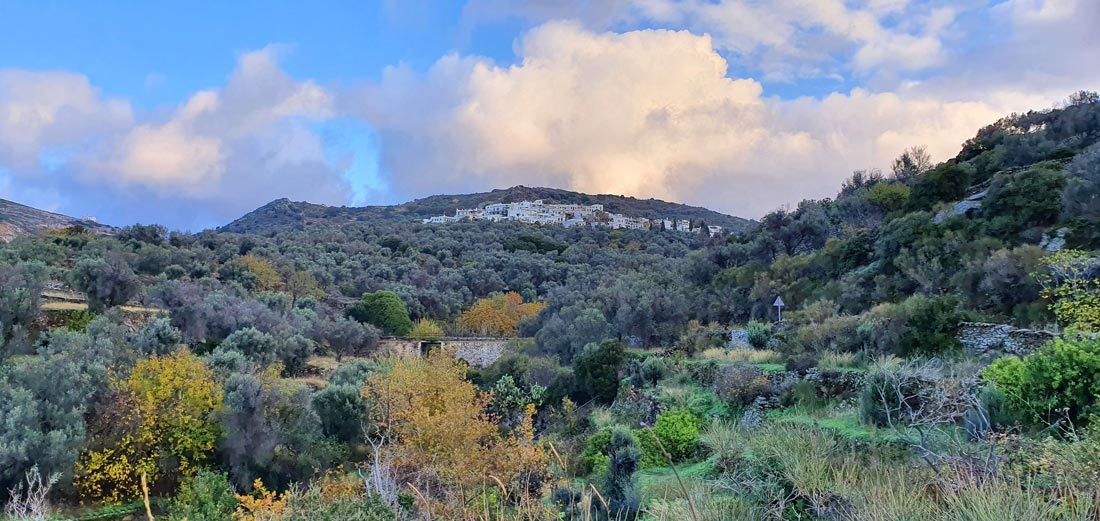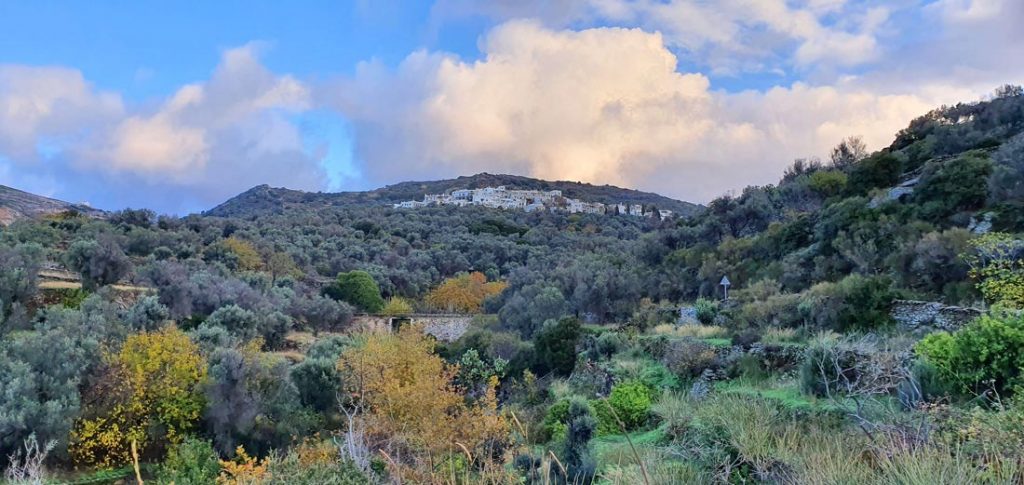 Some of ELaiolithos' Sustainable and Eco friendly Practices are:
More than 90% of construction came from local earthy materials, such as local stone and Naxian marble. Everything in the hotel is designed with sustainability in mind
ELaiolithos is a member of the Eco-Tourism Greece, of the Zero Waste Program Greece, and has a Gold Award as a Hikers Friendly Hotel
All suites contain organic cotton sheets, and local hand loom woven 100% cotton textiles
Only Non-Smoking Rooms
Offer locally organic harvested farm-to-fork food, all fruit and vegetables, as well as the olive oil, olives, wine and honey we serve is produced in our farms with all sourced ingredients to come within a 1 Km distance from the hotel, giving you the freshest local organic food and conserving energy. We use LED (Light Emitting Diode) bulbs because LED's have the lowest carbon footprint, last 5-20 times longer and are safe (the compact fluorescent light bulbs all contain mercury, a hazardous heavy metal)
Turning leftovers for Livestock. All leftover edible food is given to the livestock locals for their animal feeding on a daily basis
Use sensors and/or timers for areas that are infrequently used
Use of Energy efficient appliances
Use of solar energy to cover hot water requirements (24 hour hot water)
Every suite's decoration reflects its legend, history and tradition with its handmade art by local artists
Warm feel of natural earthy materials are used. All bathrooms and counter tops are no exception. Every one is different and is made in the old-fashioned cement mortar style in which only natural materials are used. The so-called cement mortar is an absolutely natural, 100% eco-friendly and bio-climatic material without any chemical substances added and it's based on natural stones as its constituents are the theraine earth, limestone, quartz sand and kerammala. It gives distinctive elegant aesthetics to the bathrooms and counter tops, with its most important parameter to be the excellent result, both visual, functional and emotional – a relaxed ambiance that embraces traditional elegance and contemporary style. The pressed mortar cement is a 100% Greek eco-friendly product with decades of history and was first used in the Cycladic islands.
Use of recycled and non-chlorinated paper
Use of eco-friendly chemical-free cleaning products. Everything is cleaned with nontoxic Green Seal products
Organic eco friendly bath amenities and toiletries
Bathrooms have low-flow faucets, and shower heads. Water consumption is reduced by installing: toilets with specific flushing toilet mechanisms of pressure to increase and decrease the amount of water flow in each tap.
Use of non-disposable and durable service items, dishes, and cutlery in hotel restaurant as well as inside every room
ELaiolithos' ideal central location in the mainland of Naxos island provides the opportunity to its guests for more enjoyable green and eco-friendly experiences through: less carbon emissions in the air, meaningful connections with local people, a greater understanding of the local culture, and the social and environmental issues of the area.
Use natural tap water from the natural water spring of the adjacent village of Moni
Provides activities for physically challenged people
Our personnel are locals
Breakfast is served à la carte with only local produce from 5 Km distance
Offer local experiences such as working in the field with locals, visiting the fields to experience how the organic produce is grown and harvested, olive picking season, wine making, hand loom weaving classes, cooking classes, local history lessons, Astro tourism lessons.
We support our island. Putting money back into our community helps locals survive the year and ensure they'll still be around when you visit again. That's sustainable for us.
Visits to the protected juniper forest in Alyko – one of Greece's largest and densest juniper forests & protected areas Natura 2000
ELaiolithos protects its cultural heritage, and supports the local community. Our Mission is Responsible Tourism because we believe Nature is the world, the sponsor and the teacher of human abundance, and those that travel the world also care about it. We proactively researching and incorporating the greenest sustainable options possible in everything we do.
Why do people like staying at a Sustainable hotel?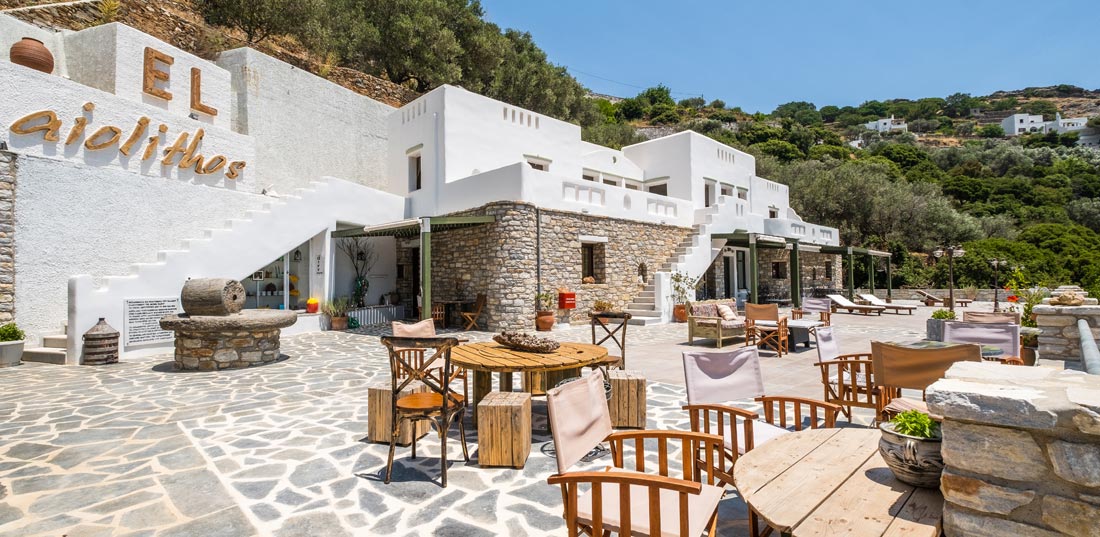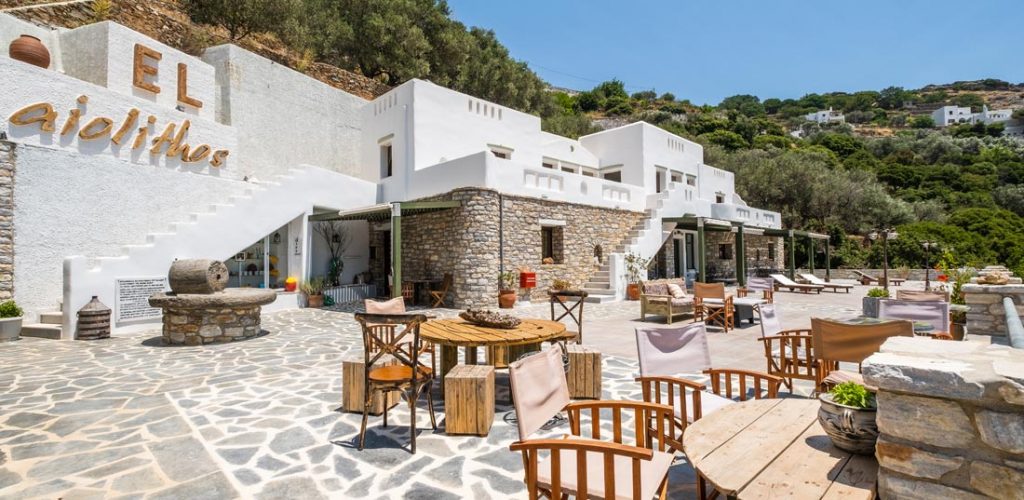 The world awakens environmentally, and today's tourists travel responsibly, and prefer sustainable and eco friendly destinations that take initiatives to protect and preserve the environment. People want to live in an authentic way, invest in meaningful experiences rather than things, and they're looking for sustainable hotel destinations. Green travel is about moral travel. Choosing a sustainable hotel improves the quality of their lives, protects the ecosystem, and preserves natural resources for future generations. They know more than ever that travel green and sustainably is beneficial for the business, for the environment, and for all the people.
Travelers today want authenticity, purpose, and genuine sustainable hospitality instead of formulaic service. ELaiolithos in Naxos, Greece guarantees true sustainability, commitment, transparency, and supports the experience. It sees luxury as being rooted in a combination of sustainable practices, quality, comfort and elegance, alongside an element of scarcity, authenticity and distinctiveness.
ELaiolithos tells a story – culture, tradition and local environment is a part of its story – and connects its visitors to the location. What more one could possible want but to stay in a luxury green sustainable hotel in a Greek Cycladic island?
Which is our most sustainable practice?
We care about our guests, our community, and we live in harmony with our natural environment. Across all of our initiatives, everything we do always has one core focus: ensuring what we do brings value to the guests and improves their experience. We ENDEAVOR to play our part in managing our business in the most environmentally friendly way possible to demonstrate that we care in every area to ensure a better future for us all.
Our most sustainable practices are:
The use of solar energy – solar panels for hot water are used to save energy 24/7
We grow our own produce. "Clean Eating" and Naxian seasonal delicacies with only locally sourced ingredients. Our concept is the Slow Food Philosophy, which stands for sustainable local organic food that has been grown or produced with consideration of its health, environment and social impact. That saves money, reduces our environmental footprint by making things at the hotel, we prioritize our health, and the taste is fresh and delicious! We have our own farms and fields for producing organic fruit, vegetable, wine, olive oil, goat milk and the best cheeses on the island.
We support the local community by buying only from locals from our region, cotton textiles and art and crafts, all within a 1 Km distance ONLY!
ELaiolithos is a Green Building with Sustainable Architecture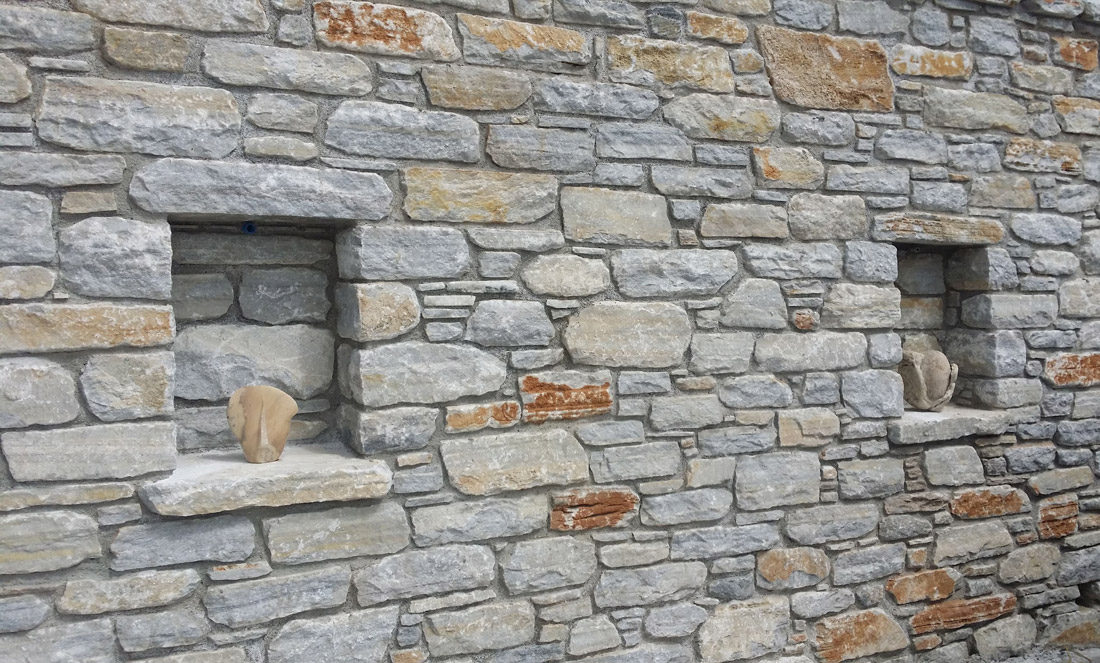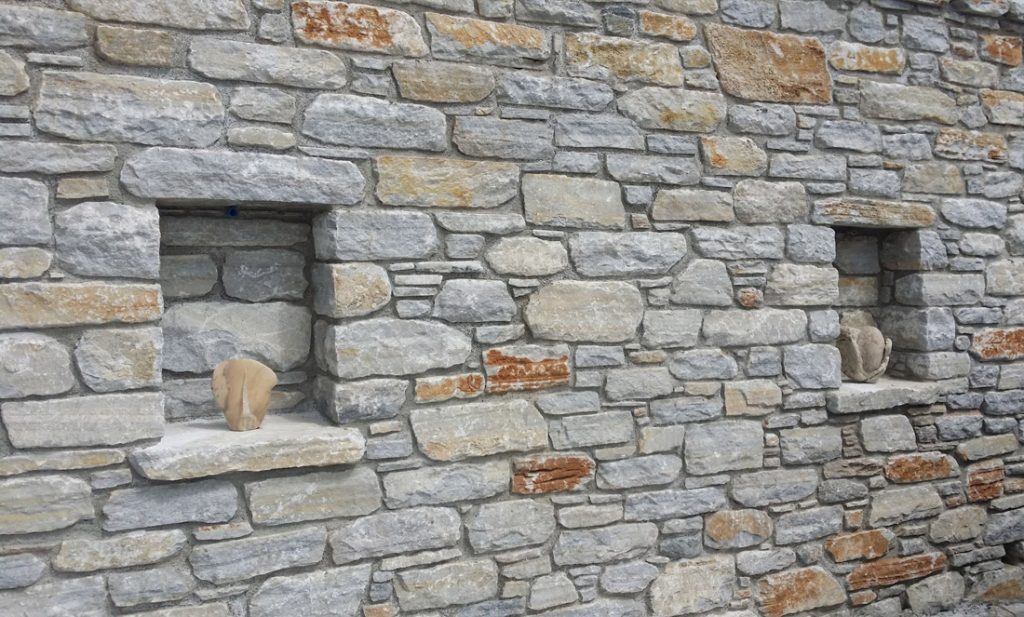 ELaiolithos is a green building. The eco-friendly materials for its construction, energy, and waste management were used in the wisest ways to have the least possible negative impact on the environment, not to harm the ecosystem neither to have any detrimental effect on the surrounding area. The visualized idea of a sustainable hotel building was taken into consideration from the beginning. The goal was also not to succumb to the charm of modern architecture but to create a building with its own character, style, and soul. Mother Nature served as the model along with the spirituality of the surrounding region. The eco friendly sustainable structure was planned down to the very detail, and the whole point was to construct an edifice that reflects the preciousness of its surroundings. A place with so much inherent energy demands a great deal of respect and care to accentuate these strengths. That's the reason why eco friendly sustainable materials that reinforce this impression, and the Cycladic style architecture with a genuine respect to the surroundings, environment and nature, were chosen.
All building materials are natural resources found in abundance in Naxos island and were used wisely. Natural stones from the local quarries of Moni village were used as the main construction element. The pledge to nature continues in all the details of: eco friendly sustainable mortar cement bathrooms, Naxian marble accents, built beds, and traditional handwoven loom textiles – all convey comfort, luxury, and blend perfectly with the surrounding area and the Cycladic aura.
ELaiolithos is a sustainable architecture, shows ecological awareness, its functionality is tied to the environment through its harmonized appearance within the local climate, tradition, and culture, and creates a safe and healthy space for people to live, and work.
ELaiolithos sustainable hotel retreat has been committed to its ecological ethos from the very start
It is committed to responsible, sustainable and eco-friendly tourism that positively engages the local people, and reduces its negative environmental impact. Nature penetrates its suites – tradition and eco friendly amenities and toiletries are combined, all senses are addressed and emotions are triggered! You can't help but sense the unique natural wonder of ELaiolithos. Anyone who comes here will come in touch with Mother Nature, his inner self and with us.
Because for us holidays in a Sustainable hotel in an Eco friendly way is the Real Luxury!