ELaiolithos is an experiential luxury green hotel in Naxos island, Greece that its core blends gracefully sustainability, warm hospitality and luxury. Here low impact travel, exclusive experiences and luxury coexist. It delivers an ecological ethos, a deeper cultural connection, and a strong sense of Naxos island. It stands for its eco-friendly spirit without compromising in luxury. ELaiolithos is a luxury green hotel that incorporates meaningful green sustainable practices into its operations while working to conserve resources, recycle waste materials, and offer guests a greener way to enjoy a luxury vacation.
ELaiolithos is situated in the midst of nature, in central Naxos, among thousands of eternal olive trees. It's five minutes drive away from the historical Halki village, and 20 minutes from Naxos town. Emphasis on ecology and ethical living without skimping on the room service is given. It is a luxury green hotel built with respect to the surrounding natural environment and operates with care for the nature and the environment, considering that this enhances the experience of its guests.
At ELaiolithos style, luxury and Naxian tradition meet a world of beauty and authenticity. It's a luxury green hotel where you can unwind on the huge terrace, look out on the large expanse, adore the magnificent landscape while sipping on a glass of local wine to honor the great Naxian god Dionysus, and pay homage to his passion of hedonism.
Why stay at a green hotel in Naxos island?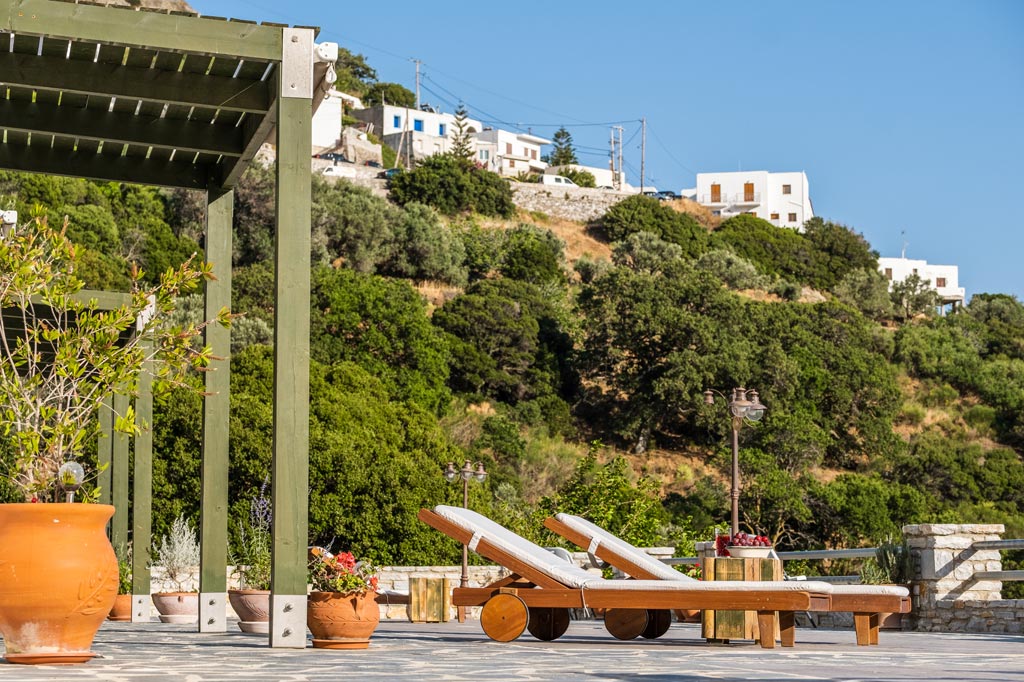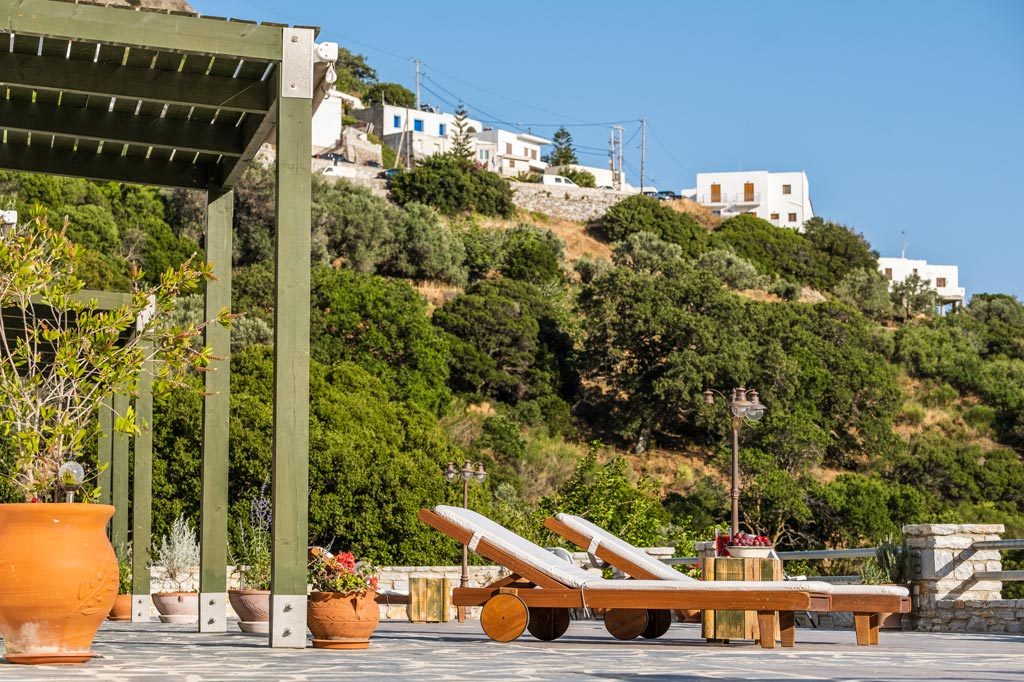 Switch off, Unplug, Enjoy
In a world of increasing global concern regarding diminishing natural resources and global environmental impacts, ELaiolithos' core value could not be other than "think green" by being environmentally conscious, embracing eco-friendly lifestyle, sustainable practices, policies, and green philosophy, while providing an oasis of luxurious accommodations. It is a luxury green hotel that has made significant efforts to reduce its environmental impact, both behind the scenes and in guest rooms and experience.
As Eco-travel is growing up, more people are opting for green hotels, and ELaiolithos is a luxury green hotel in Naxos island, Greece, nestled in the greenest part of not just of Naxos but of the whole Cyclades. Eco travelers will love its secluded location, its stunning natural green landscape, it's sustainable facilities, the amazing eco-friendly amenities and toiletries, its numerous walking, cycling and trekking trails around the hotel, the local life, and the mingling with the locals. To travel here means to travel where the locals live, eat organically like the locals eat farm-to-fork fresh and seasonal food, speak with staff who loves sharing their sense of local pride by providing top-notch service, touch local handmade art, wrap yourself with hand loom woven textiles, and get lost into the magic of the mornings where the sun beams come through the olive trees, and the mesmerizing sound of the goat bells tickle your ears.
Are they enough all these to make you want stay madly at a luxury green hotel in Naxos island?
Why book with ELaiolithos?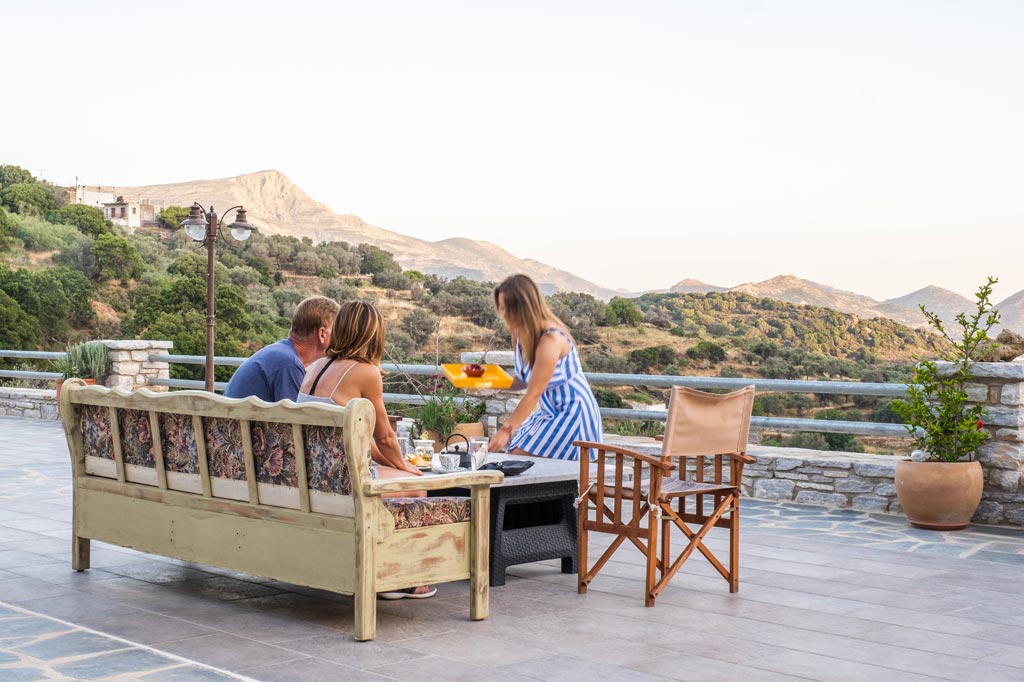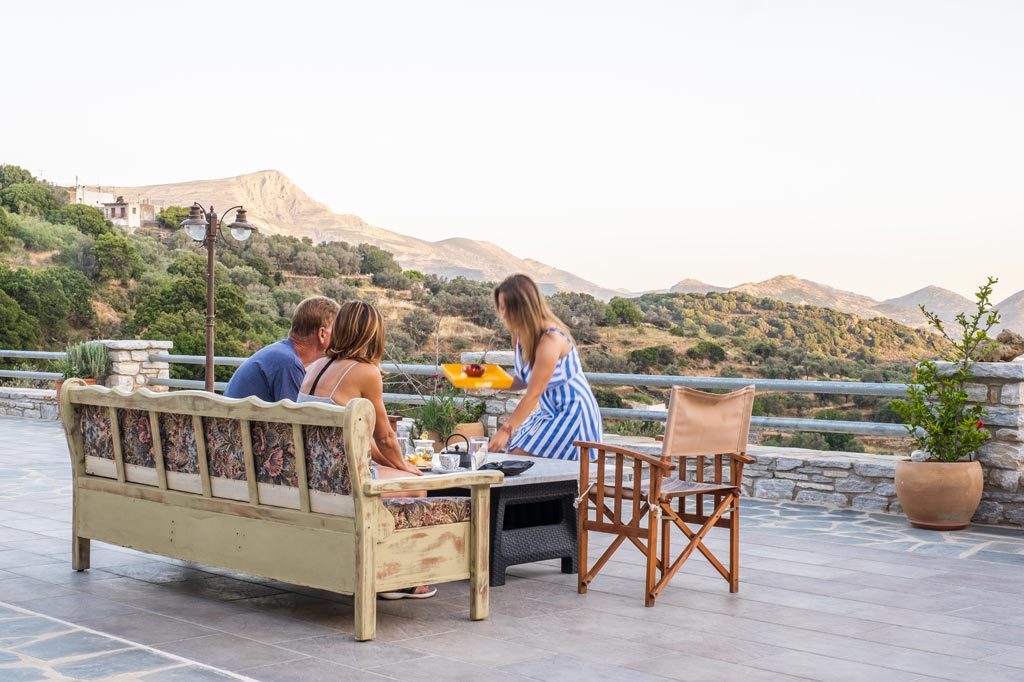 Simply because ELaiolithos is truly an experience in and of itself! Let nature dictate a bit of the trip for you!! Being in nature is the best way to slow down, really enjoy the place you're in, and relax. This is called vacation-rejuvenation, you vacate from your ordinary way of living. And somewhere over here you feel the true power of the land, the value of life, and the meaning of the absolute freedom!
The natural geology of Naxos' mainland region plays a huge role in its ability to host ecotourism. This area is quite unique from a geographical viewpoint since the largest green valley of all Cycladic islands lays at the feet of ELaiolithos
Staying in a luxury green hotel in Naxos island satiates your wanderlust while being green and eco-friendly, and still enjoy the Greek Cycladic island charm!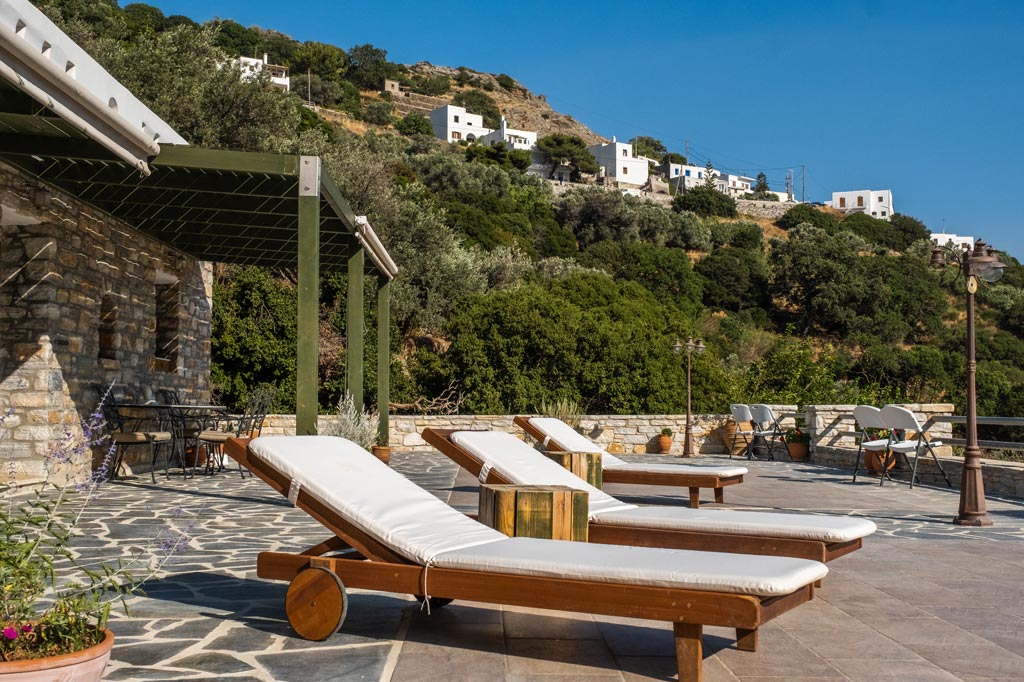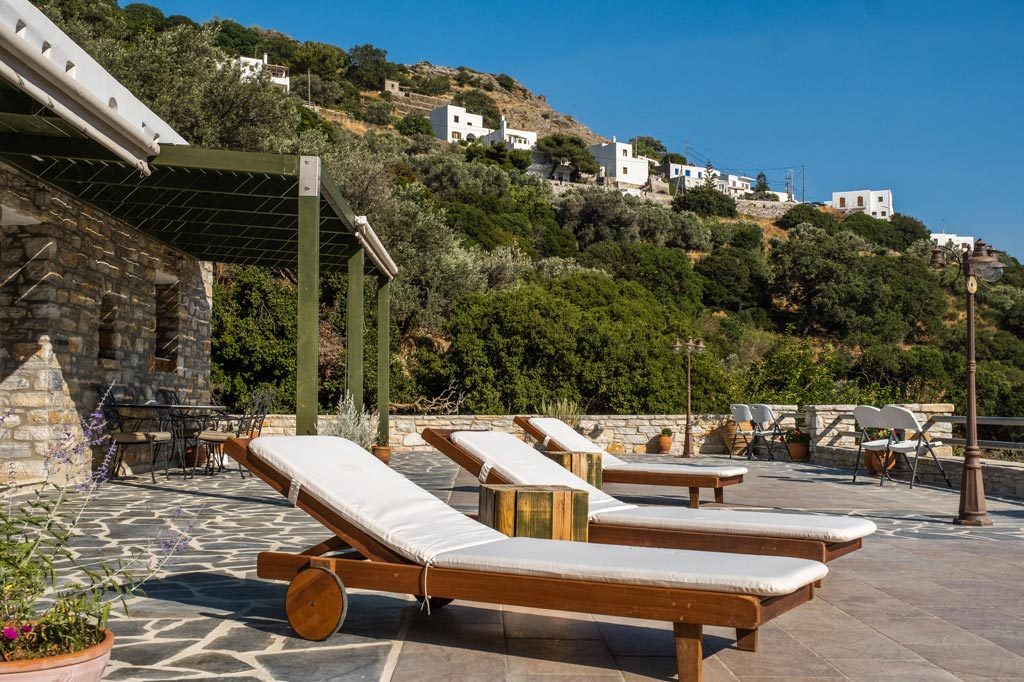 A few reasons to stay at ELaiolithos:
Privileged green location, the only lush green landscape in all Cyclades, offering stunning views of the island
Great central convenient location, and unique road junction. The road splits in 3-different directions, making every point of the island easily accessible
It's very romantic. Couples love its romantic ambiance, with textures that evoke all senses
All major and famous attractions of the island are around the hotel within 5-15 minutes driving distance
The best scenic hiking/cycling trails of the island are around the hotel
Panagia Drosiani, the oldest Byzantine church in Balkans, 4th-6th and 12th century is 350 m away, a 5 minute walk
The historical Halki village (the former capital of the island) with the Vallindras Kitron Distillery is a 5 minute drive away
Apiranthos village, the famous stone village, is a 10 minute drive
The Temple of Demeter, built 500 yrs before Parthenon, is a 10 minute drive
Zeus mountain, Upper Castle, and Marble Quarries are just around the corner
EXPERIENCE LOCAL L!FE. Live like a local. ELaiolithos is a unique combination of Naxian history, mythology, culture, and tradition with opulent accommodation and comfort. Relax, eat like a local, learn about Naxos, live away of the mass tourism spots, and experience the real spirit of Naxos!
Inviting and warm family hospitality
Plus, you are only 20 minutes away from all the best beaches of Naxos!
At ELaiolithos you tap into the experiential part of your stay. Every day is a different experience here!
Our mission: to create special sparkling moments that bring smiles to your face through fun, knowledge enrichment about Naxos and Greece, delicious culinary delights, surprises, unexpected experiences, warm family like feelings, and love of the surrounding environment and premises. ELaiolithos is perfect for Solo travelers and an inspiration to all! We take pride in showing you what Naxian hospitality and quality is all about!
What makes the luxury green hotel ELaiolithos different?
Simply put, we operate responsibly, we do business with a conscience.
Location, location, location
Clean island air
Pristine untouched nature
Divine mountains
Healthy local farm to fork gastronomy
Better Hotel Sleep Quality because of its ideal elevation
Mesmerizing goat bells sound
Chic hospitality
Charming Romantic Ambiance
at 500 meters above sea level, there're 500 reasons to be here….
ELaiolithos is unique because of its amazing sunrise beams through the olive trees, its spectacular sunsets, great vantage location, and serene suites: an Eco Tranquility Experience combined with Luxury and Local Living awaits every one.
Its privileged location is a convenient base to explore the island easily, and enjoy the best of both worlds, the mountains and the sea. Perched atop the highest point of central Naxos, breath in stunning uninterrupted views from your suite and the terrace, spend time lounging on remote and unspoiled beaches, trekking through the highlands, or climbing the peak of the mystical mountains Zeus, Fanari or Koronos – all available within a close proximity. Free from the crowds, and serene environment, it's a haven for nature lovers, for curious travelers who love authentic experiences, for those who are looking for genuine human connection, who love life and enjoy its every moment, who embrace the unexpected and the unknown, love to learn about the destination, and walk its paths.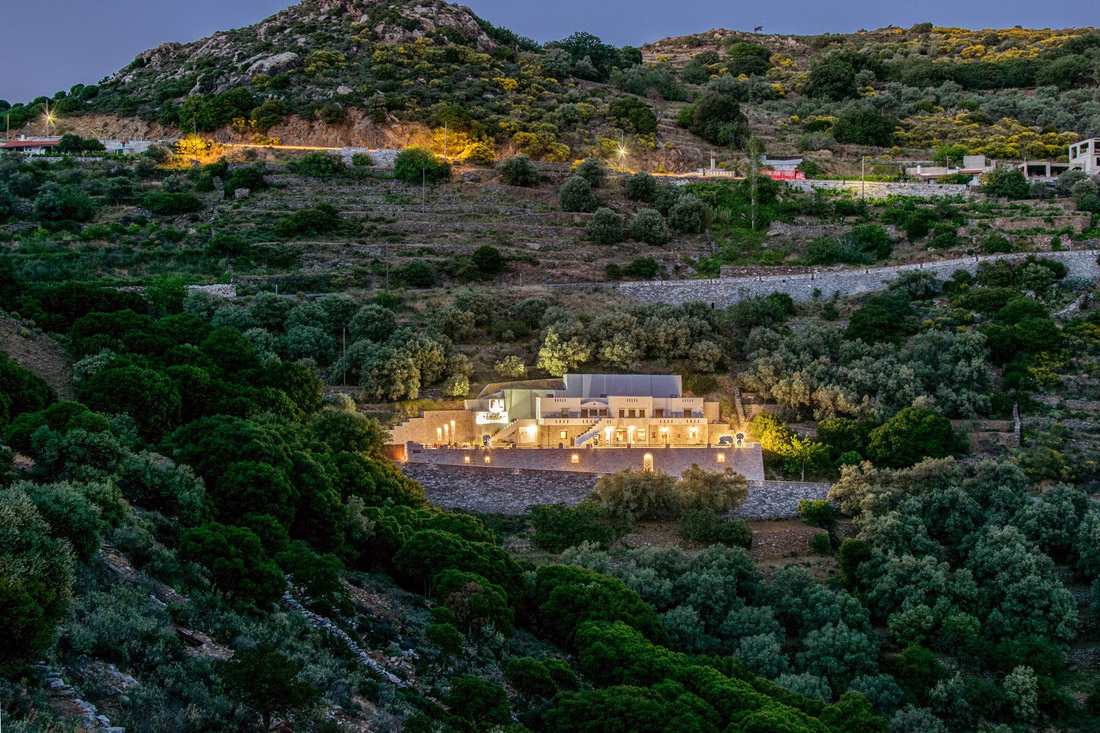 We provide authentic luxury green hotel guest experience with personalized service by working closely with every guest to ensure all elements of their stay achieve nothing less than what they expect. We call that a perfectly imperfect, friendly and informal accommodating. We welcome every guest with care and attention from the very first minute they step into ELaiolithos. We treat everyone with honor and respect because they honor us and respect us by choosing us for their luxury green hotel stay in Naxos. We make everyone to feel like their home, a sanctuary, a sacred space where they feel safe, where they feel free, where they feel cared and curious, where they feel family, where they laugh…….
Our Strengths
Humor – We see life with humor and freedom
Location – An idyllic location in which everything flows, everything takes place and nothing stays
Capacity – For distinguished guests, families and travelers, to be able to describe the question "What is unique about the ELaiolithos?"
Facilities – Green facilities in a serene green environment with infinite tranquility
EcoArt Decoration – a keen eye for detail with inspiring local handmade EcoArt, with respect to environment and nature, stimulate dialogues, and encourage the long-term flourishing of the social and natural environments in which we live
Comfort – we treat you like Royalty