Where to drink in Naxos island? Have an authentic local cocktail bar dr!nking experience at ELaiolithos
Either you're staying here or you're just a visitor, enjoy fascinating cocktail drinks in one of the most enchanting and laid back spots in Naxos island, Greece.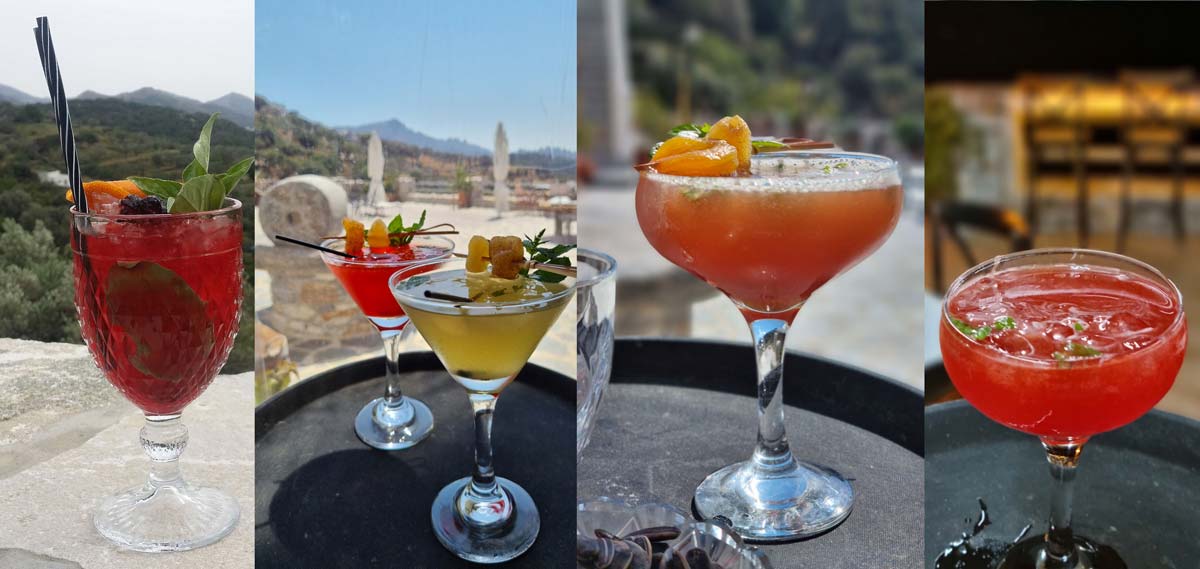 Naxos' hinterland great variety in herbs and fruits gave us the idea to create artisan craft cocktails. We used the craftsmanship skills of a connoisseur and invented/constructed pristine intriguing cocktails with impeccable local ingredients and aromas that result in small symphonies for the mouth. The cocktail names are all inspired by Naxian culture, lore and history. Each one is truly innovating, unique, pleasing to the eye and to the palate, and tells a story while promising an experience.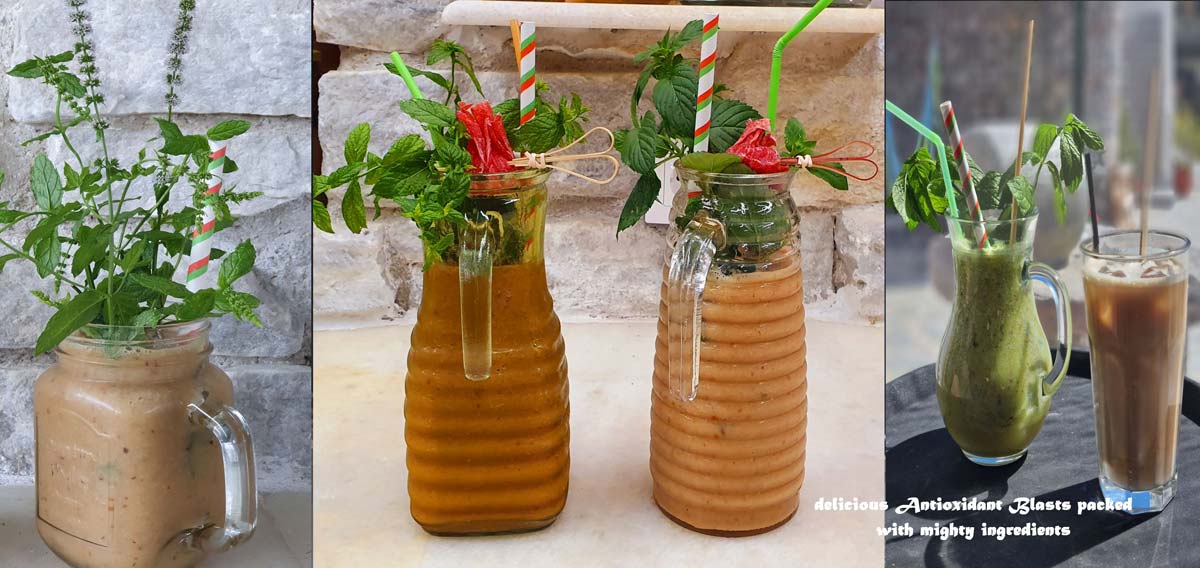 During the day, relax with a coffee or share some cocktail or wine and cheese on our bar terrace, and admire the expansive scenic pristine landscape that is unfolding in front of you. Or absorb the marvelous orange, gray and yellow hues in the evening sky accompanied by the rhythm of lounge music and chill-out with a cocktail drink. Drink and share twogether moments in an environment full of character, ambiance, a dreamlike scenery and premium service!!!
ENJOY UNIQUE BAR COCKTAIL DRINKS WHERE ALL THE FLAVORS, COLORS AND AROMAS OF NAXOS' MOUNTAINS BECOME ONE
ELaiolithos bar offers:
Artisan craft cocktails with a native twist that will awake your senses. If you love novelty, uniqueness and have a passion for the fresh, local and creative essences, their aromas & flavors will seduce you
Healthy Detox Juices & Smoothies – A great way to kick start healthy momentum! All-natural, seasonal, unsweetened fruit and vegetables. Do to your body some good with these delicious antioxidant blasts packed with mighty ingredients.
A variety of brewed beverages & coffees (hot & cold)
Energizing yet relaxing Naxian mountainous tea flavors (hot or iced) to uplift and refresh your senses for a healthy life style
Greek Premium Spirits, the pure distillates of joy accompanied with local platters or our Signature secret platters
Eclectic awarded brands of barrel aged Tsipouro: no gluten. Tsipouro is a pure grape pomace distillate, caramel colored spirit with flavor that resembles whiskey (similar to Italian Grappa). It's not sweet like ouzo, it's considered to be better combined with "stronger" and more spicy dishes. It's a good aperitif before lunch or dinner.
Local wine, raki, premium Greek awarded wines, beers, long drinks & Classics
Great taste Award organic juices,100% Greek fruits, Gluten-free, No additives, No added sugar.
Homemade local juices & liqueurs that pack a ton of tasty and healthy nutrients into a drinkable treat that'll make you feel great.
The TAP WATER is safe throughout ELaiolithos. It comes from the adjacent village of Moni which is privileged to have its own natural water spring in Mount Fanari. Its water is of excellent quality and 100% safe to drink.
ELaiolithos' bar does NOT have pretense….
We all know that the micro-decisions we make daily affect our short-term and long-term goals alike! In order to feel great and stay well we must choose healthy food, but equally as important are the drinks we choose to consume. Healthy drinking starts with healthy soil – and ELaiolithos' bar ingredients come from the surrounded non manipulated land where organic farming cultivation takes place. All our fruits, wine & raki come from our own healthy farms and vineyards where no additives, pesticides, herbicides, fungicides, insecticides, or chemical fertilizers have been used. This means no negative side effects that are typically associated with drinking, and no stomach aches, hangovers, headaches, rashes, or any of the usual symptoms.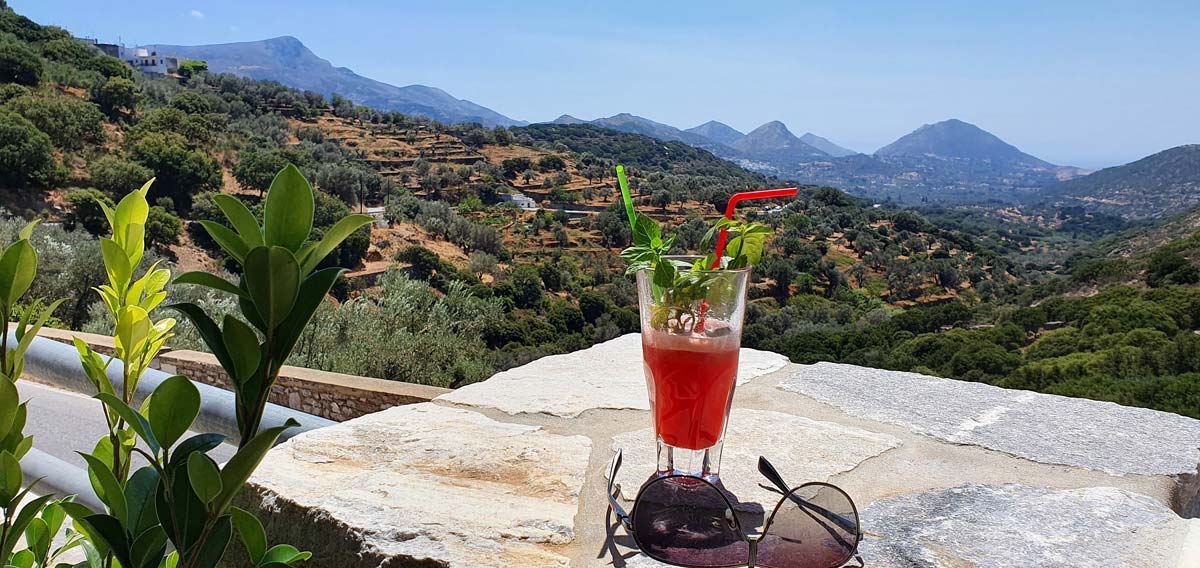 Embark on a delicious cocktail bar drinking journey that expresses the identity of the local region.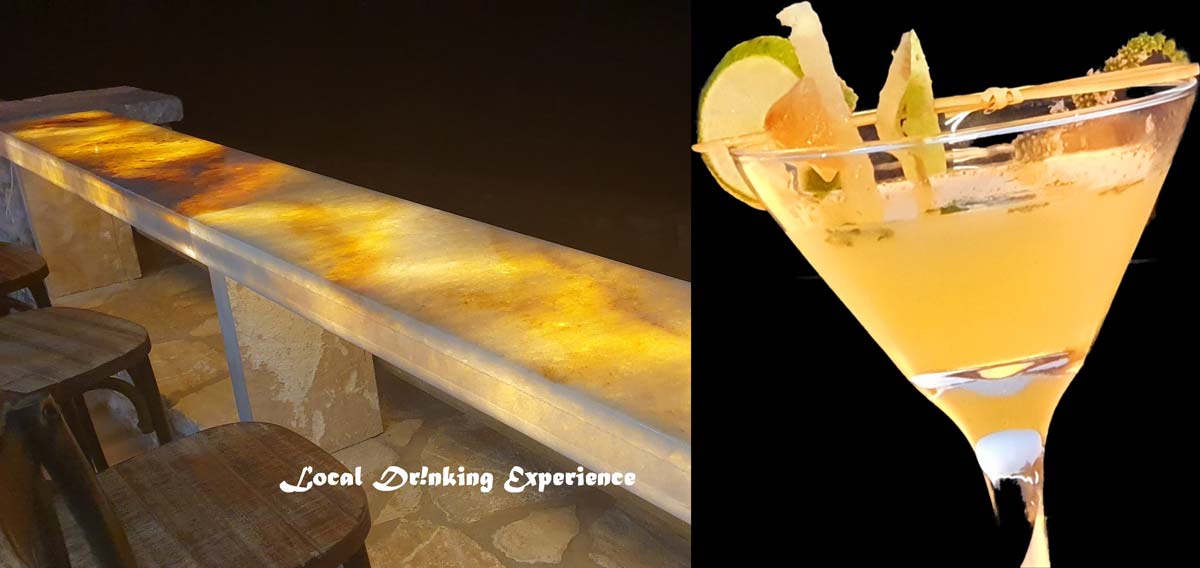 It's impossible not to fall in love, really, as it is……