The eco-friendly ELaiolithos is a one-stop shop, a Naxos wedding venue and accommodation at once! Have your wedding, reception and honeymoon in a sumptuous environment that evokes a romantic and ethereal vibe, in the heart of Naxos, with breathtaking viewpoints to the Olympian God's Zeus mountain and onto the Aegean Sea horizon. Create happy memories, stunning wedding photographs, and a great experience for you and your loved ones!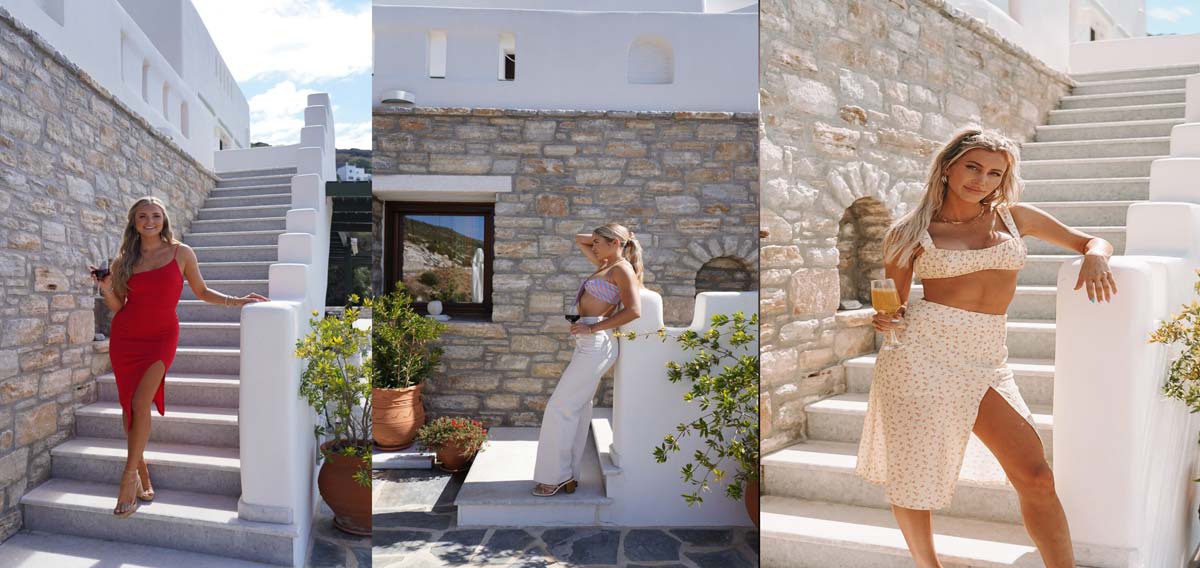 When your dream finds its location the result is enchanting. ELaiolithos and lovers go together like bees and honey.
Your Naxos wedding at ELaiolithos offers your guests discover the local way of life with a seriously delicious local gastronomy. It's an idyllic outdoor wedding venue with on-site accommodation – Everything in one location, under one roof.
YOUR EARTH-FRIENDLY WEDDING CAN BE BEAUTIFUL MAGICAL … AND SUSTAINABLE @ELAIOLITHOS
Happiness is Homemade
ELaiolithos is built and run with the environment in mind, allowing you to tune into your most natural self, and with your significant other on a deeper level. By having your wedding at ELaiolithos you save a lot of money. We provide you with so many of the basic things that you would otherwise need to rent – tables, chairs, dishware, dance floor, votive candles, etc – that could save you hundreds (in some cases thousands!). Tying the knot with your loved one in this eco-friendly wedding venue and get ready to spend smart!
Why ELaiolithos is unique and differentiates from the rest?
Why choose ELaiolithos Luxury Retreat for your special day?
If you love nature, art and open-air romanticism, then ELaiolithos is nature in itself, sensual and erotic
It's an eco-friendly Naxos wedding venue for a sustainable ceremony and reception: Say "I do" while respecting the planet at ELaiolithos. The property practices sustainability; it lives and breathes its values at every turn. Our outdoors are so stunning of nature's splendor, it's hard to resist to their peaceful lure.
Built-In Decor: Why bring in decorations if they already exist at your wedding venue? You don't need to book separate ceremony and reception site because ELaiolithos offers amazing décor details in it. Save cash for you and resources for the earth – it's a win-win situation. Scenic backdrops, unique landscape, and flowers on our terrace feel lush and verdant without adding cut blooms. ELaiolithos is an Art Deco paradise.
Bold Cycladic-style architecture makes ELaiolithos eye-catching and stunning for all types of couples. You'll love the sensational curb appeal, the stone courtyard. The perfect setting to highlight your wedding costume and dress during a photo shoot!
Plenty Focal Points: Inspired design and special photo Ops in so many ways: impressive lush outdoor spaces, sweeping staircases that are a photographer's dream, the traditional 500 years old folklore olive press and millstone, art pieces, the luxurious marble tables and so much more.
The scene-setting is unbeatable! The natural foliage and stunning landscape are available as instant décor. This reduces costs for you. ELaiolithos is like a postcard, its premises and surroundings are a perfect backdrop, offering you the opportunity for taking stunning photos – every corner is a unique spot!
Say "I do" in a unique setting: ELaiolithos' outdoors are by default a romantic reality. Mother Nature provides her most beautiful scenic design for your wedding. Say "I Do" with a stunning view! The rippling of the divine Olympian god Zeus mountain with its 8-pyramid mountain tail and the lush green valley welcome you to an incredible setting. Dine and dance in the open air and the best part? Everyone can just fall into bed when the champagne glasses are empty.
Peace, tranquility, culture and tradition are the uplifting elements that will infuse your wedding. The venue is surrounded by centinaries olive groves – a symbol of peace, wisdom, strength, and fertility. And as the evening gets closer, the ELaiolithos becomes even more magical and romantic. What better way to get married in such setting and surrounded by family, friends, foliage, and flowers?
ELaiolithos' earthy vibes offer you the opportunity for a super authentic Naxos wedding venue experience where all your dreams will come true
Opt for Sustainable Wedding Menu
Eat, drink and be healthy! Get ready for an experience! We prepare in-house savory dishes with earth-friendly ingredients. As an eco-conscious venue, our dinner menu exemplifies our commitment to sustainability, simplicity, flavor, and meeting the ideals you have dreamed of for your special day.
A true farm-to-table dining experience awaits you and your guests with fresh seasonal locally grown produce from a 5 Km distance only, free range + grass-fed organic meats, and sustainable seafood. Tailoring your wedding menu to local tastes is a way to make the day feel even more special. You can choose an earth-friendly menu with traditional recipes or meat-dishes. The choice is yours!
Seasonal Vegetable Dish: Our another bonus that anyone can enjoy regardless of dietary restrictions is to celebrate your wedding's season with a plate full of delicious seasonal vegetables. We offer an amazing vegetarian/vegan menu in case you encourage guests to go green. You can embrace this welcome shift away from the traditional roasted vegetable stack— that will look absolutely stunning in pictures. You can offer it family-style or as a served entree.
Alcohol: Our wines are organically, sustainably grown and pesticide-free, and our craft cocktails with fresh local ingredients. You don't have to skip the booze in order to drink responsibly. Our ingredients come only from the surrounding region from environmentally-friendly sources and reduce your hangover, so there's no real reason not to serve organic alcohol at your wedding bar.
Serving Style: We carry stylish silver ware, serving ware and glassware. Enjoy great food and great service! You can choose to reduce food waste by choosing alternative serving styles. An expertly prepared buffet can be just as glamorous as a plated a la carte dish, or a family-style central platter per 4, and ensure that guests select food they plan to eat. Your wish, our command!
We are so honored at the opportunity to be part of your journey. We'll make your day feel charming, look majestic, and taste superb by crafting you a signature cocktail and advising on which wines you should pour. We'll plate delectable appetizers, cook main courses and bake sweet treats that your guests will love.
Accommodation #Lodging
By making ELaiolithos your perfect big day destination, you blend a grand celebration with intimate accommodation. With only 5 luxury suites, ELaiolithos is a family affair. Have your guests or family members plan to stay in ELaiolithos' suites and enjoy a little getaway of their own. With local attractions galore, they'll enjoy their time on the island before and after the big day.
All suites offer sublime comfort and evoke the Naxian spirit- the magic of the island will be part of your special day! Individually decorated with original handmade artworks and sculptures, in a traditional chic style, they exude themes from history, legend, and tradition from the neighboring mountains.
Private Lounge: Get ready in one of our stylish, intimate suite setting, or just step away for a minute to catch your breath and refresh.
Honeymoon Suite: spend your wedding night at the blissful atmosphere of the Ariadne & Dionysus' honeymoon Suite. Its romanticism and spirit, full of fine details and touches will forever be remembered as part of your honeymoon!
Elopements and Micro Weddings at ELaiolithos?
Sounds amazing! ELaiolithos is an ideal destination venue for micro weddings, small and intimate. Plus – you can spend your wedding night in our honeymoon suite, and your family or friends in the adjacent suites. Your micro wedding is your chance to create a very personal and intimate ceremony and reception that reflects who you are as a couple. With our expert knowledge and owner's 20 years of experience in New York, we can help you be as personal as you like. One of the biggest benefits of a micro wedding is that you'll have much more time to spend with all of your guests on the big day. Treasure the experience, you can count on us!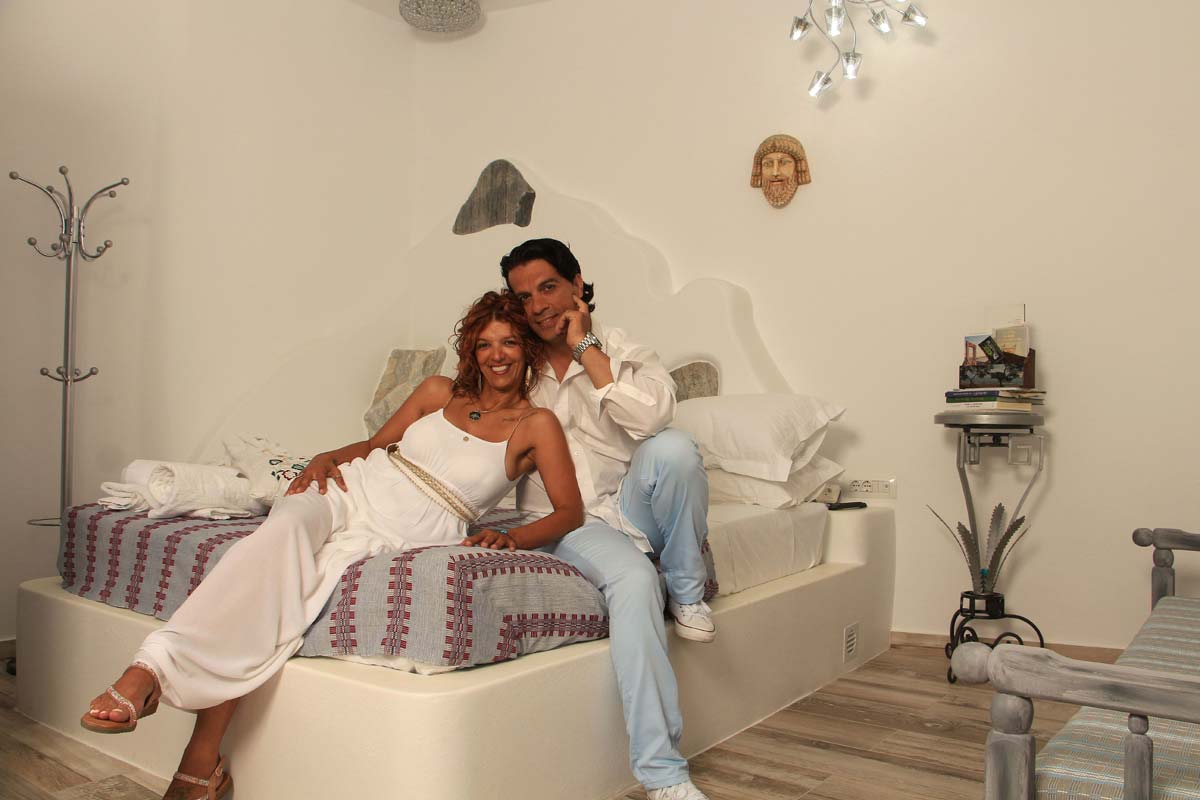 Other Wedding Services
We handle and organize every detail from the beginning to the end, providing our best services, according to your wishes.
We can treat your guests to a relaxed barbecue on our terrace and drinks on our open bar
Host a casual family gathering any night before the wedding or breakfast the day after
From your get-ready suite, to the cocktail time #elaiolithos can offer you craft music experiences as unique as you.
Chauffeur service can be arranged for guests wishing to be collected from the station or airport.We can put at your disposal a shuttle service for the wedding day as well as for the rest of your stay in Naxos.
Capacity for ceremony & reception: up to 150 guests.
Recommended Wedding Spots Around the Venue
Whether you desire a civil or religious wedding ceremony or renewal of vows, ELaiolithos located on the edge of the historic Byzantine plateau of Traghaia in #Naxos is a memorable choice. We recommend Panagia Drosiani, the oldest Byzantine church in Balkans, or the picturesque Saint Barbara above the hotel that offers idyllic views, or Profitis Hlias chapel on the tip of the hill where the scenic landscape is jaw-dropping. The adjacent village of Moni offers you also a great picturesque photo shooting with its rustic traditional style.
"From backyard to black-tie, a wedding is the perfect opportunity to show family and friends the stylish side of environmental and social responsibility" ~ Michele Kozin
LGBTQ-Friendly – EnGAYged Symbolic Weddings
At ELaiolithos we value love and we also value the emotion that comes with life's milestones, so we eagerly welcome all couples. Let us help you make this happy time, your fondest memory! Same-sex couples will find an enthusiastic welcome at ELaiolithos, a thriving cultural scene, vibrant nature, and romance to spare. With care, our extensive local knowledge and New York mindset (acceptance, diversity, equality, open-mind), we ensure that we can help you with every detail for your destination same sex symbolic wedding reception, honeymoon, party, or event in Naxos, Greece while experiencing a memorable holiday.
GOOD TO KNOW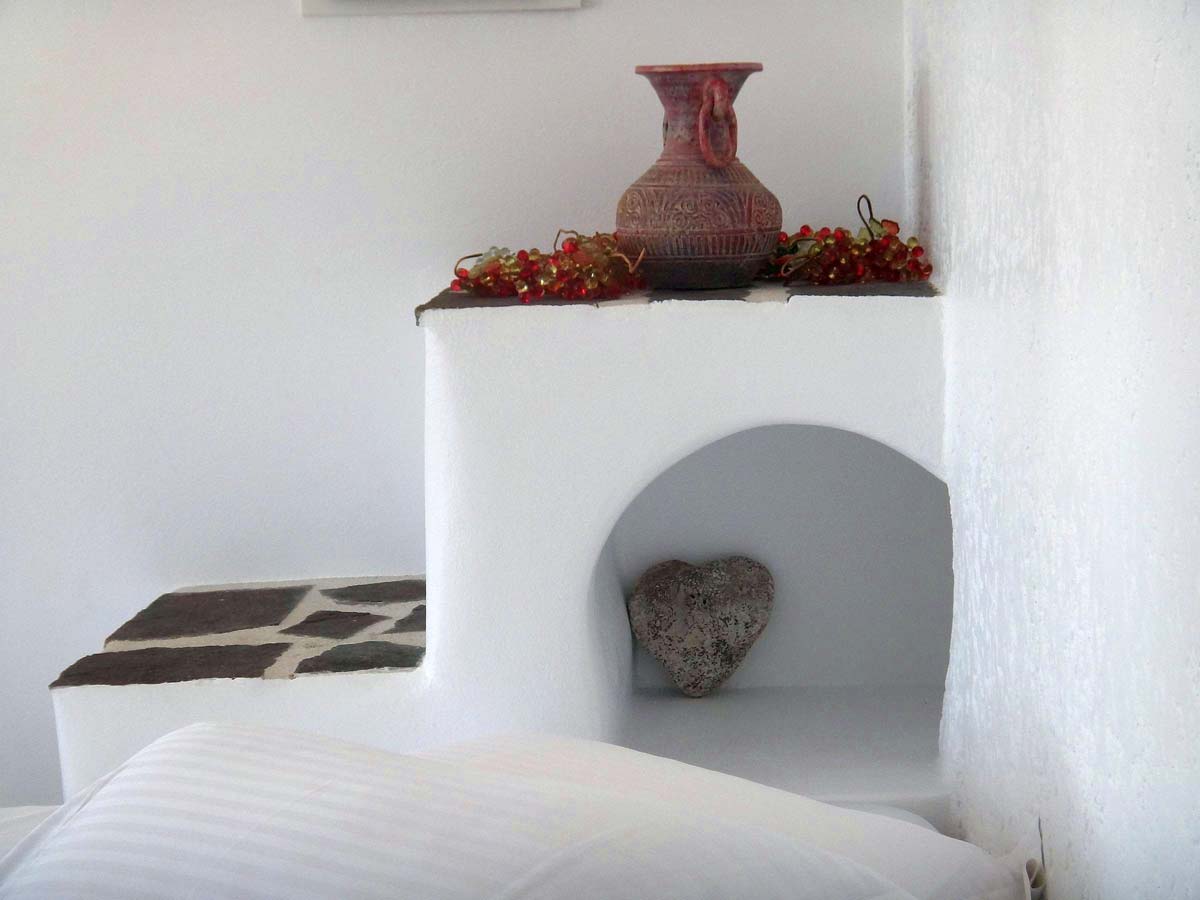 What is a Green Wedding?Advice for the Eco-Conscious Couple
When it comes to planning the Big Day, couples worry that being environmentally correct will mean sacrificing their cherished wedding vision, but this is not true. You can have a celebration that is both beautiful and "green" or at least, green-ish. An eco-friendly wedding or green wedding is any wedding where the couple plans to decrease the ecological impact on their special event on the planet, and plan their wedding by making a few thoughtful adjustments, integrating eco-friendly alternatives, and choose venues that use sustainable practices.
Hosting a sustainable wedding isn't just about the location and waste—you should consider the impact of all the decisions you make leading up to your big day. For the couples who envision their wedding as more of an experience than an event, the venue choice is a good place to start. This is where you can truly personalize the decor, details, and activities to make it one to remember.
Go Green on Your Big Day! If you want to have an eco-friendly wedding, the best place to start is by choosing a green and sustainable wedding venue. And ELaiolithos is a green venue!
What is Green, Anyway?
"Green" is a concept of promoting balance between humanity and Nature. Greenies support products that are eco-friendly, produced in a socially responsible manner, and enrich local or indigeneous communities. They endorse sustainable farming, with an emphasis on local and seasonal produce, which minimizes the depletion of natural resources.
Does What I do Realy Matter?
With your attitude, you're raising awareness about preserving Planet Earth, something that everyone has to do, and by doing it with grace, is one of the most meaningful contributions you and your fiance can make. With your expression and your inner values, you have the ability to inspire also others!
"You imagine it, we accomplish it!"
We have a carefully compiled "Preferred Suppliers" list for everything for your special day:
#WeddingCeremonies
Beside orthodox, catholic and civil ceremonies or a symbolic ceremony; we can arrange your needs and desires at a different location around the island. Just let us know your preferences in order to be able to assist you.
#Beauty
Our hairdresser and professional makeup artist having a New York experience will point up your beauty to shine even brighter and to make your presence even more spectacular on your wedding day. We can also provide a nail designer.
#Mirror_Booth
Are you ready to stand in front of the most awesome mirror in the world next to an antique olive millstone dated back to 1540? Get ready to be amazed! Surprise your guests with the mirror booth and capture unforgettable wedding pictures filled with local aroma.
# WeddingPhotographer
To capture the moment forever, we are working with talented local photographers who know the area well and its romantic spots, they work with you on a personal level, love playful shots and feature couples' personalities well. They'll immortalize your wedding, and you'll get beautiful pictures full of emotions to revive this unique event again and again… forever.
#WeddingVideographer
A wedding video is a living memory and keeps the special emotions and feelings of your wedding alive. Our talented videographers narrate your story and offer you a moving experience for a lifetime.
Naxos Wedding Music
#WeddingDJ #LiveLocalMusic #weddingdance
Music is a loving bond that not only connects you and your fiancé; it also represents joy, happiness and togetherness. Dance and share with your guests some unforgettable moments whether you prefer a DJ or a live local musician band for a few hours. Feel the Greek island spirit by taking some Naxian dance lessons to make "OPA" easy for you
#Special_Entertainment
To have some special effects during the night we can provide fireworks. Light up your night and enjoy these unique emotional moments.
#Baby Sitting #Child Entertainment
Parents will also be able to enjoy your wedding day and the wedding party while a professional child caretaker will entertain your young guests and a babysitter will take care of your sweet babies.
#AfterWeddingActivities
You want to extend your wedding with a pre- or post-event for family and friends? Depending on your own preferences we can curate your special event, for instance a rehearsal dinner, boat cruises cooking lesson,
live entertainment with local musicians, local Naxian dance lessons, and much more. Let's create some joyful connection by sharing love and happiness!
#Wedding_Documents
One of the most important steps to get married is to organize all the necessary legal documents for your wedding on Naxos. We will support and guide you from the beginning until the end.
** You can inquire for Our All-Inclusive Package –a money-saving option for you, where we take care of everything, including the decorations, festive table setting, food, cake, favors and bomboniere. We can save you because we make deals with various services and then passed the savings on to you.
Please reach out to us directly at info@elaiolithos.com or complete the inquiry form below to request more information and availability.
Event Request Form
FAQ
Do you arrange religious weddings in Naxos?
Yes, we arrange Orthodox weddings. Please contact us for the necessary details.
Is better to set the date of my wedding in the beginning, in the middle or near the end of my stay in Greece?
It's advisable to set your wedding day, in the middle of your stay, so your guests will have plenty of time to arrive and you will have the chance to relax before the ceremony, as well as to enjoy your honeymoon right after.
What Service Styles Do You Offer?
We offer standing receptions, seated dinners, buffet receptions, family-style and custom menus.
What Should Be Included on My Menu?
Your menu should have a well-stocked bar and if you want to be fancy add a signature cocktail too! Several Hors d'Oeuvres – passed and/or stations, a main meal -plated or buffet, plus a wedding cake or cupcakes, and dessert(s). It's important to take into consideration your guests' potential dietary restrictions when planning your menu.
Can You Help Me Plan Our Menu?
Indeed 100%! We walk you through every step of planning your menu. From making suggestions to designing every aspect of your menu, our team will   offer as much assistance as you need.
Where Do You Source Your Cheeses and Meat?
All local cheeses made by the family producer Lambros Marakis (Giovannis' Cheeses) whose name is associated with quality, uniqueness and sustainability, and he offers the best quality of lamb, goat, pork, rabbit and beef. He is one of the most reputable cheese makers on the island using old traditional making techniques dating back to at least 4 generations. All milk derives from his free range grass fed goats and lambs. You'll taste all Naxos' mountainous herbs aromas in his cheeses!
What types of Cheeses are on your cheese boards?
We offer all kinds of local Naxian cheeses: Arseniko, Xynomizithra, Xinotyro, Anthotyro, Grayere, Feta.
Do You make Everything in-house?
Yes! The recipes are traditionally inspired with a modern twist. Our creativity and passion are always on the menu!
Do We Get a Tasting?
Indeed we can do a tasting! We would be happy seeing you in ELaiolithos. The tasting fee will be applied as a credit to your account if you move forward with your event.
What about Wedding Desserts?
We can customize your desserts according to dietary preferences (such as gluten-free, dairy-free or nut-free), and their ingredients will be local and organic.
We don't have two witnesses for the ceremony
We will be more than happy to be your witnesses on the day, so don't worry about it!
How can I proceed with booking and secure the wedding date and time?
Once you are ready to proceed with your booking you'll be asked for a (non refundable) security deposit which will be deducted from the final account. Deposits amount varies and depending on chosen wedding package/ services and is never more than the 25% of the total wedding cost.
Upon receipt of your security deposit, we book your wedding date and time  and we email you with your deposit receipt, confirming your deposit has been received.
What is the following step after the security deposit invoice? Will we sign an Official Contract?
Right after the security deposit invoice, we start to design your customised wedding package according to your specific desires in continuous contact with you by emails, schedule phone calls or via Skype. Together we'll see and discuss all the options and details of your wedding in order to design the package that suits better to your taste and needs. After your final decisions we 'll email you a contract with the detailed services chosen and the final quotes to be signed.
 
ELaiolithos is a legally recognised Greek company and with this contract we undertake to assist you with all your required wedding plans and to be present the day of the wedding.
What about the payment conditions? Is there a payment plan?
Upon confirmation we require a small deposit in order to book your wedding date/venue and guarantee our services. Right after we proceed with signing the Official Contract. The remaining payments can be made by bank transfers or cash – we'll provide you with the bank details. As we fully understand that you may have some reservations regarding a full pre-payment we offer you the option to pay your final portion of your balance (non greater that 30% of the total amount) upon arrival. Final payments may be paid via cash or bank transfers.
How long before the Wedding Ceremony should we book your service?
The earliest the better. Sunset times, Saturday and Sundays are the first to go. High season (July to September) is busier than low season. We've planned weddings one year in advance to two months in advance. We can also organize a last minute wedding , with only a few weeks notice. In this case payment is due immediately.
What if we want to change the date?
If you want to change the date or time of your wedding will do our best to accommodate changes. We cannot guarantee the availability of the new date, but we would try our best to work with your request and help you. 
We would love to have a Traditional Greek Style Wedding as at Mamma Mia and My Big fat Greek Wedding movies. Is that possible?
We can design and host a beautiful Greek style Wedding ceremony with all the traditional elements. And we can create the perfect Greek style party with Greek live music, Greek dancers and lots of local wine. We will offer you several options to consider according to your taste and your budget.
If I remove something from the standard wedding package, will it lower the price?
Our packages are already a great value, enhanced with high quality services. If you choose to not use a service that is included in the package we will not deduct the price, however we may exchange that for another service of equal or lesser value.
How do we obtain our marriage certificate?
After the ceremony, we will arrange a meeting at the Town Hall so we can proceed with the final signatures. The procedure of getting your marriage certificate with the Apostille Stamp usually takes 3-4 weeks. As soon as we receive it back from the Town Hall we will send it to you by post.
When do we receive our photos?
This depends on the delivery policy of our chosen photographer. We'll advice you accordingly. But most of the times, the photographer provides you with a USB stick within a few days.