Naxos island is made for Love! Naxos is the island of Dionysus, the god of fertility and libido, festivities, food, wine, pleasure, and primal energy of life. Dionysus seduces all mythology lovers. He fell in love with Ariadne, the daughter of the rich Cretan king Minos and married her. His renowned mythical love story of Ariadne provides a perfect backdrop for getting married on Naxos island and spending your honeymoon here in this relaxing and loving atmosphere where you will feel like a king and goddess.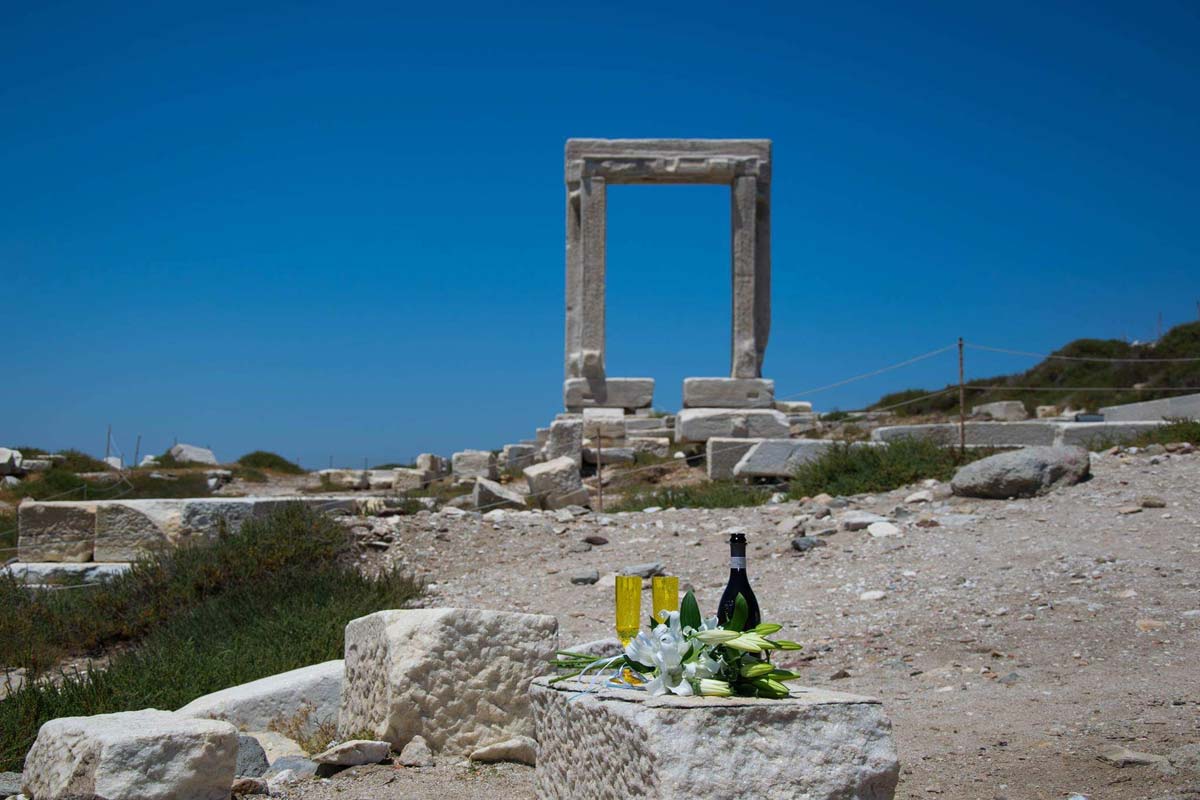 Welcome to Naxos, a place gifted with natural beauty, precious cultural and historic heritage, mythological love stories and festivities. Naxos's history is rich and surprising. At the heart of the Aegean archipelago, the island has been ruled by many people without losing its identity: Naxos still remains Naxos. Today, as an object of desire, authentic and simple, it's considered the "island of love". It is the pride of its inhabitants, and the perfect destination for a unique and memorable wedding in Naxos!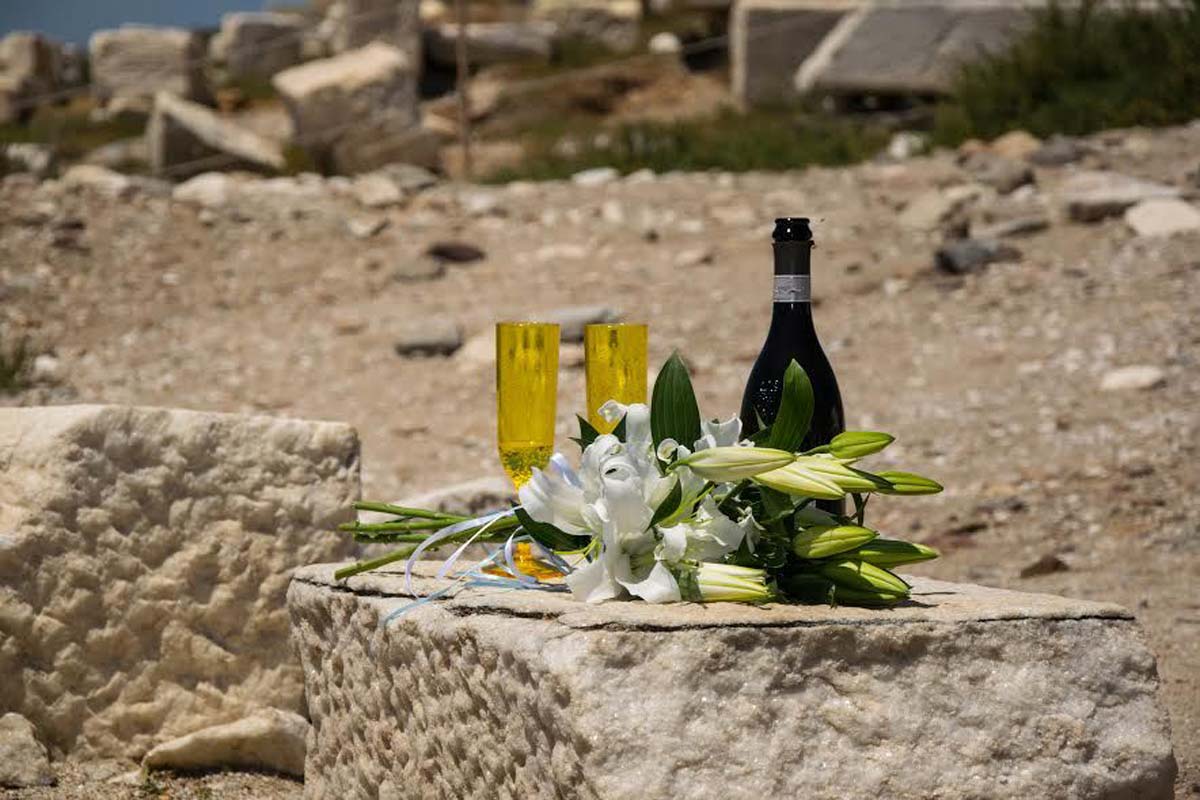 Why shoud we choose Naxos for our wedding?
Have a wedding in Naxos and let mother nature put on the central show in this romantic island that delivers a wedding experience unlike any other Greek island for many reasons:
Naxos offers either sea, mountain or a mix of both worlds
Naxos island is a mix of luxury and simplicity, and these two concepts meet each other right in the middle. The island's diverse landscape offers couples the option of enjoying a perfect beachfront wedding ceremony or exchange vows in a lush green landscape with spectacular mountain views. A wedding in Naxos offers you the chance to rediscover the essence of love with either choice you make: mountains or sea. A wedding in Naxos can be authentic, rugged and remote or developed and glamorous. Or it can be a combination of both worlds. Say "I do" amidst the sun and the sand..or say "I do" in a faraway paradise…either one will be a true fairy tale.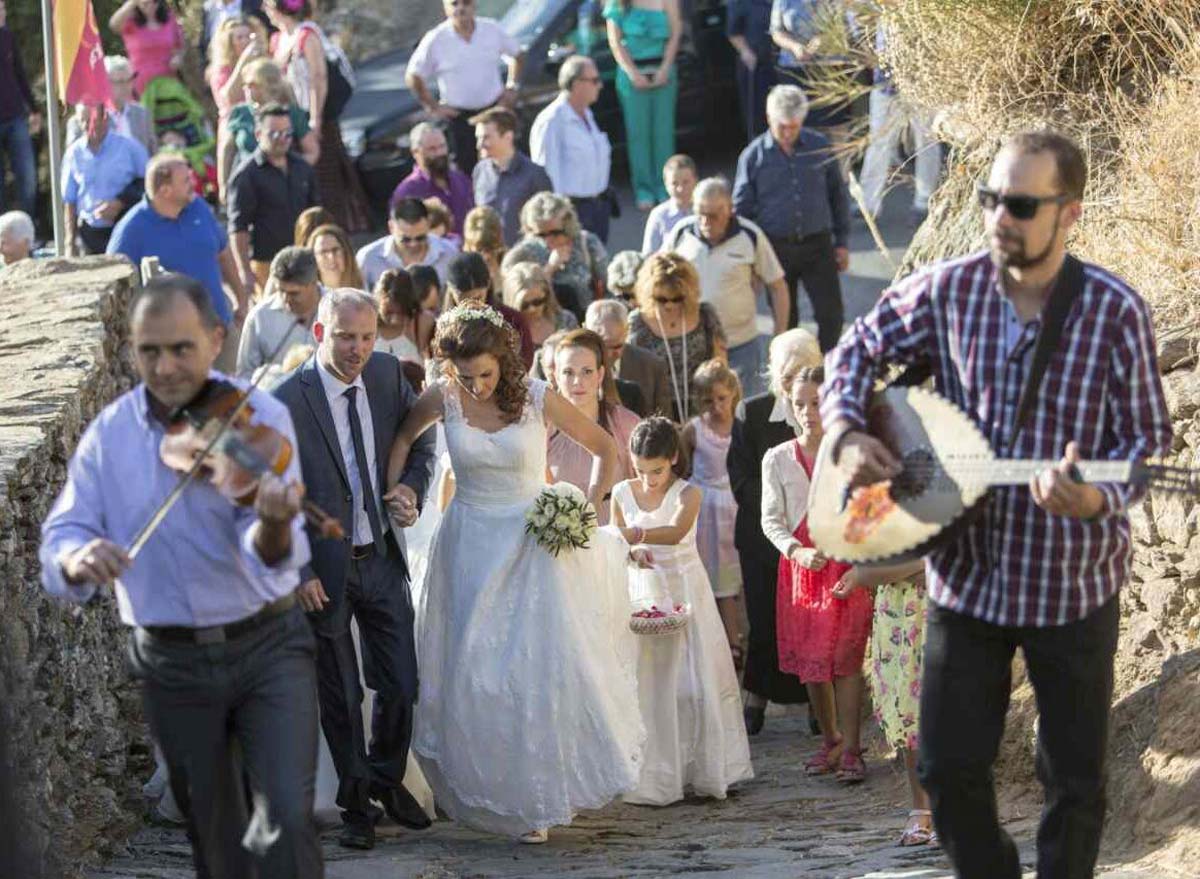 Naxos offers a plethora of photography and "Tie the Knot" locations
Naxos offers a perfect blend of vibrant culture, rich natural splendor, sunlit beaches, mystical ancient ruins, traditional picturesque villages perched on the edge of a cliff with breathtaking viewpoints that open on the island, the Aegean sea and its horizons, old chapels, Byzantine churches, monasteries, Venetian castles, towers, whitewashed hilltop churches, and old abandoned settlements, – all found in Naxos which make the island a highly rated wedding destination.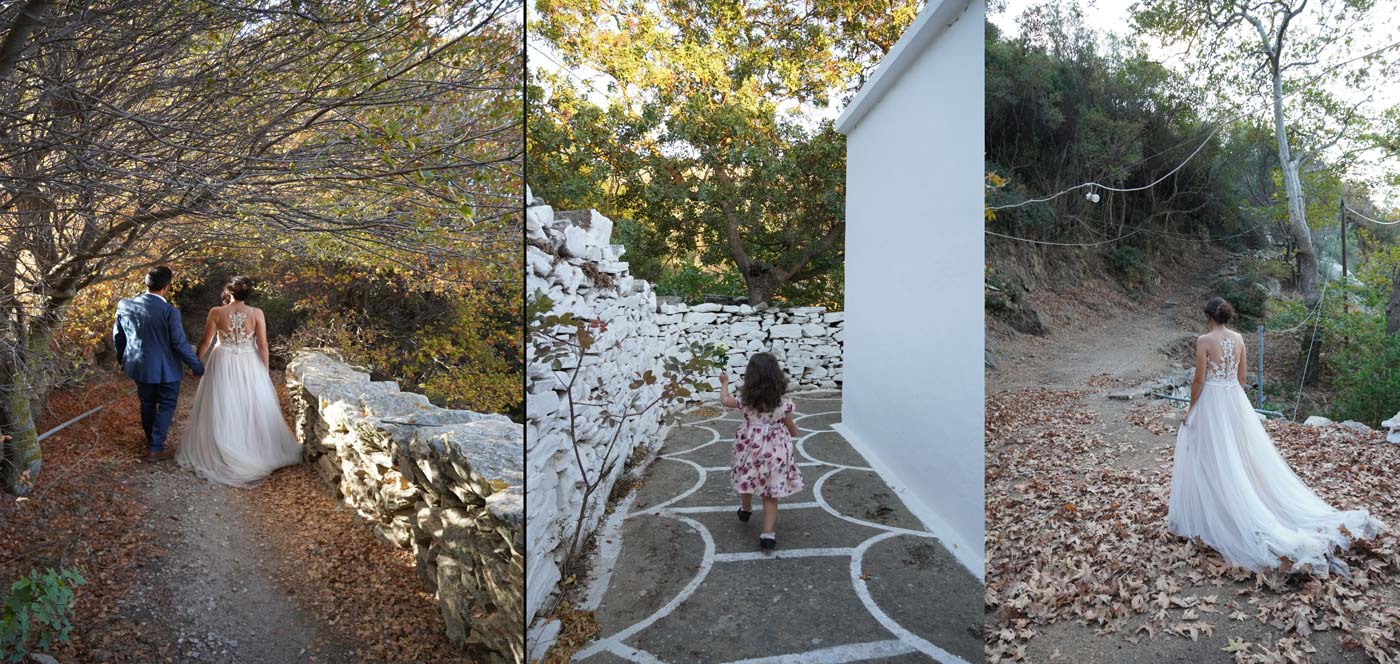 Naxos offers an amazing gastronomic experience
Naxos' gastronomy is a major asset. In fact, it is one of the best in Greece! Naxos is a self sufficient island and offers an exceptional organic cuisine. It's famous for its fresh locally grown produce, delicious highly rated potatoes, excellent quality meat, organic vegetables, mouth-watering selections of different cheeses among the best ones in Greece, and great varieties of local wine – offering a terrific mix of flavors and colors for an amazing wedding menu! You and your guests will enjoy delicious Mediterranean cusines, and Naxos local specialties farm to table food! Do you expect something special and unique for your wedding in Naxos? The island's traditional food recipes can spark inspiration on your wedding day!
Naxos delivers plenty of formal or non formal Wedding Venues
The location of your wedding is what matters first. That will be the big indicator of formality, along with the time of the day and the venue type which will set the tone of the wedding party and attire. Your wedding in Naxos can take place in a wide choice of beautiful areas.
Naxos consists of the Naxos town Chora, where Portara Gate is located, and the surrounding area with the gorgeous beaches in the west coastal area, while
Drymalia consists of the mainland and the highlands with their scenic villages, vibrant local tradition, culture and magnificent vistas.
The island comprises of 2 municipalities: Naxos and Drymalia.
Seeking the best wedding place, church, and venue, the island offers you a rich palette of ceremony and reception venues for you to pick from for your special day in either location. Traditional and rustic, modern, boho style, charming beach front restaurants for receptions, luxury beachfront hotels with beautiful sea views, luxurious private villas, and destination wedding venue hotels with stunning viewpoints that offer amenities and services that create an optimal destination wedding experience. Nevertheless, whichever you pick, one thing is guaranteed: Naxos, being the largest island of Cyclades, will offer you any vibes you desire for your wedding!
The beauty and plurality of Naxos' magical places will be appealing to you to organize your dream wedding!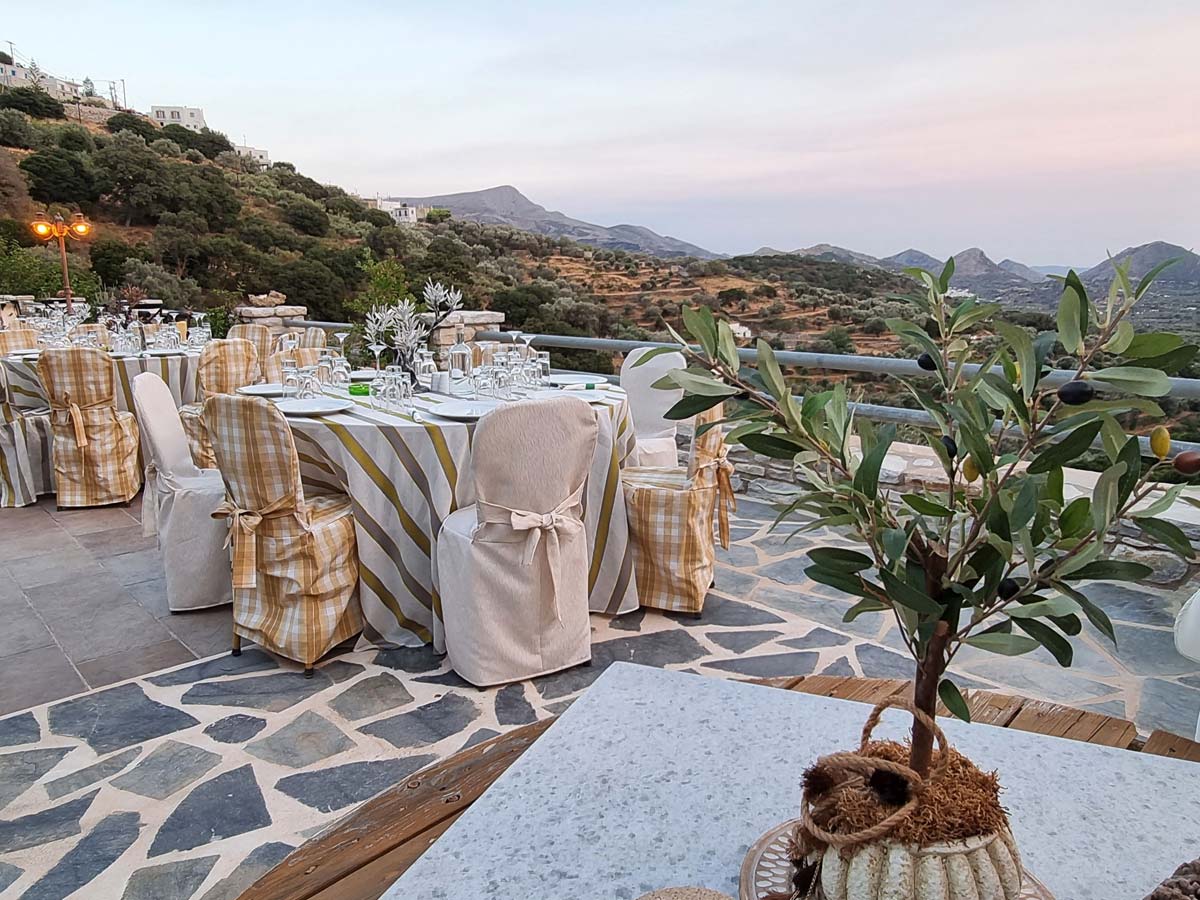 Legal Weddings vs. Symbolic Weddings
You can have your legal Wedding in Naxos or you can have a symbolic wedding in Naxos.
The legal marriage is a separate service that many couples decide to do in their own countries in order to save money and time. This means you'll sign the papers in your hometown, but go through the symbolic celebration in Naxos. You won't be required to deal with the paperwork, pay those extra fees, or struggle through legal jargon.
Same-sex couples will not be able to officially marry in Greece. However, they have the opportunity to say the vows of love in a beautiful symbolic ceremony.
If you do choose to move forward with a wedding in Naxos please read below: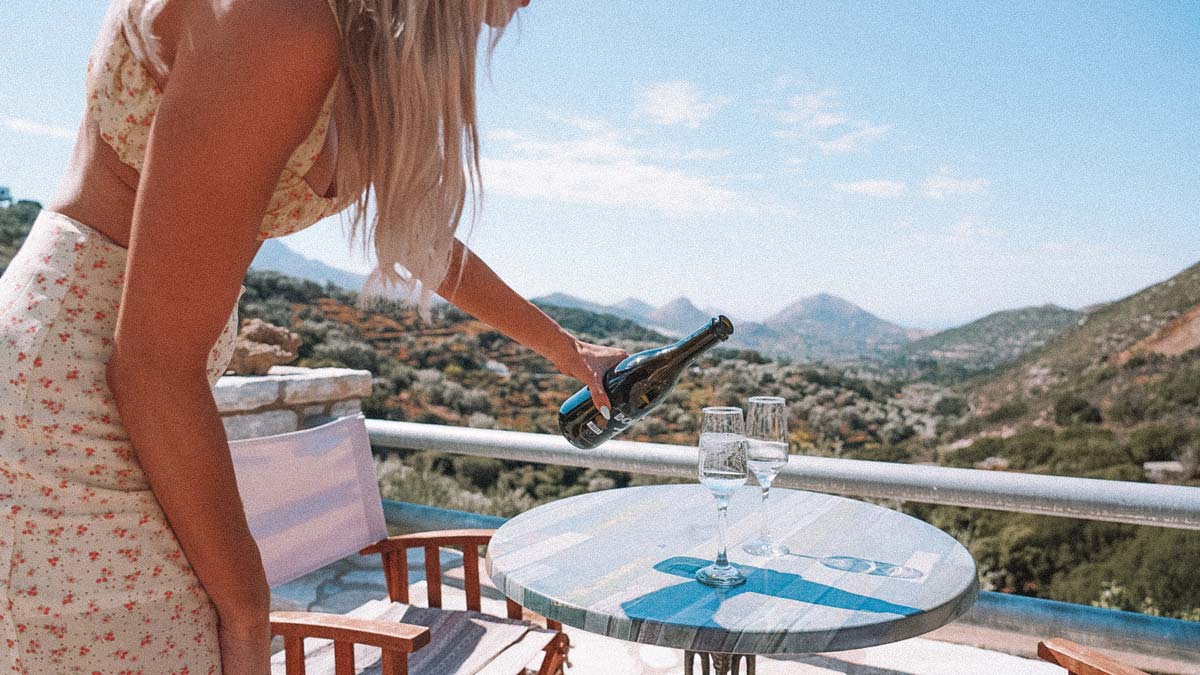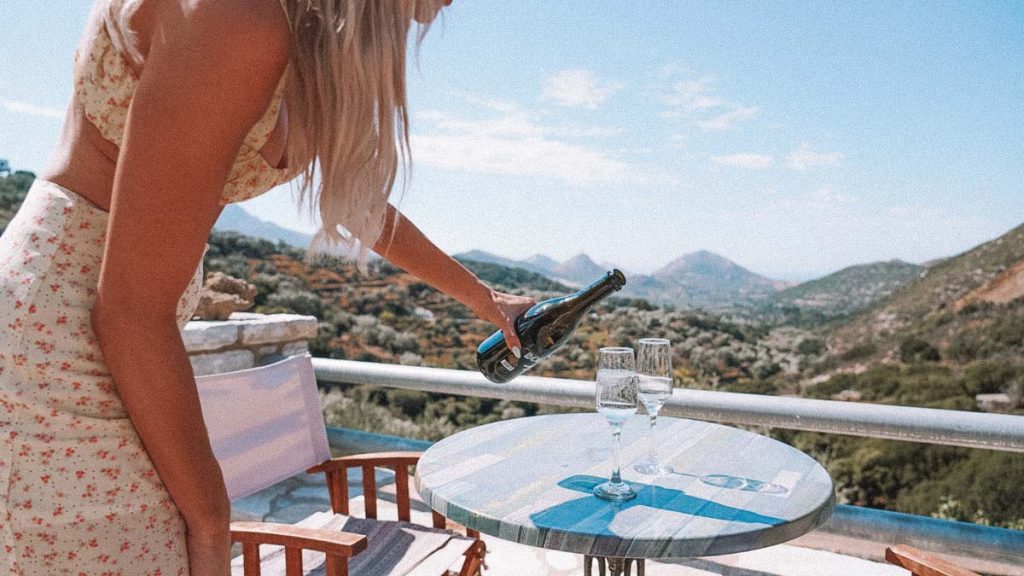 Eco-friendly and Sustainable Weddings in Naxos
Creating a beautiful, sustainable wedding in Naxos is very possible and you won't have to sacrifice your vision or budget along the way. Naxos has eco-friendly all-inclusive venues that follow sustainable and eco-friendly practices and offer you the opportunity to have a sustainable wedding in Naxos so that you avoid a hefty carbon footprint.
Do you live your life as environmentally conscious as possible, envision an eco-friendly wedding and want to go green during your wedding days? Then Naxos is the way to go. The natural geology of Naxos' mainland region plays a huge role in its ability to host ecotourism, and for this the island is among the leaders of the Greek Cycladic islands. The area is unique from a geographical viewpoint. The mountains and unspoiled natural landscapes create the perfect setting for eco-friendly and very romantic weddings along with a variety of outdoor activities where you can feel the true power of the land and the value of life.
There are all-inclusive venues that prioritize sustainability through operational efficiency, sourcing local supplies and ingredients, have their own produce, reducing your need for extra vendors, decor, and most of the single-use elements of your sustainable wedding,such as linens, silverware, serving plates, and so on. And above all they offer by default endless possibilities of photo shooting right on the spot.
A venue with a lot of natural beauty, soul and character built-in is ELaiolithos Luxury Retreat commited to sustainability and you don't have to cramp your style one bit.
FAQs for Weddings in Naxos
Is Civil marriages in Naxos legal worldwide?
Yes, it is. The marriage certificate is a legal document issued by the Greek Government and accepted internationally. After you receive this certificate you're able to register your marriage in your home country.
Should I hire a wedding planner in Naxos?
There are 3 distinct ways you can plan your wedding in Naxos Greece:
Have the wedding at a respected hotel. Choosing an all-inclusive route with a hotel is the less cost-effective option, provides both value and variety, and covers all of your wedding needs. Some offer the services of an onsite wedding planner for free. Plus, the booking process is simple and streamlined, no need to arrange with multiple vendors such as florists, photographers, bakers, and transportation providers.  Also hotel all-inclusive wedding packages are customizable to meet the unique preferences of each couple, and most important they offer in-house catering also.
Hiring an independent wedding planner is another good idea to get all the help to ensure the process goes as smoothly as possible
The other way is to coordinate everything yourself. This won't be easy but you will be in control and it will save you a lot of money.
Which option of the 3 to choose from?
The best way to choose one option over the other is to determine your personal wedding priorities, be honest about your expectations, and decide on which option will give you the control and level of flexibility you want.
A hotel: with a hotel package, the majority of details are decided under one roof with a designated contact person who takes some of the pressure off of finding and coordinating every detail. Hotel packages may include things like someone to preside over your wedding, a suite to stay in, on-site ceremony and reception location, in-house catering and drinks, flowers, cake, a photographer, and videographer to capture your big day, and the post wedding day. If the hotel doesn't offer these services themselves they will likely have a list of preferred vendors for you to choose from.
A wedding planner: is knowledgeable and will be able to recommend locations for your wedding, caterers, videographers etc. based on your budget and individual style. A wedding planner in the same area as your wedding venue is knoweledgable about all local customs, travel logistics, legal considerations, laws and requirements, and will help you navigate all these, and make your life easier. The local knowledge this wedding specialist brings to the table will make communication with vendors more seamless.
Do it myself: In this case you'll have to search for all of the information about Greece on your own. Every country has its own rules. You need a little bit of strategic planning to make sure your destination wedding goes off without a hitch. If you're planning most of your wedding in Naxos yourself, and you don't want to hire a wedding planner, you can just hire a day-of coordinator for the wedding day or week of the wedding to be responsible of overseeing your big day. This professional can swoop in and make sure all your hard work comes to life while you enjoy your wedding day.
Honestly? Explore both options and ultimately select the package deal that appeals to you, and fits your style and budget. 
Can we have a Catholic Wedding Ceremony in Naxos?
A Catholic ceremony is a verified ceremony performed by any Greek Catholic Bishop. The Greek Catholic Church is part of the global Church under the spiritual leading of Pope. Naxos has a Catholic bishop and you have the option of the Venetian Catholic Church located in the old town of Castro, in Naxos town Chora, The Cathedral of Our Lady of Rosary. Yes catholic weddings in Naxos are easily possible!
Elopements and Micro Weddings in Naxos?
Indeed it sounds good! Smaller scale weddings in Naxos have endless choices
A microwedding is a small wedding with 20 guests or less. Having a micro wedding means you can spoil your guests. Think, the best food they've ever eaten at a wedding, everything personalised for each of them, from drinks to gifts, and special touches that make everyone feel incredible. Naxos will fit you perfectly!
Elopements are between you and your partner! The only guests would be an officiant, a witness, and whoever is there to document your day. An elopement wedding in Naxos is totally recognized as legal as long as you're abiding by the Greek rules and regulations. No needs to worry.
Is same-sex marriage allowed in Naxos? Is Naxos LGBT friendly?
Same sex weddings and gay weddings are not currently legally binding at the moment in Naxos, Greece or any other of the Greek islands, as the actual Greek law does not permit a legal union, even though some government officials are in favour of it and have proposed legalization.  However, many gay and lesbian couples from all around the world choose to have their symbolic wedding in Greece, meaning you're currently able to do so in Naxos too. All you need to do, is just sign the legal papers in your country of residence before or after the wedding in Naxos.
Naxos has wonderful gay friendly settings and quite a few hotels and villas that are billed as very gay-friendly. Gay weddings in Naxos in these scenic spots favor unique and intimate weddings and parties and they're the perfect destination to celebrate your love for each other in front of your family and friends. You can have a colorful unification ceremony in Naxos island while experiencing a memorable holiday.
What factors affect the wedding allocation budget?
Your budget depends on many factors:
the scale of the event, the final price will depend on the number of guests,
the location you have for the wedding ceremony,
the location you have for the wedding reception
the prices of decorators and stylists
all other various additional services 
Naxos wedding music
Great music is essential to every wedding. Naxos offers a plethora of Djs, local musicians and singers. Naxos produces music, even generation Z continues the musical tradition. People here love to eat and dance. You have plenty of choices for your wedding music in Naxos Greece. The venue or your wedding planner will direct you accordingly.
What is the best time for photo shooting in Naxos?
Naxos has a beautiful spring, long hot summer, and a warm autumn so you can choose the time of the year according to your seasonal preferences. May, June, July, and September are the best months, and the less crowded from tourists. However many weddings take place also in August. When is the golden hour of a wedding in Naxos? The most popular time is just before the sunset, but late noon is also a good time for beautiful photo shooting after the ceremony.
Nevertheless the best time depends mostly on the location you have picked. There're places on the island that offer exquisite photo shooting at any time of the day. For example, the  first hour after sunrise is a golden hour, a magic hour in the mainland and highlands of Naxos where these times provide the perfect light and offer spectacular natural scenery to capture stunning photos.
The landscape of Naxos offers limitless choices of great natural beauty and romance throughout the whole year and every moment of every day.
Note: If you want to book your wedding time during sunset at Portara Gate know that it may be very crowded and most likely will be many tourists in your wedding pictures.
How long in advance should I start planning my wedding in Naxos?
We recommend to start planning your wedding in Naxos as early as possible if you pick a popular spot like Portara, or a venue in a popular spot in the months of July and August. A year in advance is a good time to start planning. You pick a date, you book the venue of your choice, and then you print your invitations. Late bookings may have to be scheduled for whatever date and time is still available. But know that in Naxos, being such a large island, you wouldn't have a great difficulty to find a date and a venue even at the last minute because you have countless choices.
Can we renew our vows in Naxos?
Yes, you can definitely renew your vows in Naxos. A copy of your passports is needed and the ceremony is similar to the civil ceremony but you will not receive an official marriage certificate.
Do I bring or rent a wedding dress in Naxos?
Bringing your own dress is logistically simpler, because:
you arrive without stress
you avoid the choosing and tailoring of a wedding dress to your size which is time consuming. Naxos has limited dress designs, and also tailoring may take quite a long time. It's better to spend your days to enjoy the island and avoid the searching and tailoring hussle.  You don't want to risk it
if you would prefer to be authentic then bringing your own dress is the best choice for you.
The final decision though is yours and depends on what you would like to do with the dress afterwards. If you're sentimental about it and want to keep it or pass it on, renting is out of the question. And if you have ample of time in Greece, you might consider getting a wedding dress from Athens or elsewhere. Just do your search.
Wedding planners charge initial consultation?
Most wedding planners on Naxos island do not charge an initial consultation. Anyway you need to contact each one individually.
How long do we have to be on the island prior to the wedding?
It is recommended to be on the island at least 3 days prior to the wedding in order to have time to discuss all the details without rushing.
Know also if you have a Civil Wedding Ceremony in Naxos, it's necessary to be on the island 1 business day after the wedding. The bride and the groom must be present in the Town Hall  in order to sign all documents. If you had hired a wedding planner, it's possible to register the wedding for you, but he has to be in possession of a power of attorney signed before a Notary Public authorizing him to act on your behalf for any legal part of your wedding.
Dear future bride and groom planning your wedding in Naxos: we say to you don't be afraid to be unconventional… It's your wedding so it should have your own style and what makes you happy!
ELaiolithos Luxury Retreat is located in an exceptional natural area in Naxos, comparable to a postcard. Being nature in itself, a nest of hidden treasures, between land and sea, one of a kind and authentic, sensual and erotic, it offers a delightful atmosphere to make Naxos' natural setting a magic moment for you to immortalize your wedding! We'll be happy to hear from you and start planning your wedding in Naxos!