You can host your own yoga retreat in Naxos, do a spiritual retreat or hold your next yoga mindfulness-workshop or conference. If you're looking for a combination vacation-yoga meditation getaway that offers amenities, top-notch cuisine, breathtaking scenery, and extracurricular activities consider the ELaiolithos Luxury Retreat in Naxos in an environment surrounded by unspoiled nature and centuries of history, tradition and culture.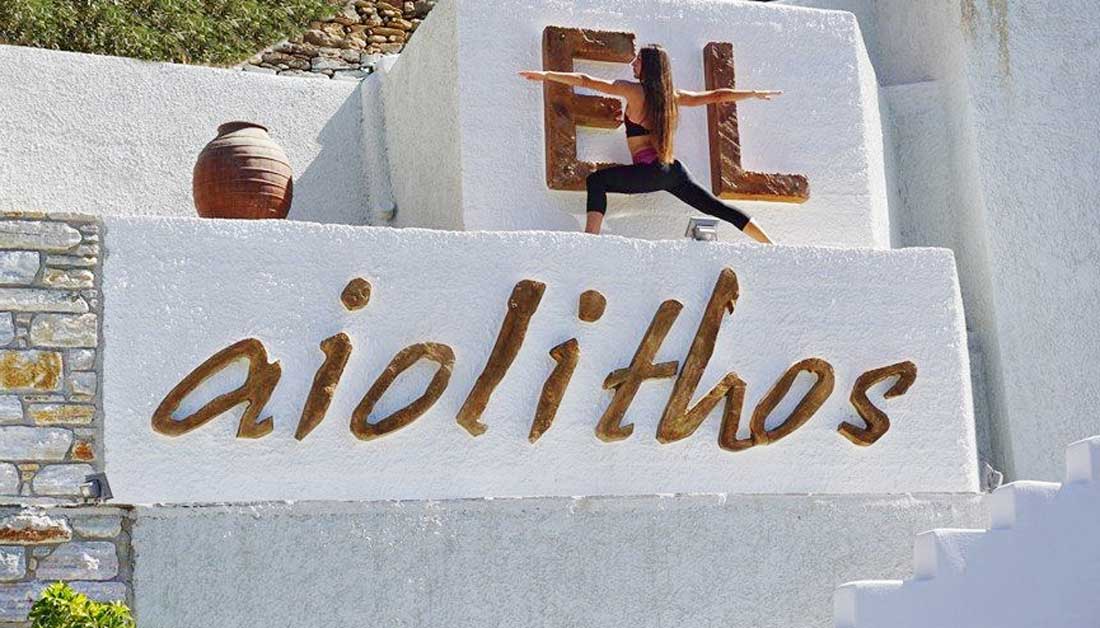 Are you a yoga teacher, meditation practitioner, mindfulness teacher, spiritual teacher or lead any wellness practices and searching for the right space to host your next retreat? ELaiolithos is a destination retreat that differs from the ordinary. Here nature, fresh crisp island air, and the divine vibes of King of Gods, Zeus, offer you ample relaxation, rejuvenation and inspiration. Combine it with mindful eating without amazing healthy food, stunning vegetarian meals, craft drinks, unique activities and people and you have a recipe for a holiday and retreat to remember!
We offer you the freedom to create your own retreat schedule and itinerary package! We welcome you with sincerity and integrity to use our place for your retreat.
Use our team, passion, experience and facilities, to create a unique yoga retreat, mindfulness meditation retreat for you, and your clients or students. Hold your next meeting, bring your own retreat-workshop to ELaiolithos' tranquil environment. Take a look at our site to draw inspiration of what to do. We would be honored to host your event!
Eco-Practices & Sustainability
ELaiolithos' vibes are the perfect marriage of Mediterranean charm with Greek island stillness, Naxian quality of life, and transparent sustainable practices. Nestled in lush nature offers authentic local experiences while leaving the smallest ecological footprint possible. Maximize your environmental friendliness; enjoy your vacation while you contribute to environmental protection. Sustainability is the core value of our own well-being and happiness, of our business and relationships, and of our relationship with our planet.
The venue is constructed using bioclimatic and 100% natural local materials, it's green and eco-friendly. All Suites are in the same building thus combine functionality with comfort. It's been built and has been operated by the owner since it opened its doors on 2018.
Let your clients roll, renew, regain equilibrium, reflect, restore, realign, de-stress, embrace a more natural lifestyle and practice conservation and sustainability. It's like a sanctuary, a destination itself, where there is something for everyone. Its atmosphere and surroundings are ideal for yoga, mindfulness meditation or any seminar or workshop retreat.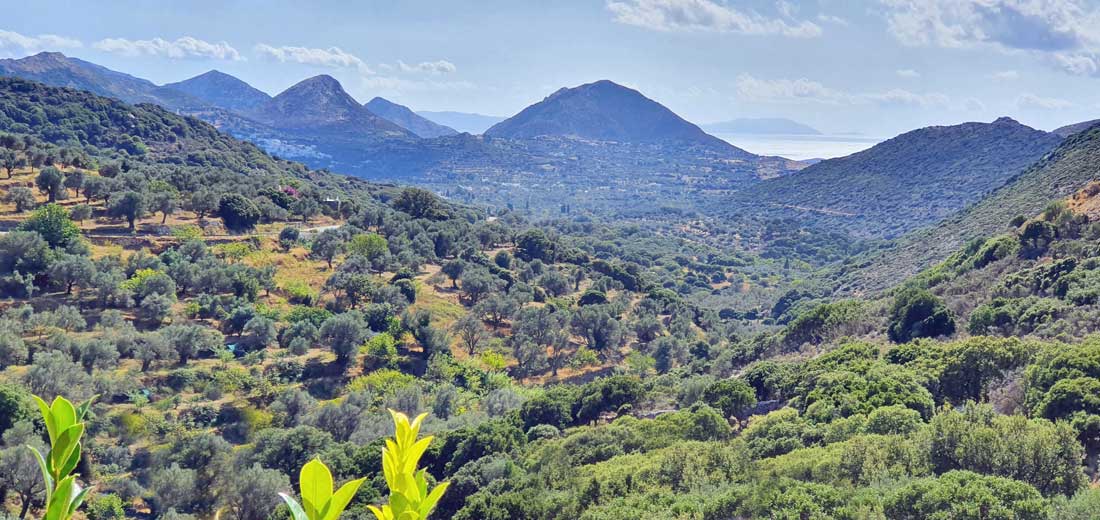 Why choose ELaiolithos to host my retreat in Naxos?
Because:
You can lead your own program, get to choose the duration and set the pace and the agenda. Only you know what you need better than anyone else, so we offer you the opportunity to plan your own retreat. You get far more rest and renewal when you self-guide your retreat than when it's planned by others.
You enjoy a well-integrated experience.
Peace of mind: Safe environment with extremely high standards of hygiene and cleanliness in an open-air beautiful space
Everything here revolves around the human connection and emotional experience. Re-infuse your clients with purpose, passion, and productivity.
Its healing therapeutic properties of its 500m elevation offers you by default a cleansing experience and great nights sleep! The combination with our healthy organic food may increase your metabolic rate
Our passion along with its high aesthetics, organic architecture, local art décor, unique design and interiors tell a story that can't be found anywhere else on the island
Its close proximity and easy access to a variety of natural and cultural experiences
Its imposing landscape, an unusual lush green scenery for a Cycladic island. The setting offers you a sense of inner peace, relaxation, and calmness, and it's conducive for quiet, contemplative situations. If you suffer from stress or anxiety, you'll feel better from day one. The ravine below the venue with its rich variety of flora and fauna acts as therapeutic. The mountain air is filled with beneficial secondary metabolites that come from the abundance of plants and trees all around. Especially the terpene metabolites the plants get their distinct aromas are providing a range of health benefits for humans, such as the lavender, thyme and oregano that are widely found around here.
Its absolute peace combined with luxury and sustainability. Its environment triggers the body's relaxation response by default.
Its intimate character and heart, it challenges the norm and pushes the usual boundaries. It's dedicated to empowering people to Clean Living meaning to live healthier, longer, more joyful lives through nature's contact, nutrition, stress management and integrative wellness. Its ethos and personality connects with its guests emotionally
We help you create a program to resonate with the experiences you would love to have and add to your strengths as a presenter, in order to form a deeper connection between you and your attendees, and be able to pass good energy and focus onto them.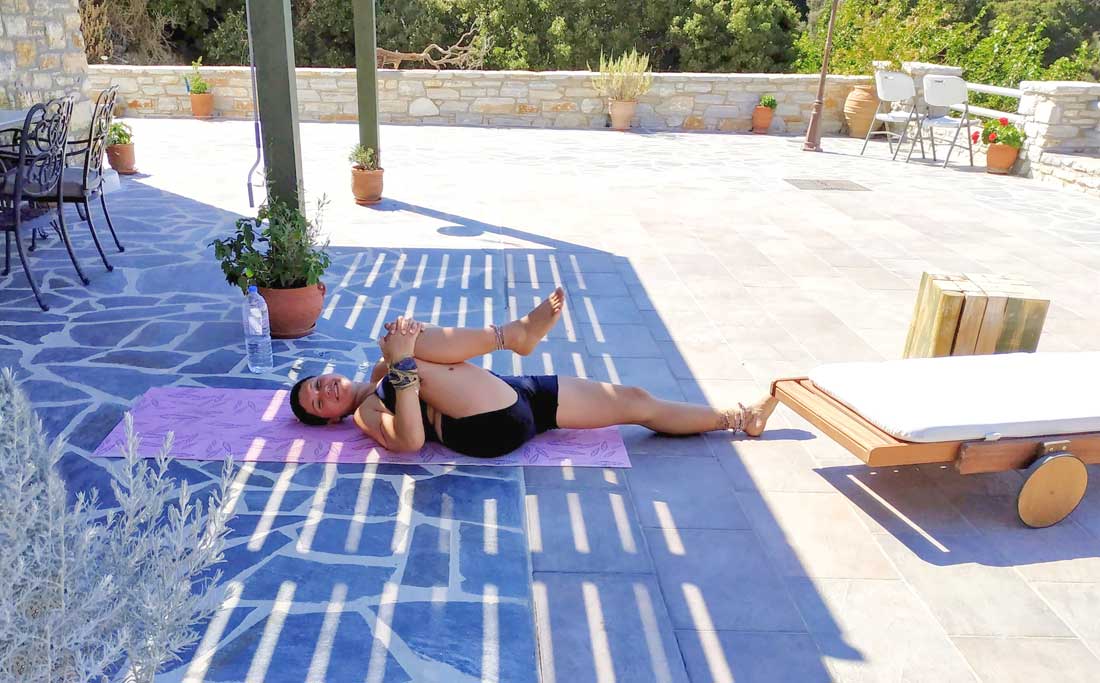 YOGA RETREAT IN NAXOS
Host your yoga retreat in Naxos in a breathtaking location with spectacular natural setting and vibes. ELaiolithos is off-beat, convenient and easily accessible in the heart of Naxos, near a 3-way junction that is unusual for an island, offering easy access in every direction on the island. Enjoy uninterrupted views of Drymalia valley, the 8-pyramid mountain tail of the Olympian God Zeus mountain (the tallest in Cyclades 1004 m), and the Aegean sea till Ios and Sikinos islands. Visitors get enchanted with the unique combination of mountain and sea.
Meditation here happens by default. The blissful setting will activate your senses, ease any worries, and bring your perception and wisdom of life alive. Everything about the venue is impressive. Experience how simple life is here, and feel a profound inner connection and stillness in this serene natural environment. Free of all kinds of pollution it enables you to contemplate, to go into a deeper, often ignored, part of yourself and makes you see that life has sense and is much more fun.
ELAIOLITHOS' ENVIRONMENT IS IDEAL FOR MINDFULNESS, A BOOSTER FOR COGNITIVE FUNCTION, AN ACCELERATOR FOR SHIFTING YOUR PERCEPTION AND RE-ESTABLISHING WHAT REALLY MATTERS
Mindful Eating – Healthy Cuisine
Enjoy healthy cuisine aligned with your event. We cater delicious organic vegetarian food, amazing detox smoothies, and herbal tea that will support and nourish your body, mind and soul. We use fresh farm-to-table local ingredients from the surrounding region of 5 Km distance only.
ELAIOLITHOS' HOLISTIC APPROACH TO WELLNESS IS BASED ON A PHILOSOPHY OF CLEAN LIVING THROUGH HEALTHY EATING LIFESTYLE AND PEACE OF MIND
Our foundation of wellness is food designed for mindful eating, to heal and detox the body, for anti-stress, and weight loss. Enjoy time spent in nature, hands-on cooking classes, visits to organic farms, local shops and artisan workshops which are an integral part of the guest experience.
Our chef uses our own virgin olive oil produce, and traditional recipes to prepare vegan, vegetarian or meat meals. We also carry a great variety of fine awarded Greek wines.
Take full advantage of our grand terrace to enjoy the sunshine, the magnificent vistas, and plan for breaks in your meditation for snacks and refreshments where you can focus on teaching your staff mindful eating. Break up the silence by allowing your clients for dialogue and reflection on this unique experience. You will get a unique perspective on each individual's strengths during these activities.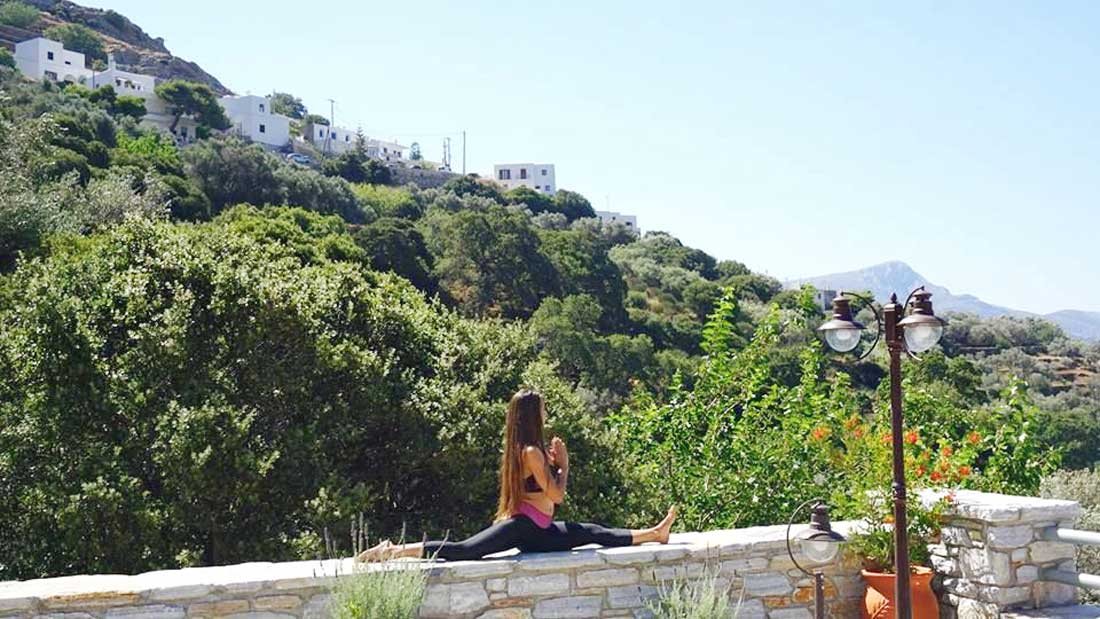 ACCOMMODATION
Six chic luxurious suites are spacious, calming and cozy, designed with deep relaxation in mind, luxurious eco-friendly amenities and toiletries. Every suite is a different experience with local aesthetics, handmade art with relaxing minimalism, the most modern comforts, and evoking the spirit of Naxos. A variety of books offer you great knowledge about the island's history, culture and tradition.
Where can we do our practices?
You can practice yoga, mindful walking meditation:
Outside on our 9,687 sq.ft grand terrace
Under the sacred olive trees below the venue. We'll provide all elements you need to have a great outcome!
Above the venue, within a walking distance there're a few spots that offer spectacular views and are ideal for yoga mindfulness mediation.
This is a fun and active yoga holiday that is designed for anyone who wishes to experience the trans-formative energy and good vibes of a Greek island.
Mindfulness Meditation Yoga Retreat under the Olive Trees
ELaiolithos is an opportunity for quiet contemplation, transformation, and creative outflow. Relax on porch chairs or hammocks and admire every morning the sun arise above the mount Fanari while its rays come through the olive trees, or in the afternoon the sunsets' idyllic colors.
From the moment you step onto the property, your wellness journey begins. It's a little piece of "Heaven on Earth" that inspires healthy living that purifies your body and soul! Practice mindfulness, meditation or yoga under the olive grove trees. Embrace yourself with the vibes and energy of 400,000 centenaries olive trees, symbols of peace and calmness. Can you imagine how their healing potential can affect your energy and your consciousness?
Your olive grove sanctuary awaits you……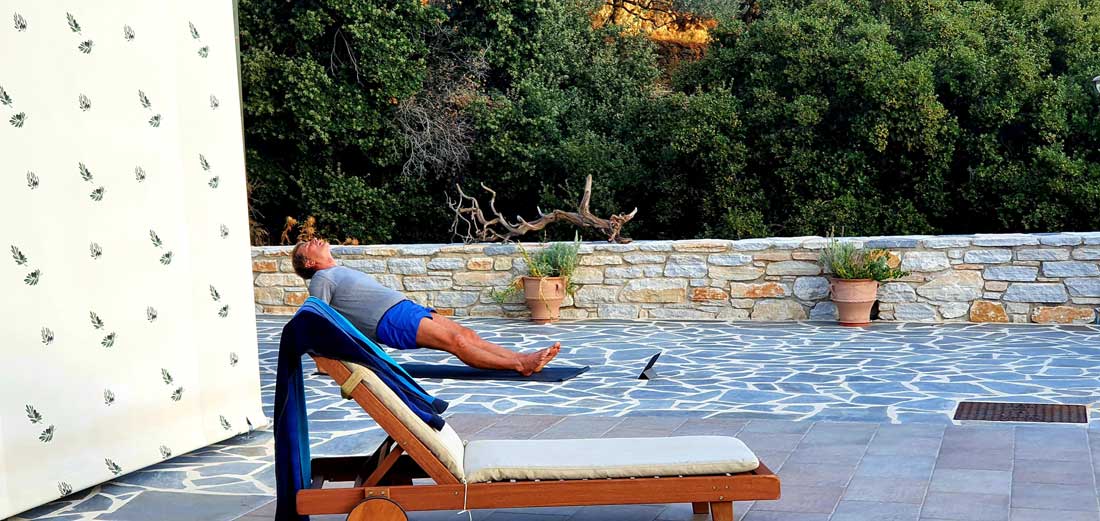 Our Core Tenets: Effortless living and human connection
We think outside the box and believe that heartfelt human connections make our lives better. When you stay with us, you'll be in an environment that exudes homely warmth, the aroma of the authentic Naxos, its pure life and our productive existence in harmony with nature.
Our mindful atmosphere helps attendees being fully present at the moment and that enhances one's experience. The moments we spend with ourselves are the moments that drive us to abundance and happiness.
With love and respect for our island, we've created a hotel-venue with great care, a lot of passion, modern amenities and facilities, and beautiful smiles to empower and improve the quality of our life, the life of people around us and the life in this planet.
Our Retreat tip: As with any activity you/we offer, make participation encouraged, but never mandatory. Leave a little bit of wiggle room for spontaneity, ELaiolithos is full of surprises…..From the moment you arrive, everything will be taken care of. Discover what nurtures you, supports you, and take home a wealth of tools and knowledge to maintain your relaxed, balanced and renewed sense of well-being. .
Pick the options that most resonate with you and your clients. Our rates are depending on your choices.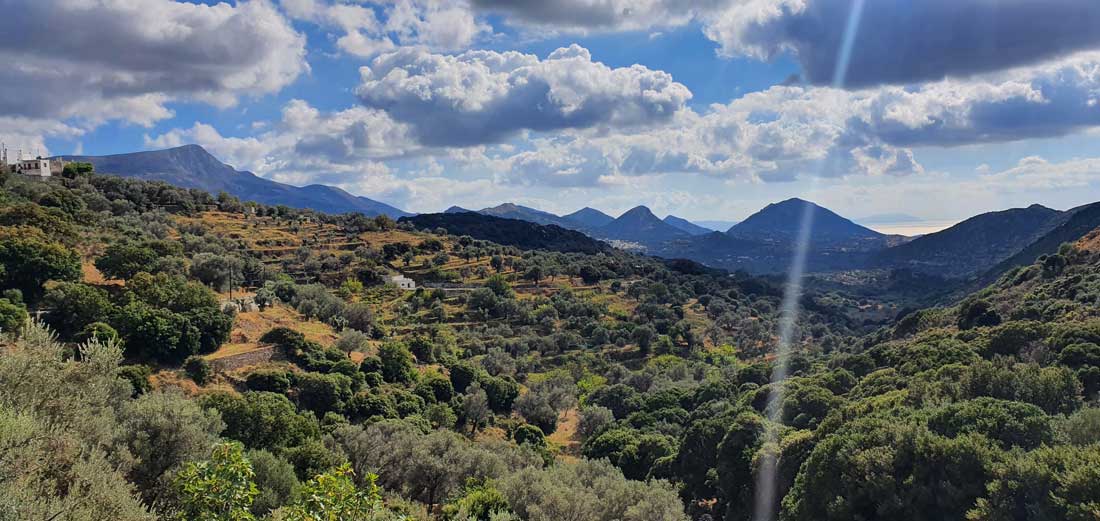 What can I include in my retreat?
Customize your clients/group experience. Create your own Retreat Package by choosing for your attendees a variety of things to do and see:
Shuttle round-trip airport or port transfer
Transfers throughout your staying
Daily rich local healthy breakfast a la carte is included in the accommodation price
Reception with cocktails and local snacks
Evening dinner meals. We can cater to your dietary preferences also.
Everyday healthy and detox smoothies
A Folklore Night with live entertainment, local musicians, local food, local wine, and dance (Vegetarian or Vegan options also available)
A tour to the oldest Byzantine Church of Balkans, Panagia Drosiani, and scrolling to the adjacent village of Moni
All class equipment (mats, belts, etc.) needed for the yoga classes
A 2-hour Wine and Cheese tasting, 6-8 different wine varieties with local cheeses and other traditional delicacies accompanied by local stories
Unlimited herbal teas and coffee through out your stay
An En-suite massage for each
Cooking classes hands-on experience with local farm to table ingredients and traditional Naxian recipes
Marmalade Class Hands-on experience
Visiting a local farm with hands-on experience to seasonal produce
A staff photographer to get shots of your team
Hiking to mount Zeus, the tallest mountain of Cyclades 1004 m.
Astrophotography Stargazing Night Observation Object Lesson and star party
Marble sculpting lessons-classes
Guided hiking tour(s)
Individual local welcome pack waiting for each of the attendees in their rooms to make their experience one to remember.
Exclusive use of the hotel-venue
INQUIRE NOW
Please Contact us to discuss the details of your retreat/special event. We'll be happy to provide you with anything else you might need and set it up for you.
With our unique offerings, your passion for your teachings, and our ability to pay attention to detail, you can put together a life-changing event.
What can we do for your group?
QUESTIONS ABOUT HOSTING YOUR RETREAT-WORKSHOP
What can guests do outside of class times? The rest of the day?
At ELaiolithos you can enjoy optionality. We provide you with all options and best places to visit on our island and around the area, and direct you "the know how" to have all the time to do whatever you like.
The retreat offers you enough options for to wander the streets of Moni village, go for mindful walking around, let your senses soak in the green valley, or just chill on the terrace with a good book, the company of a local craft cocktail and our stories. We're always there for you if you want our company! Your holidays here are not a typical yoga retreat but rather a holiday with yoga and meditation in it. This is a holiday for YOU, to focus on yourself and to get away from it all.
Get to know our island while you're getting your steps in with mindful walks or hiking. Our surrounding area offers plenty of hiking trails of all grades: easiest, moderate, moderately strenuous, strenuous, very strenuous. Explore Naxos, unwind, and enjoy some fantastic hikes through beautiful, unspoiled nature, scenic views, centenaries olive groves, old watermills, famous Byzantine monuments, scenic villages like Halki, and popular attractions. Mindful walks that expand your local knowledge while they make you feel inner freedom and fun!
Is a deposit required?
There is a 25% non-refundable deposit to secure your booking and practice space at ELaiolithos. More room types can be requested after your deposit payment has been received, subject to availability. The deposit amount is included in your overall contract rate, and will be deducted from your final bill.
3. When are my payments due?
The 25% deposit is due immediately to secure your dates. 45 days before your retreat begins your final balance is due.
What's included for teachers?
We offer great teacher benefits for meals, airport/port transfers, massage and discounts at our eco gallery shop. Benefits start at 6 students
What if I need to cancel my retreat?
Retreat cancellation results in loss of the 25% non-refundable deposit paid to secure the booking. Retreat postponement can be requested one time only, at least 4 months in advance of retreat start date and will be charged an administration fee of 100 euros.
Does ELaiolithos supports with marketing?
Yes, we will create a web page for your program and feature it on our annual retreat schedule as a Guest Teacher Program. Booking links will be directed to your website. We will also post about it on our social media channels (Facebook and Instagram) including any photos, blogs and videos you wish to share.
Will there be other retreats at the same time?
There is only 1 retreat or training group taking place each time on our premises. If you haven't booked the whole retreat, we might have other hotel guests though.
How many and what types of rooms do you have? How many will be allocated to me?
Fanari Suite has a King size bed and a single bed in a different room, 1 bathroom. Sleeps 3 in total. Size: 37 m² (398 ft²) and a washing machine (laundry).
Zas Cave Suite has a King size bed and sleeps 2. Size: 37 m² (398 ft²) and a washing machine (laundry).
Ariadne & Dionysus Suite has an oversize King size bed and sleeps 2. Size: 52 m² (559 ft²)
Emery Suite has 2 bedrooms and 2 bathrooms, large living room and kitchen and has a king size bed in one bedroom, 2 single beds in another bedroom, and 1 sofa bed in the living room. It sleeps 5. Size: 89 m² (957 ft²) and a washing machine (laundry).
Oraia Eleni has 2 bedrooms and 2 bathrooms. Large bedroom has an oversize King size bed, 2nd bedroom has 2 single beds. It sleeps 4. Size: 75 m² (807 ft²) and a washing machine (laundry).
Overall the retreat sleeps 11 people in separate beds, or
16 people overall when they share rooms.
You will need to specify an initial allocation of rooms for your group. This should be monitored regularly and any changes must be communicated with our reservations team.
Is there a fixed schedule?
Meal times are flexible. You set the time. Class times are assigned by you and that depends on you.
What type of water you provide?
You drink fresh spring water coming from Mountain Fanari above Moni village. This is our source of fresh tap water that is drinkable and 100% safe throughout our establishment. We also have carbon filters for the whole premises. We drink this water too! If you want bottle water, we can provide you that also.
Can guests arrive earlier or stay after the retreat?
Yes guests may book directly with us for before or after your retreat, depending on availability.
Do you serve meat or is all food vegetarian?
We serve vegetarian food, and we also have meat and or one fish dish daily. Our eggs are fresh every day. For those that do not take fish or eggs, there is always an alternative protein option available. Milk is available as: whole, oat, coconut, low fat and yogurt. For more information about our Dining restaurant please look here
Do you cater to food allergies / sensitivities?
Our chef can make special meals if needed for anyone allergic to certain foods.
Do you serve coffee or tea?
We always offer tea and coffee in the suites. Extra tea and coffee can also be ordered throughout the whole day at our bar which will be added to your room bill. Depending on the arrangement/agreement we have made with you, unlimited coffee and tea can be a part of our agreement.
Do you accept credit cards?
Yes, we accept Visa and MasterCard at the hotel for any additional bill items. Retreat payments must be settled in full before arrival.
What VAT or service charges should I expect to pay while I am in Greece?
There is a VAT charge of 24% on items you buy from any shop, as well as on taxis and massages, but that's included in the prices given. At ELaiolithos Luxury Retreat the VAT and service on your accommodation is just 0.50 cents per day which we'll be included in your booking rate. We have a staff tip box at reception for anyone who want to leave a gratuity. This gesture is usually made when checking out.
Do you have internet service? Can guests bring their laptops?
Yes, we have free WiFi throughout the property.
Can I smoke or have alcoholic beverages in my room?
Smoking is prohibited inside any suite. If you smoke, we have plenty of space outside, and away from other guests where you can smoke. Alcohol is permitted.
Can guests bring children?
Children are welcome only over the age of 12. We carry this policy in order to maintain the serenity of our center throughout the day. Children pay full adult rate.
What is included in the rooms?
At ELaiolithos, simply Relax and Recharge. A wide range of sustainable facilities, eco friendly amenities, toiletries and services are at your disposal. We create a memorable experience – both inside and outside the suite.
Can I book the whole premises?
Yes, at certain times of the year it is possible to have exclusive use of ELaiolithos. Please indicate that you wish to book the entire place in your application and we will confirm available dates. You will be expected to pay for all rooms.
How do my guests get from the port or airport to ELaiolithos?
We provide an airport/port transfer service in air-conditioned cars. The transfers can be included as part of your retreat package. Please specify in your request that you'll want this service
Can I bring my pet?
We're sorry, NO pets are allowed.
FILL THE FORM BELOW