ELaiolithos is an ideal retreat venue destination for life coach organizers. Host your team retreat, life coaching retreat or corporate retreat on one of the most enchanting spot of Naxos island. Bring your team or clients together and the best within team members in a beautiful locale in the heart of Naxos island in quiet surroundings with lots of things to do and see in this Greek Cycladic island, where charm and authenticity, eco-friendly facilities, large outdoor space, and freshly-prepared organic meals provide opportunities for participants to get to know one another more deeply, discover commonalities, strengthen relationships, facilitate growth, solve problems together, and foster incredible loyalty to your brand or business.
No matter your vision, by hosting your life coaching retreat-workshop with us, you combine your mission with holidays
Is your retreat vision about creating a luxurious, high end experience, or creating a very natural outdoorsy type of experience? Do you want to coach and educate, or do you want your clients to really transform and challenge themselves? Whatever the purpose of your retreat, if you're a company, a coach, or solo-preneur, you can facilitate transformations and help your attendees reach their full potential by bringing your team meet at ELaiolithos.

You create the agenda and its contents for coaching your attendees on your topics relating to your retreat vision and mission, and we take all of the logistical planning off your plate. We create amazing experiences and excursions according to your desired length of your retreat, where your clients can bond and have fun with you and each other, as well as learning while experiencing the location.
OUR SERVICES ARE ORIENTED TOWARDS THE SATISFACTION OF THE NEEDS AND THE FEELINGS
Why hosting my life coaching retreat in this specific location in Naxos?
By bringing your retreat here you get many benefits! No matter what the season or the reason of your retreat, ELaiolithos itself and its central location on the island has something to offer to everyone – enjoy La Dolce Vita in Naxos! Its structure, design, magnificent views, facilities, practices, natural environment, and surroundings along with the founder's philosophy, its core values and tenets are just a few reasons to bring your team coaching retreat here and combine it with holidays.

Naxos' mainland is an ideal destination for life coaching retreats: The natural geology of the region, where ELaiolithos is nestled, plays a huge role in its ability to host life coaching retreats. The mountains and natural landscape create the perfect setting for serenity along with alternative adventures and a variety of outdoor activities where you can feel the true power of the land and the value of life. This area is quite unique from a geographical viewpoint since the biggest green valley of all Cycladic islands lays in front of ELaiolithos, while the other Cycladic islands are known for their barren land.

The region has a long history, many monuments, Venetian castles, Byzantine churches, pristine nature, endless beaches with clear waters, and amazing food that will fascinate you. Its great advantage over other Cycladic islands is its larger size and its mainland that has many things to offer.
We assure you that once the retreat ends, you will be able to say "I'm leaving incredibly motivated!"
Why a life coaching retreat in Naxos is psychologically healthy?
Naxos is beautiful because it successfully combines striking contrasts and a relaxed rhythm of life. Its beauty is plain and purified, it can't be taught; it is spontaneous and indigenous. Here, time moves slowly as you soak in the hinterland's environment with all five senses. An autonomous island where there is a lot to discover and feel.
By hosting your life coaching retreat in Naxos while building your businesses promotes your clients psychological health. Exploring this pure world opens their horizons to a lot more possibilities. They come in contact with a new culture, healthy food that still grows with the traditional old methods, locals that work on the field with hands and support clean living. All this new pure and simple world, gets them out of the day to day and brings them into an environment that really helps them step outside their comfort zone, inspire them, make them dream bigger, understand life's realities, their priorities and do more. Your retreat here will fortify your attendees' mind and body, boost confidence, decrease anxiety and depression, and improve their self-compassion.

What will get out by hosting my life coaching retreat at ELaiolithos?
You will:
Enjoy convenience and seclusion on one of Naxos' most enchanting spots. Privileged location with a beautiful setting and mesmerizing views for your team to relax, recharge their batteries, gain a new sense of self by "switching off" and focusing on your mission, theme, vision, purpose and themselves
Transparent Sustainable Practices and Integrity
It's a venue among history, natural surroundings, and a touch of eccentricity that marries perfectly the old world with the new. A unique venue in Naxos – different from the ordinary – that creates change and builds bonds, offers attendees experiences that become priceless souvenirs and teachable moments!
Its central location offers easy access to a variety of natural and cultural experiences. You engage with locals and experience Naxos like a Local
You come in contact with Cycladic architecture, local culture, history, tradition and mythology
Everything here revolves around the human connection and emotional experience. Re-infuse your clients with purpose, passion, and productivity.
Its healing therapeutic properties of its 500m elevation offers you by default a cleansing experience and great nights sleep!
Enjoy delicious healthy organic farm to table food
Its intimate character and heart challenges the norm and pushes the usual boundaries. Its practices empower people to Clean Living meaning to live healthier, longer, more joyful lives through nature's contact, nutrition, stress management and integrative wellness. Its ethos and personality connects with its guests emotionally
With us you have Fun! This is a retreat-experience you're creating for your clients and for yourself, and we create for all of you! Enjoy this business lifestyle that brought you here. Here we never forget to have fun! Even the most discerning travelers have amazing time with us.
Travel like a VIP, unwind, relax, and enjoy yourselves
With a collection of just 5 boutique suites, ELaiolithos definitely delivers!
Looking for an escape for you and your co-workers or clients? ELaiolithos is a remote destination with a sustainable ethos that offers you an incredible local travel experience curated just for you without compromising in luxury. Enjoy a tailored experience compiled by people with the utmost taste and insider knowledge for an amazing immersive Naxian cultural enrichment. Find yourself in places that few people go…..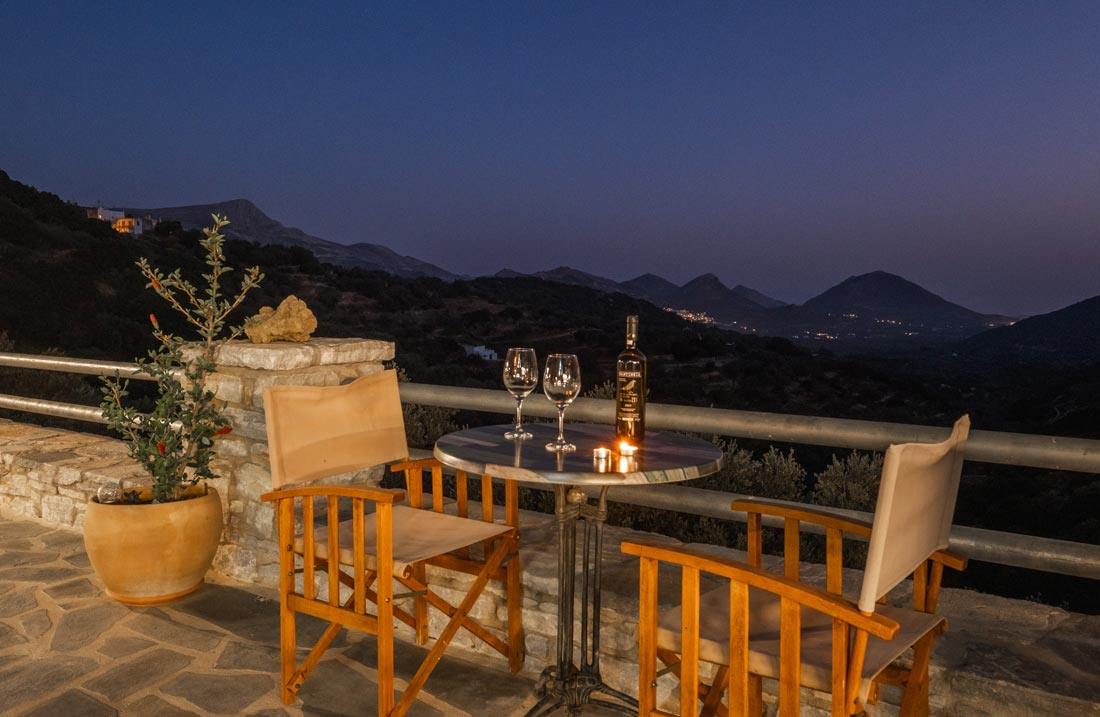 Organic Cuisine al-fresco
Here you and your team will truly feel the real meaning of "delicious". That's how past guests have described our food. Centered on spiritual-ethical-ecological ethics, a great variety of meals are plant-based and made only with locally sourced ingredients. We offer delicious and nutritious non-vegan options so you don't have to worry if your team is vegetarian or vegan.
ELaiolithos' restaurant offers you a cultural culinary experience at your own pace. Al fresco – enjoy your breakfast, and dine under the stars, utilize our fresh organic farm to table cuisine and our exceptional hand-selected wine list and artisan cocktails.
If you want seclusion, have a special dinner at the edge of our terrace on the exquisite lit marble tables- that's a plus!
Enjoy a folklore night with live entertainment by local musicians, and eat-share you dinner meals, socialize and dance all-together!
Extracurricular Activities
ELaiolithos is a good starting point for strolling, and for a plethora of hiking, and biking trails with awe-inspiring natural landscape, lush vegetation, rock formations, hidden wilderness hotspots, and renowned attractions on its feet. Tucked in the lush foothills of Moni village, a few minutes away from the famous Halki village, and 20 minutes drive from any beach on the island and from the capital Hora, port or airport.
Chill out on our stone terrace, experience a natural dive of spectacular views any time of the day. Being in the heart of central Naxos, it's impossible to pinpoint just one favorite region here, each offers something completely different. We work closely with each one of you and create curated lists of places to visit and eat, culture info, landscapes, landmarks, off the beaten track spots and excursions.
Our staff will be at your disposal at any time. We can cook and arrange everything for you according to your preferences, you can use our telescopes, get free GPS files for hiking, and enjoy our stories-lessons about the local culture and tradition.
Many more local surprises await your staying with us!

What can I include in my retreat?
Customize your clients/team experience at ELaiolithos venue for your team coaching retreat. Create your own Retreat Package by choosing for your attendees a variety of things to do and see:
Shuttle round-trip airport or port transfer
Transfers throughout your staying
Daily rich local healthy breakfast a la carte is included in the accommodation price
Reception with cocktails and local delicacies
Evening dinner meals. We can cater to your dietary preferences also.
Everyday healthy and detox smoothies
A Folklore Night with live entertainment, local musicians, local food, local wine, and dance (Vegetarian or Vegan options also available)
A tour to the oldest Byzantine Church of Balkans, Panagia Drosiani, and scrolling to the adjacent village of Moni
All class equipment (mats, belts, etc.) needed, if you offer yoga classes
A 2-hour Wine and Cheese tasting, 6-8 different wine varieties with local cheeses and other traditional delicacies accompanied by local stories
Unlimited herbal teas and coffee through out your stay
Unlimited Open Bar all day
Local Craft Cocktail Presentation, recipes & unlimited drinking
An En-suite massage for each
Cooking classes hands-on experience with local farm to table ingredients and traditional Naxian recipes
Marmalade Class Hands-on experience
Visiting a local farm with hands-on experience to seasonal produce
Plant a photo shoot – A photographer to get shots of your team
Hiking to mount Zeus, the tallest mountain of Cyclades 1004 m.
Astrophotography Stargazing Night Observation Object Lesson and star party
Marble sculpting lessons-classes
Guided hiking tour(s)
Individual local welcome pack waiting for each of the attendees in their rooms to make their experience one to remember.
Play Table Games (Free)
Exclusive use of the whole ELaiolithos venue
INQUIRE NOW
One thing is 100% guaranteed – your retreat-travel experience here will leave you enriched in every step of the way!
Why are team retreats important?
The main aim of the company staff retreat is to facilitate the ability of a group to step back from their day-to-day routine, and to strengthen and boost the relationship and association between the staff members. This offers a chance to the team members to develop stronger bonds with one another.
A team retreat is a dedicated time for everyone in the team as a whole to reflect on the business, get aligned, and chart a path forward. The retreat's mission is centered around improving your health and well being through relaxation, connection and education. You try new things, create time to do things you enjoy, going off the grid, digital detox, healthy food, and above all enjoy yourself and have fun! Learning, sharing, bonding and unifying are the essential elements to a successful retreat-workshop. And the gains don't end when you wave goodbye to your time away but instead have a lasting impact.
FAQ ABOUT HOSTING YOUR RETREAT-WORKSHOP
Do you have a food/beverage or space block requirement?
No. You do not pay any fee for the meeting space. We do not have a food or beverage minimum – that depends on our agreement (contract)
What are the Accommodation options?
Fanari Suite has a King size bed and a single bed in a different room, 1 bathroom. Sleeps 3 in total. Size: 37 m² (398 ft²) and a washing machine (laundry).
Zas Cave Suite has a King size bed and sleeps 2. Size: 37 m² (398 ft²) and a washing machine (laundry).
Ariadne & Dionysus Suite has an oversize King size bed and sleeps 2. Size: 52 m² (559 ft²)
Emery Suite has 2 bedrooms and 2 bathrooms, large living room and kitchen and has a king size bed in one bedroom, 2 single beds in another bedroom, and 1 sofa bed in the living room. It sleeps 5. Size: 89 m² (957 ft²) and a washing machine (laundry).
Oraia Eleni has 2 bedrooms and 2 bathrooms. Large bedroom has an oversize King size bed, 2nd bedroom has 2 single beds. It sleeps 4. Size: 75 m² (807 ft²) and a washing machine (laundry).
16 people overall when they share rooms.
You will need to specify an initial allocation of rooms for your clients/team. This should be monitored regularly and any changes must be communicated with our reservations team.
What is the vibe of the housing-accommodation?
The vibe is relaxed, quiet, and serene, making it ideal for quiet-seeking travelers. The property sleeps up to 16 guests in five luxurious suites, each evoking the spirit of Naxos. Each suite has a state of the art and fully equipped kitchen with modern electrical devices and all necessary utensils, generous living areas, a dining area, is equipped with individual HVAC systems, services like Netflix, fast-speed WiFi, furnished outdoor spaces, and plenty of open space to use as you wish.
ELaiolithos is an environmentally friendly built accommodation, ideal for a peaceful eco-friendly getaway. Your satisfaction is always our utmost concern. Every piece of linen is washed in 160-degree water with bleach and then sterilized, by Cocomat. Every suite is a different experience with local aesthetics, handmade art décor with relaxing minimalism, and the most modern comforts. A variety of books offer you great knowledge about the island's history, culture and tradition.
What are the Cleanliness and hygiene standards?
ELaiolithos' environment is safe and comfortable by default with its architecture and design. There're no closed communal spaces, everything is outdoors. The retreat is operating in strict compliance with CDC guidelines, keeping up with the latest COVID-19 developments, and holding the highest hygiene of deep cleaning and frequent disinfecting procedures in addition to conducting regular temperature for all staff members.
Our facilities are new, and we follow eco-conscious practices such as rolling out enhanced sanitation measures, including placing hand sanitizers and anti-bacterial wipes at every suite, deep cleaning of kitchen areas, and provision of masks and gloves.
We always promote discreet contact with guests and staff members. Your safety and comfort is always our main concern.
If you're interested to host your life coaching retreat and offer your clients a retreat- vacation experience with an emphasis on health, safety precautions, and high hygiene standards, then ELaiolithos' environment is an ideal venue
Where can our coaching sessions take place?
Outside on our 9,687 sq.ft grand terrace
Under the olive trees below the retreat. We will provide all elements you need to have a great outcome!
In the surrounding area, within a walking distance, there're a few spots that offer spectacular views and are ideal spots for your life coaching sessions.
This is a combination of fun and team and life coaching holiday ideal for anyone who wishes to experience the trans-formative energy and good vibes of a Greek island.
Will there be other retreats at the same time?
There is only 1 retreat or training group-team taking place at each time on our premises. If you haven't booked the whole retreat, we might have other hotel guests though.
Is a deposit required?
There is a 25% non-refundable deposit to secure your booking and meeting space at ELaiolithos. More room types can be requested after your deposit payment has been received, subject to availability. The deposit amount is included in your overall contract rate, and will be deducted from your final bill.
When are my payments due?
The 25% deposit is due immediately to secure your dates. 45 days before your retreat begins your final balance is due.
Decide On The Details
We're big fans of details. We believe that it's the little things that contribute to the vibe of the place and create unique experiences. Think about attendee gifts. Can you afford to give them a gift once, or maybe they get something every day during the retreat? When it comes to retreats, realize that the experience you're creating is a reflection of your brand. We help you to make sure your clients are walking away with incredible memories associated with you and with us. We never had a guest who wanted to leave from here
What if I need to cancel my retreat?
Retreat cancellation results in loss of the 25% non-refundable deposit paid to secure the booking. Retreat postponement can be requested one time only, at least 4 months in advance of retreat start date and will be charged an administration fee of 100 euros.
Does ELaiolithos supports with marketing?
Yes, we will create a web page for your program and feature it on our annual retreat schedule as a Coach Retreat Program. Booking links will be directed to your website. We will also post about it on our social media channels (Facebook and Instagram) including any photos, blogs and videos you wish to share.
Is there a fixed schedule?
Meal times are flexible. You set the time. Class times are assigned by you and that depends on you.
What type of water you provide?
You drink fresh spring water coming from Mountain Fanari above Moni village. This is our source of fresh tap water that is drinkable and 100% safe throughout our establishment. We also have carbon filters for the whole premises. We drink this water too! If you want bottle water, we can provide you that also.
Can attendees arrive earlier or stay after the retreat?
Yes team/clients may book directly with us for before or after your retreat, depending on availability.
Do you serve meat or is all food vegetarian?
We serve vegetarian food, and we also have meat and or one fish dish daily. Our eggs are fresh every day. For those that do not take fish or eggs, there is always an alternative protein option available. Milk is available as: whole, oat, coconut, low fat and yogurt.
There isn't a catering company involved. We have our own kitchen chef and staff and our own organic produce. You can make the list of your food preferences, and we compile a menu for your retreat. For more information about our dining restaurant please look here
Do you cater to food allergies / sensitivities?
Our chef can make special meals if needed for anyone allergic to certain foods. We can meet any preferences you have.
Do you serve coffee or tea?
We always offer tea and coffee in the suites. Extra tea and coffee can also be ordered throughout the whole day at our bar which will be added to your room bill. Depending on the arrangement/agreement we have made with you, unlimited coffee, tea or bar can be a part of our agreement.
Do you accept credit cards?
Yes, we accept Visa and MasterCard at the hotel for any additional bill items. Retreat payments must be settled in full before arrival.
What VAT or service charges should I expect to pay while I am in Greece?
There is a VAT charge of 24% on items you buy from any shop, as well as on taxis and massages, but that's included in the prices given. At ELaiolithos Luxury Retreat the VAT and service on your accommodation is just 0.50 cents per day which we'll be included in your booking rate. We have a staff tip box at reception for anyone who wants to leave a gratuity. This gesture is usually made when checking out.
Do you have internet service? Can clients bring their laptops?
Yes, we have free WiFi throughout the property.
Can I smoke or have alcoholic beverages in my room?
Smoking is prohibited inside any suite. If you smoke, we have plenty of space outside, and away from other guests where you can smoke. Alcohol is permitted.
Can clients bring children?
Children are welcome only over the age of 12. We carry this policy in order to maintain the serenity of the retreat throughout the day. Children over 12 pay full adult rate.
What is included in the rooms?
At ELaiolithos, simply Relax and Recharge. A wide range of sustainable facilities, eco friendly amenities, toiletries and services are at your disposal. We create a memorable experience – both inside and outside the suite.
Can I book the whole premises?
Yes, at certain times of the year it is possible to have exclusive use of ELaiolithos. Please indicate that you wish to book the entire place in your application and we will confirm available dates. You will be expected to pay for all rooms.
How does my team gets from the port or airport to ELaiolithos?
We provide an airport/port transfer service in air-conditioned cars. The transfers can be included as part of your retreat package. Please specify in your request that you'll want this service
Can I bring my pet?
We're sorry, NO pets are allowed.
What's included for Coaches?
We offer great benefits for Coaches, for meals, airport/port transfers, massage and discounts at our eco gallery shop. Benefits start at 6 attendees
Team & Life Coaching Retreats that can match ELaiolithos' values and environment
If you are in any of the following fields, ELaiolithos is an ideal venue to host your life coaching retreat and bring your clients, guests, attendees, team. Such as:
Companies, Coaches, Corporate travelers, and Solo-preneurs who are looking to facilitate transformations and believe that it pays to think outside the box
Retreats for Foodies
Meetings, events, film, and photo shoots
Artistic Gathering Retreats-Workshops, Writing Retreats and Journalism Coaching Sessions
Nutritionists' retreats, Detox retreats. Our healthy organic farm to table food and experiences is a great incentive and a plus for you!'
Weight-loss retreats, Emotional Healing retreats
Exclusivity– if you want to book the whole resort yourselves
Family Retreats, Re-unions and Coaching of all kinds
Historians or Geology Retreats, Cultural Explorers Retreats, Religious Retreats
Ladies' Retreats – driven by the magic of bringing women together and the goal of providing female empowerment, comfort, support, and serious girl-time fun. Read our story for inspiration
Men's Retreats Accountability Groups – a group of fellow men who want to reset their thinking, bond and learn healthy ways to cope with everyday life. For guys chatting about things they want to change in their lives, and then being held accountable to set and make goals based on the habits the members are wanting to change
Divorce and Breakup Recovery Retreats – come "out of the blue retreats" for those who share similar commonalities
Retreats for Nature Lovers
Restorative Retreat Programs Workshops
Singles vacations for like-minded pals
Any group of people
Please Contact us to discuss any ideas or details of hosting your life coaching retreat. We'll be happy to provide you with anything else you might need and set it up for you.
FILL THE FORM BELOW