Let's go Naxos village hopping….where the pace here is a lot slower and you can really savor your holiday moments. To really feel the authenticity of Naxos, one needs to head to the villages. To uncover Naxos' past, wealth, power, and raw way of living, head to its countless mountain villages, each one unique, with its own cultural element, worth discovering one by one with a ton of things to see and do.
Most of the villages in Naxos island are in the middle and to the north of the island, with a great network of hikings trails. Unlike the other Cycladic islands, Naxos is not barren. During the summer months, the coast line by the town and its surrounding area steal the show, but most visitors love the island for its mountainous region, its picturesque villages, its diverse culture, its delicious mountainous local food and its authenticity.
Naxos villages will steal your heart with their architecture, remarkable sights, Venetian arches, narrow cobblestone streets, whitewashed alleys with slabs, and traditional houses climbing the green slopes, these villages will capture your heart. Naxos is not spectacular like Santorini, or trendy like Mykonos, or cosmopolitan like Paros, but it is lovely with its mountain villages that preserve age old traditions, with each one of them to have its own charm and distinct character. Life in Naxos villages goes on slowly in everything. Here you don't just see the people but you meet the people.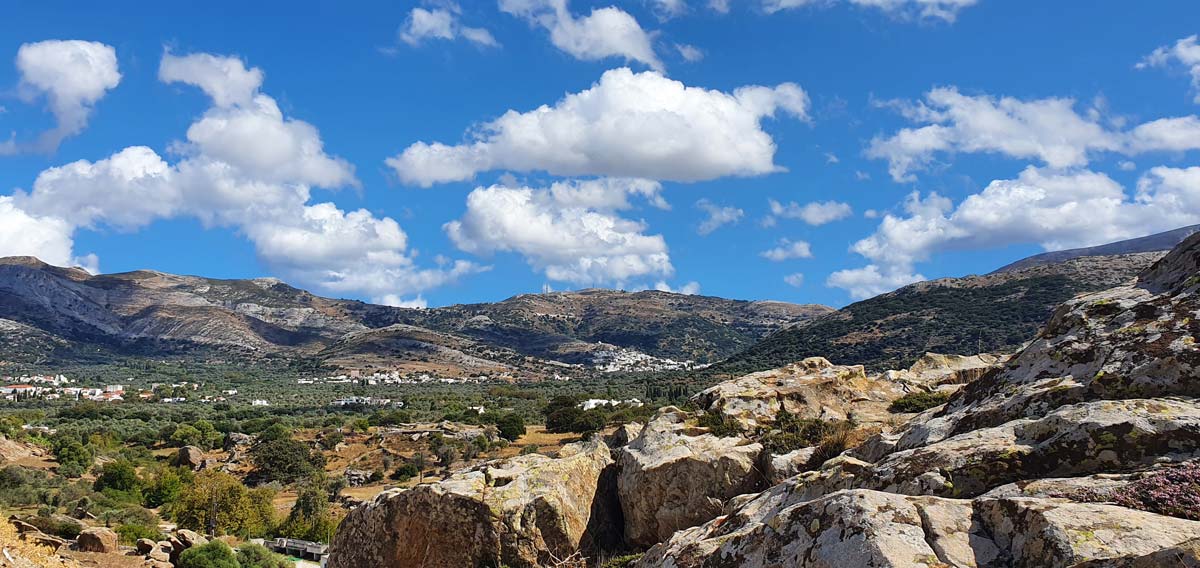 Naxos villages are sustainable communities
each one has its own organic produce, its own water supply, its own meat and cheeses, its own olive oil, its own attractions and monuments, its own rich history, culture and tradition, its own arts and crafts – all worth discovering and enjoying.
Have you ever dreamed of living in an eco-village? Somewhere that sustainability and low impact living is the order of the day? All Naxos villages are eco villages, their inhabitants embrace traditional practices and live in harmony with nature. Visiting Naxos villages one clearly understands that this way of living is achievable and can fit with the modern way of living. Residents here follow a sustainable lifestyle, everything here is all about cultivating sustainable and creative horticultural practices, they focus solely on wellness, and they're connected to our mother source, the Earth. People here breath fresh pure air everyday, they live a peaceful and quiet life, they eat fresh farm to table green and clean vegetables, they spend less money, they never feel alone, they do more physical exercise, and they embrace a beautiful sky every night. Sustainable and communal living in Naxos villages is easier and so much more fun. If you love creative sustainable holidays, Naxos villages will reimburse you!
THE SOUL OF NAXOS LIVES IN ITS VILLAGES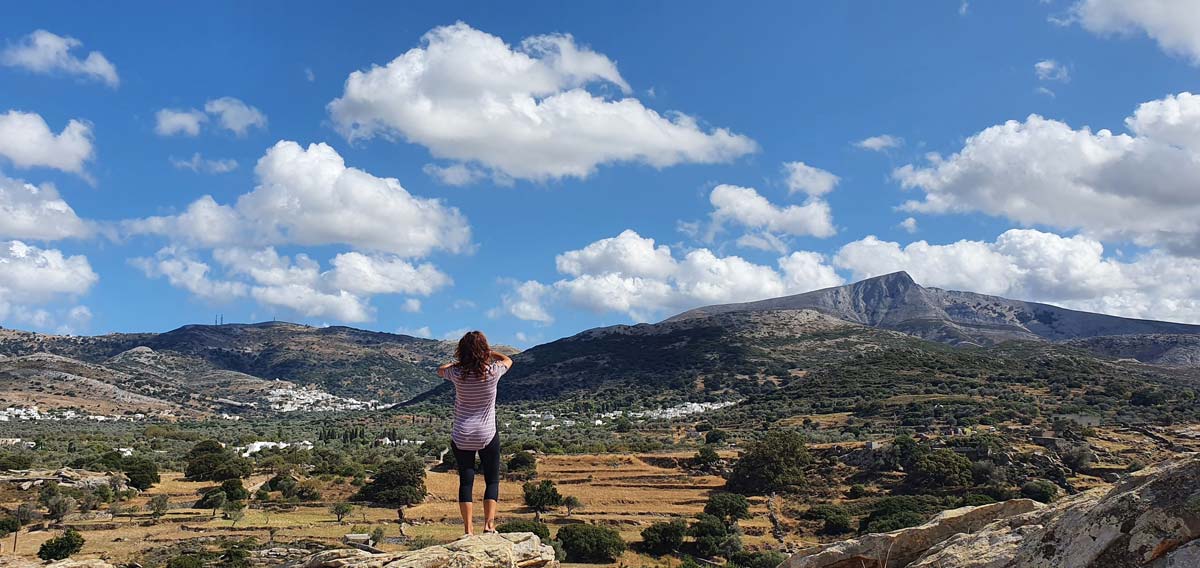 How many villages are there in Naxos?
The island is quite big and the best idea is to rent a car when visiting Naxos. If you want to explore the island, drive around, head to the mainland and the highlands, discover off the beaten path places and isolated beaches, enjoy farm to fork cuisine, discover hiking and stunning spots overlooking the island and adjacent Cycladic islands, then you must rent a car. There're 41 Naxos villages, 30 of those inhabited and ready to be explored. All far from the coast, some of them famous and others less popular but they all have beautiful scenery, authentic local life, and delicious food. Naxos villages will open your eyes to a secluded world of a Greek island. The most remote village is at 700 m altitude, nestled on the ridges of the mountain Koronida with a population of 600 people. Naxos villages are full of life, with communities that will welcome you with open arms and broad smiles.
READY TO KICK BACK AND RELAX?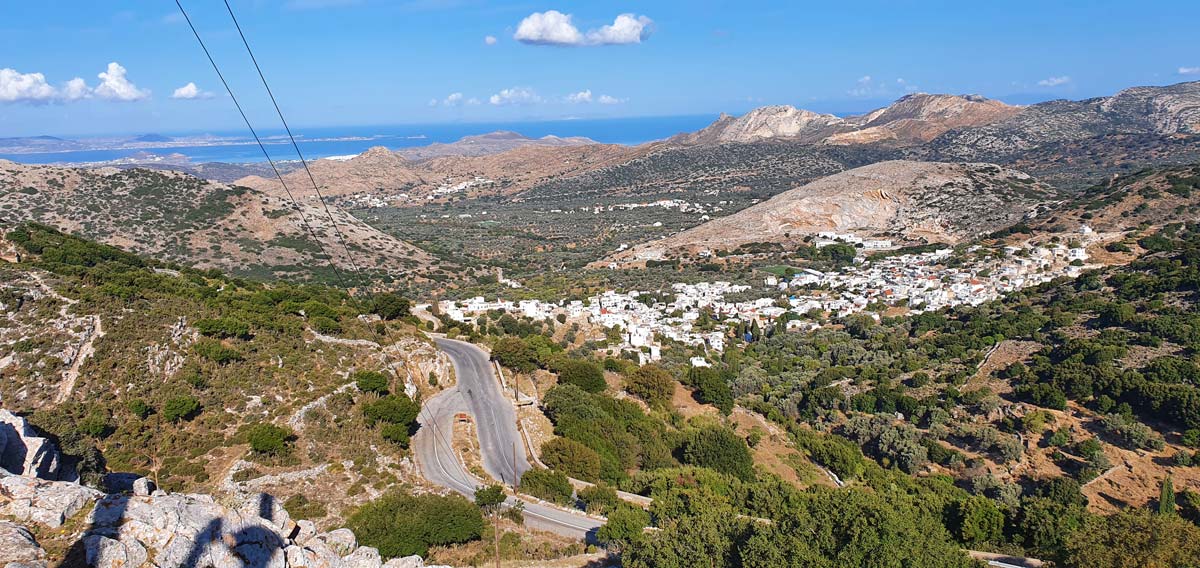 Why most Naxos villages are in the mainland?
Most Naxos villages are in the mainland, away from the coastal area. The reason lies back in history. Naxos has a rich history from the prehistoric times where Thraces, Kares and Ionians lived here. These people had settlements near the coast. During tumultuous periods of pirate raids who terrorized the inhabitants of the Aegean islands for many centuries, and they attacked Naxos island fearlessly also, people were forced to move to the interior of the island, choosing spots that offered them the safety not to be detectable from the sea, and the ability to defend themselves. That's how they reached the mainland and the highlands, they built villages in the interior, and were established here.
Also, the wealth of the valleys and the affluent waters from the mountains helped the cultivation of fruitful trees, olive trees, citrus trees, vegetables and flowers. That's how they created these small green village-havens that exist nowdays, and this is also the main reason the Naxians make their living from farming and livestock farming, rather than from the sea. Strange as it may sound, only in the past few years, with the development of tourism, the Naxians started to build settlements on the coast. It's Naxos villages' inhabitants who have kept the spirit of the island alive by preserving the bonds with the history, the traditions and the local culture of Naxos, safeguarding their heritage by making it part of their everyday life.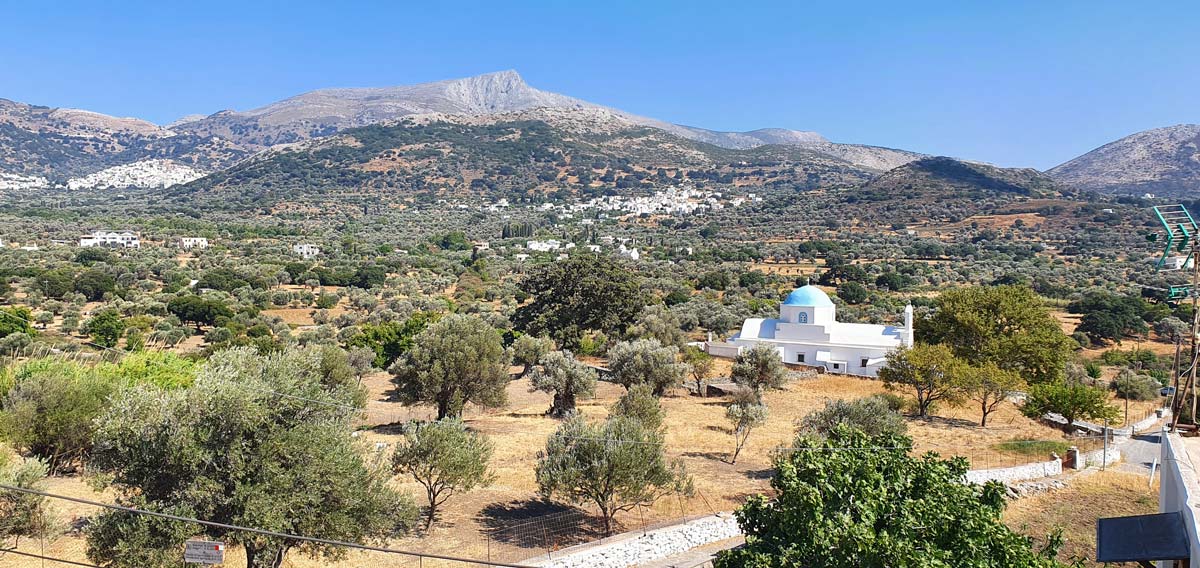 Let's go village hopping in Naxos……
All Naxos' villages feature a distinct characteristic: no cars can go in the interior of the villages. All cars park out of bounds on the picturesque villages, and then you walk in their interior. For any more infomation about Naxos villages we happily inform you at ELaiolithos Luxury Retreat.
Holidays in Naxos villages are slow and leisurely, offering you plenty of time to explore at your own pace. Revel in life's simplicity and abundance, and soak up Naxos island with its laidback vibes……..
WE OFFER YOU THE STIMULI; YOU JUST HAVE TO MAKE THE WAY!

~ G.Psarros
Cick here for Naxos forecasts, wind speeds, live weather and wind map for kitesurfing, windsurfing, surfing and sailing
Click here for the weather in Naxos