Damarionas village is 2 Km away from Halki, and it has 2 settlements: Vourvouria that is at the beginning, and the little adjacent hamlet Damalas a little bit down the road. The upper village after Vourvouria is called Damarionas. The village has lush green landscape with lots of fruit, citrus and olive trees, and vegetable fields. Strolling around this traditional village, one can admire beautiful vistas of the large plateau of the Drymalia olive grove valley, up to Moni village and the Fanari mountain, and all the way to the Upper Castle and Heimarros and Tsikalario villages.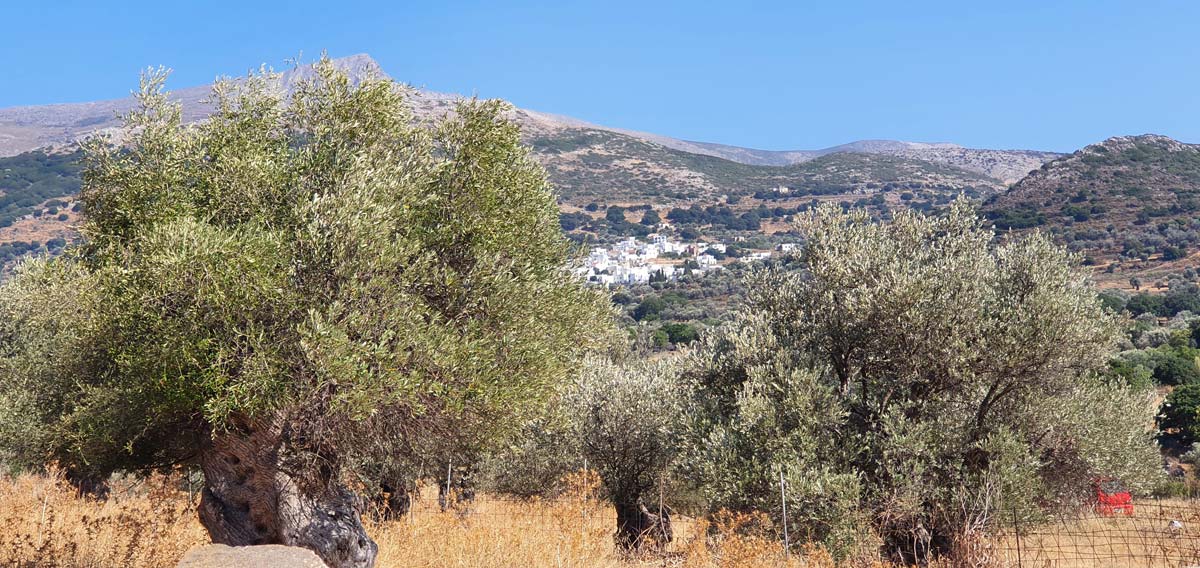 The interior of Damarionas village drives you under the famous seven stegasta of the village, the paved with slabs narrow streets, the squares of Patelou and Potirou with the enormous old platan tree, and its picturesque taverna underneath offering local specialty delights. There're also a few more taverns along the village's main path, and a private folklore collection that is visitable. Here there is a monument bust of a local resident who died – he was a member of the Greek Friendly Company that participated actively in the Greek Revolution of 1821 against Turks.
Damarionas village has a beautiful shortcut road to Filoti village offering amazing grand views of the whole surrounding area. It's a natural raw wonderland!
Damalas is a beautiful tiny village with whitewashed houses and narrow streets, with a restored olive press and a traditional pottery workshop-exhibition. The area offers a few interesting hiking trails worth the walk.
The coastal settlement Agiasos, in the south-west part of the island is a summer holidays resort that belongs also to Damarionas, like the Hamptons is to New York. The first residents of Damarionas lived, in the area of Agiasos. The fear of the pirates during the 7th century AC that held raids in the Cycladic region, drove the residents to the interior of the island, inside the Castle of Apalirou, and later in the location that is today. It is appreciated that Damarionas village began to be built from 1400 A.C. and afterwards.
Damarionas village including its surrounding colonies of Vourvouria, Damalas, Agiassos, and Pirgaki has about 550 permanent residents. The area between the village and Agiassos beach is a 15 Km flat area, very dry, full of goats and sheeps with great milk production and the local shepherds are good cheese makers.
On August 6, there is the festival of the village that celebrates the parish church "Metamorphosis of Sotiros" (Savior), and festivities begin the evenign before. Locals from all over Naxos gather here to eat, drink and dance local folk music till morning hours.Damarionas village is 16 kilometres from Naxos town, Chora, a 20 minute drive from the town, and 7 mintue drive from ELaiolithos.