Naxos –All in One…..A little Greece….A microcosm of local life is revealed….Naξος Ολα σε Ενα…
It is important to have Balance in Our Life in order to Achieve Our Goals. In order to function at our best, we definitely need to balance taking care of ourselves physically, mentally and spiritually.
Life balance is about successfully and joyfully managing and living our lives. It is about balance between the extremes – between order and chaos, moving and standing still, work and leisure. It is about having a feeling of control over knowing when to shift from one to the other and being able to do so.
And as the ancient Greek philosopher Epicurus said: everyone can attain the happy, tranquil life, characterized by ataraxia which literally means "freedom from all worry" by living a self-sufficient life surrounded by friends. The combination of these states constitutes happiness in its highest form. And in Naxos Island you experience all of the above.
Naxos: Stepping out into the real world of a self-sufficient island.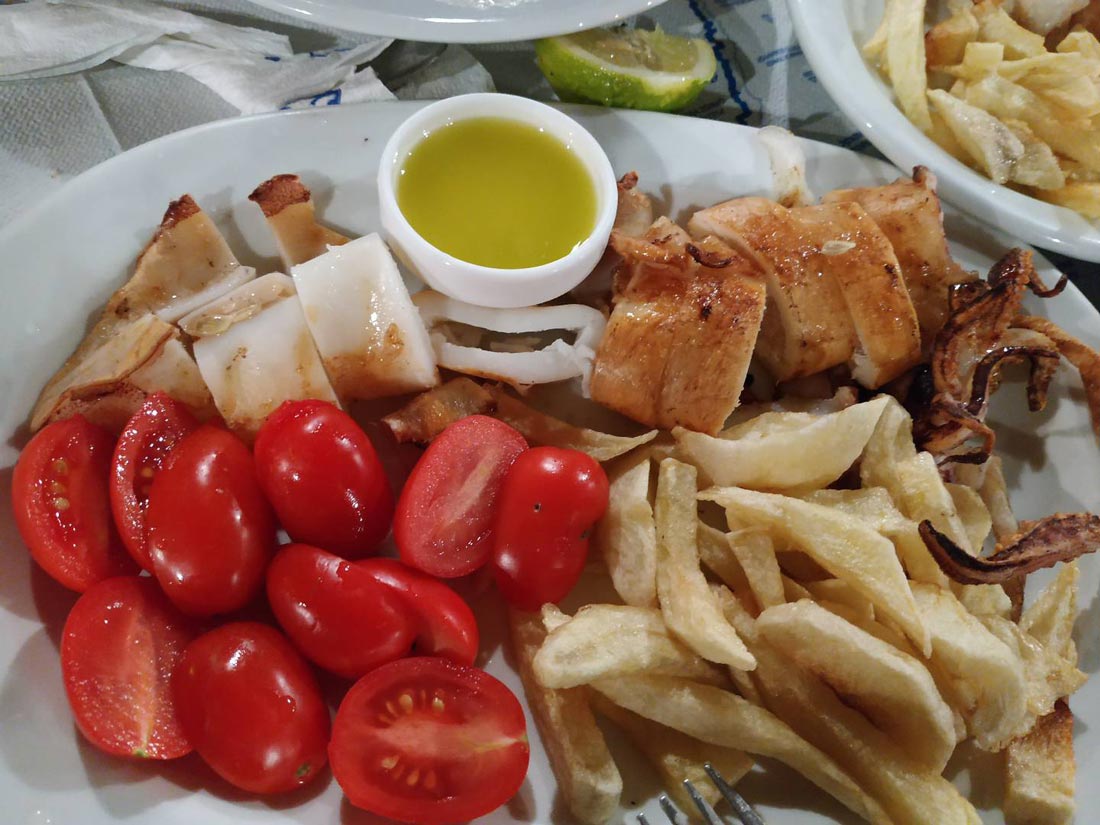 Naxos is an amalgam of myths and history, of tradition and spirituality. You can feel the vibrations of those energies by the minute you step your foot on the ground of the island.
If your idea of vacation heaven is to sip mojitos on a white sandy beach for two weeks, or to stay within the confines of a five-star hotel or on the sun deck of a pool or a cruise ship that's ok – it is wonderful…..But for those who luxury is only part of the holiday experience and also love to enjoy and to discover the delight of meeting new people and sharing their corner of the earth, then Naxos is a top destination because it combines everything. Naxian people live the "now" in all means. Their general belief that Life is too short for not having good time every day, all the time, any season and under any circumstances is met everywhere.
If you are fascinated by cultures, history, society, and you liberate yourself and step into the real life of the place you visit in order to have a real experience; then your visit in Naxos will reimburse you in many different ways.
Here are a few tips:
Self-sustained culture rare in the globalized world
See your destination by driving in the mainland or by foot, enter the Naxian hinterland and discover its gems, by experiencing the local life, the spirit of the natural world and have access to the cultural and agricultural riches that this island has to offer. Here you will come in contact with the authentic side of Naxos, the remarkable sights, the amazing smells, and its mesmerizing sounds.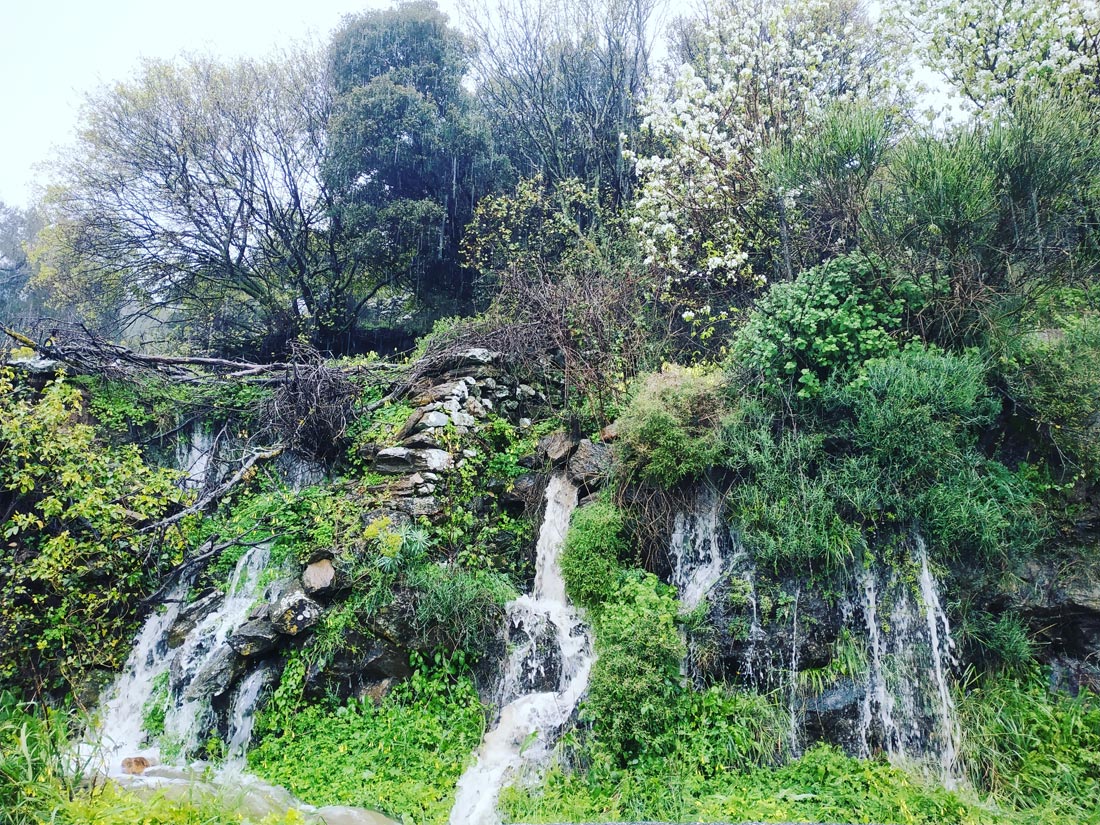 This self-sufficient island produces everything and supplies also many adjacent Cycladic islands. Its people are very proud and hardworking. Every house has its own production of oil, meat, vegetables, fruits, poultry, cheese, raki and wine. Visitors can have this experience by going to the field with locals and pick with their own hands whatever each season produces. Therefore is wise to visit the local villages and taste each one's special delicacies and sweets. Every village is a different experience in food and wine. Everything on your dinner plate is grown and produced here, from root vegetable and greens to fruit, olive oil, herbs, preserves, traditionally made small batch cheeses, and certainly meats. The island unlike most in the Cycladic archipelago has a source of fresh water and fertile soil, so everything is organically grown and served on your plate.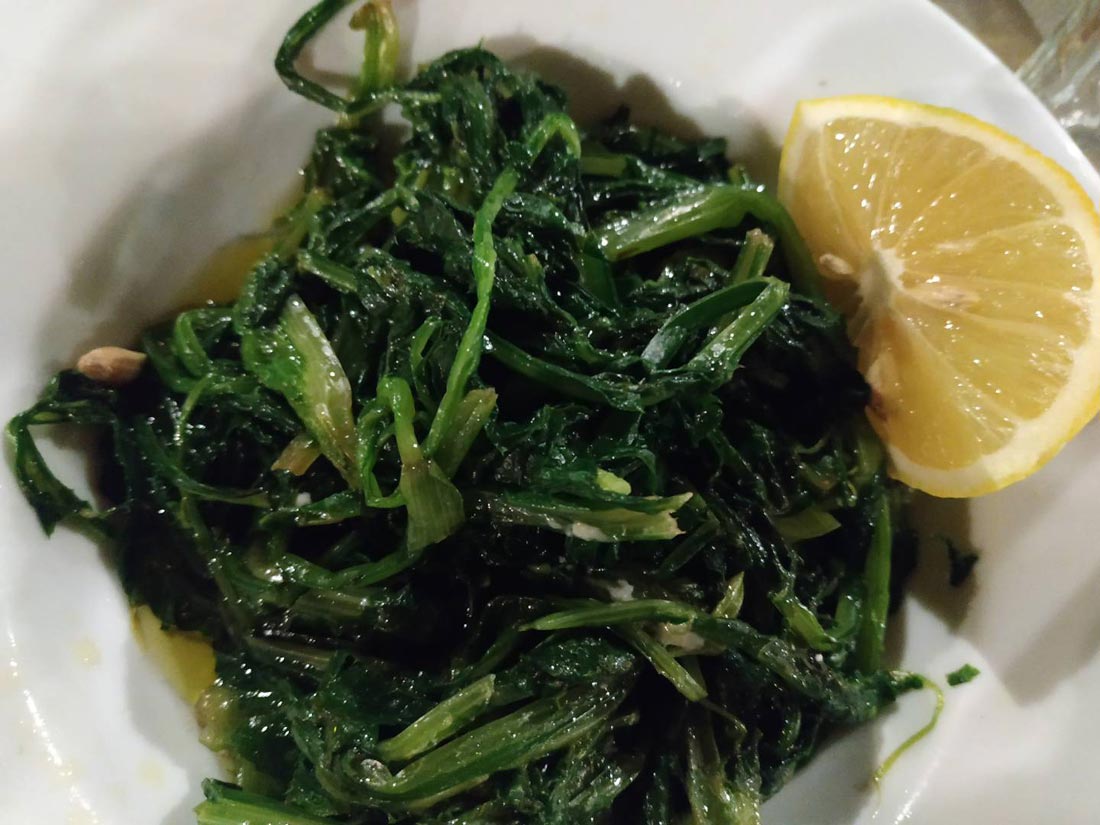 Naxians believe that life is meant to be lived to the fullest in the simplest of ways – peacefully and respectfully with a profound love for family, nature, and friends both old and new. Having such a vibrant culture and wild nature that offers so great diversity around every turn, this lively island is the ideal destination to discover your very own piece of "pura vida." And indeed you will not miss the "kerasma of raki" which is the raki drink on the house. A passing by a local tavern- kafeneio (traditional village hang out place) always hides secret surprises and lots of laugh. Locals are very hospitable and friendly and love to open conversations with the tourists where the jokes play a major role of having fun and be happy.
Happiness is not a private affair: it can be more readily achieved in a society where like-minded people band together to help inspire one another's pursuit of happiness, and Naxians are just like that, this runs on their DNA. Local life is diverse and people are remarkable in every way, so you will enjoy your journey in the mountainous villages.
Amazing attractions and magnificent Sights
Once you arrive to the Drymalia/Traghea area you will see over four hundred thousand of olive trees over a millennium old. This area still holds many remnants of the indigenous culture, creating a unique personality that delightfully differs from the rest of the island.
Chalkio and the area around it, called the Byzantine Mystras because of its numerous amazing churches, is a world apart in distance and atmosphere – from the rest of the island. Chalkio, Moni, Kinidaros, Filoti, Apeirathos, Koronos villages are ideal destinations for immersing yourself in nature. Here hiking, marble quarries, springs, emery mines, olive groves and citrus fruits reign supreme.
Chalkio village is a treasure trove of history, culture, and art just waiting to be explored. It is a historic district that shines with its neoclassical architecture and grand Venetian towers with many galleries, taverns, cafes, boutiques, local delicatessens and loom weaving shops-exhibitions.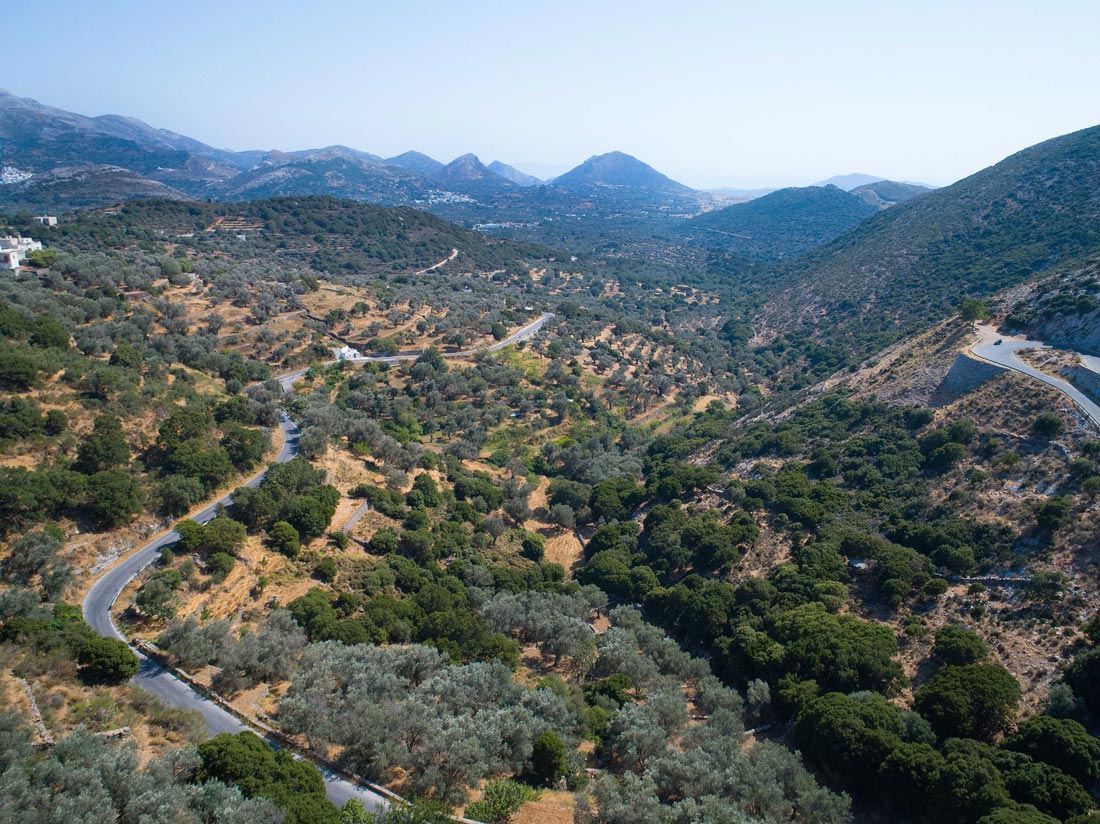 Naxian hinterland offers visitors the rare opportunity to walk or drive among wild nature and have a long fulfilling day.
Driving the road from Potamia to Chalkio, one can see the imposing Upper Castle which is among the most photographed landscapes in the Aegean, similar to the Sarakiniko in Milos, where the landscape resembles a scene from moon with the giant rocks and their amazing shapes.
Just off the road between Ano Potamia and Melanes villages there is the "Kalamitsia" – The Jesuit imposing Palace worth a visit from all aspects.
A vibrant culture, eco-adventures and local organic cuisine around every turn, Naxos is the ideal destination to discover your very own piece of "pura vida." Climbing Mountain Zeus, the highest in Cyclades with a peak of 1004 meters, is a fascinating experience with all the Cycladic islands visible. Reaching the top feels like you conquered the world. And no one can leave the island without a visit to the Great Door of Cyclades, the imposing Portara. It picturesquely overlooks the Archipelago, so that with a bit of imagination it might be a portal to another world. The experience of viewing the sunset through the hill of Portara is completely worth it.
Life in Naxos goes slowly in everything. Here you don't just see the people but you meet the people.
Naxos is a big island with lots of things to do and see and someone needs at least one week in order to get a feeling of the island. The striking thing about an island as big as Naxos is the sheer, overwhelming variety that it encompasses – of landscapes, even Natura, cultures, language, remarkable personalities, old wise locals, cuisine, festivities, and relaxation. Memorable would be a contact with the locals. They are very friendly and hospitable, they invite you to sit down and eat with them, drink, joke and laugh. Do not lose the offer if they invite you. Just tap into a beautiful, peaceful and authentic village tempo in Naxos. It would be an unforgettable experience!
Naxos is ideal destination for families, lovers, photographers, artists, yoga lovers, writers, adventurous, and for solo visitors also. They have a lot to see and explore. The coastal line has beautiful long sandy beaches, and clear crystal waters but the mainland has to offer the most and it is for those travelers looking to escape the everyday and indulge in the finer things in life. Naxos can be easily called the Natural Holiday Destination and those who love ethical living will witness the nature's serenity and tranquility here. A traveler-explorer may constantly discover a virgin and eerie place by approaching it through land.

The raki making in November is a magic ritual. If you find yourself in Naxos you should come in contact with a local, preferably in Moni or Kinidaros village and attend at least once this ritual. Moni village organizes also every November "The Raki Festival" event with live music open to the public. All locals and visitors gather together for the raki making; they drink, they barbecue fresh meat right at the point and they dance all night.
The festivities in Apokries (the celebration of carnival in Greece) that start two weeks before the 40-day lent period of Easter are amazing. Every village has its own tradition and festivities are at non-stop. Naxos produces also music, has hundreds of local musicians of folk music and the traditional festivals here are an experience just themselves with the locals dancing till late morning hours. Always visitors enjoy the spectacle.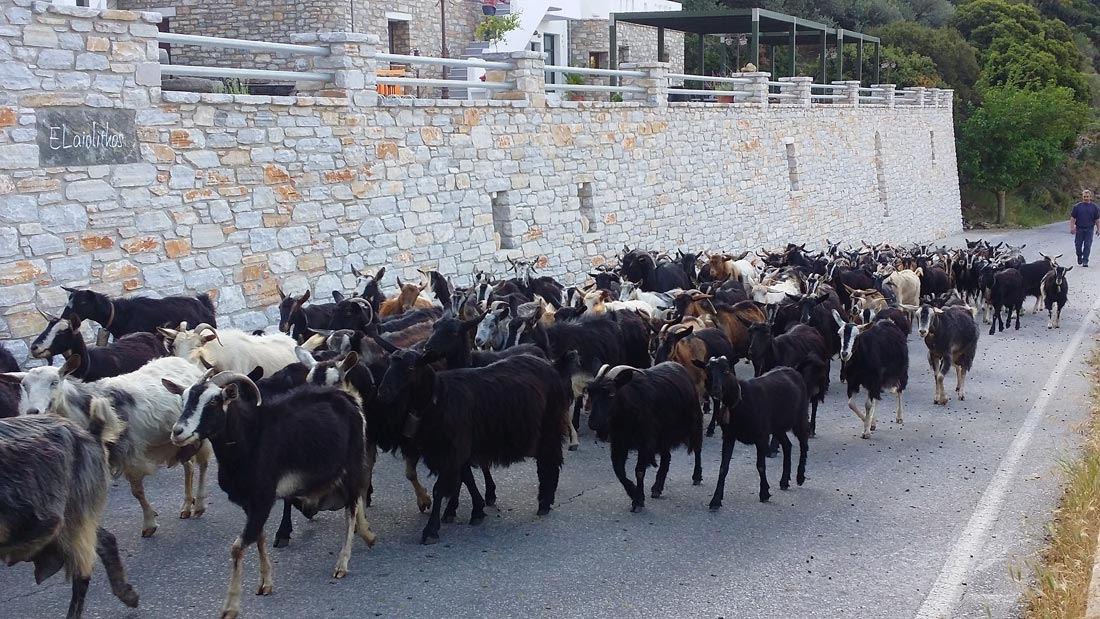 Unlike most Greek islands, Naxos has transportation through Piraeus daily, all year around, by boats or plane. It is a safe island where you can go around without fear and feel complete relaxation and freedom in every means. Here you worry for nothing. You let yourself relax, lay back, move slowly, get into the rhythm of the locals, witness inner tranquility and joy and enjoy!
Naxos – an exciting, enlightening, enriching and safe experience…..
One Inseparable Whole
Article written by Copyright © Helen Marakis . All rights reserved